LR1110
Ultra-low power platform that integrates a LoRa® transceiver, long range FHSS modulator, multi-constellation scanner, and passive Wi-Fi AP MAC address scanner targeting asset management applications.

The LR1110 solution utilizes Semtech's LoRa Cloud™ Ceolocation capabilities, to significantly reduce power consumption by determining asset location in a Cloud-based solver.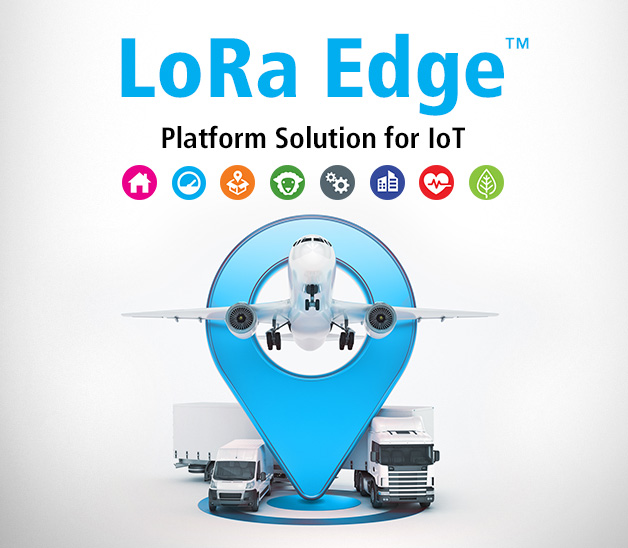 Features
Low-Power High-Sensitivity LoRa/(G)FSK Half-Duplex RF Transceiver
Worldwide ISM frequency bands support in the range 150 - 960MHz
Low Noise Figure RX front-end for enhanced LoRa/ (G) FSK sensitivity
High power PA path +22dBm
High efficiency PA path +15dBm
Long Range FHSS (LR-FHSS) modulator
Integrated PA regulator supply selector to simplify dual power +15/+22dBm with one board implementation
Able to support world-wide multi-region BOM, the circuit adapts to matching network to satisfy regulatory limits
Fully compatible with SX1261/2/8 devices and the LoRaWAN® standard, defined by the LoRa Alliance®
Multi-Purpose Radio Front-End Targeting Geolocation Purposes
GNSS (GPS/ BeiDou) low-power scanning
802.11b/g/n Wi-Fi ultra-low-power passive scanning
150 - 2700MHz continuous frequency synthesizer range
High bandwidth RX ADC (up to 24MHz DSB)
Digital baseband processing
Cryptographic Engine
Hardware support for AES-128 encryption/decryption based algorithms
Handling device parameters such as DevEUI and JoinEUI, as defined by the LoRa Alliance
Protects confidential information such as encryption keys against unauthorized access
Stores NwkKey, AppKey, as defined in the LoRaWAN standard
Asset location
Asset recovery
Asset traceability
Inventory management
Asset loss and theft prevention
Applications
Distributor/Catalog Supplier Inventory
View product availability from participating distributors below. Browse all distributers here.
| Part # | Country | Qty | Buy | Distributor |
| --- | --- | --- | --- | --- |
Search Pb(Lead)-Free/RoHS-Green Search
LOW POWER WI-FI/ GNSS SCANNER + LORA® TRANSCEIVER
RoHS Compliant by Exception (8)
Thermal Cycling Whisker Test
(-40°C to +85°C / 4000 cycles)
Ambient Temperature Storage, Whisker Test
(50°C, 4000 Hrs)
60°C/90%RH 4000 Hrs, Whisker Test
Please consult with your Semtech Sales Rep
Datasheets & Documentation
mySemtech
Explore a wealth of downloadable resources and datasheets to assist with prototyping and production.
Looking for documentation?
Login or register for mySemtech to gain access to restricted product documentation and to add documents to your Watch List for update alerts
Additional Resources
Explore software downloads, documentation, recommended links, and more resources for this product.
All You Need to Know About LoRa Edge
LoRa Edge Asset Management System Location Performance App Note
LR1110 Geolocation Demo Software Package
Development Kit, LR1110, 915MHz for North America
Development Kit, LR1110, 868MHz for Europe
LoRa Edge™ Tracker Reference Design, LR1110, 915MHz for North America