BlueRiver®
Platform for Software Defined Video over Ethernet (SDVoE™)
BlueRiver Vertical Markets
Launched in 2017, Software Defined Video over Ethernet (SDVoE™) is the world's fastest growing, interoperable AV standard. Any AV distribution and processing application that demands zero-latency uncompromised video is ideally suited for SDVoE network architectures powered by BlueRiver technology. Systems and products are being deployed in a wide range of vertical markets, providing new ways to distribute high resolution audio and visual signals. Whether it be high fidelity, zero-latency video for medical applications and esports, or broadcast quality scaling for large venue displays, BlueRiver technology encompasses applications and services in the following markets.
Medical | Government | Education | Entertainment | Retail | Corporate | Esports | Residential
Semtech's BlueRiver technology is transforming the matrix switch by delivering high fidelity and low latency AV solutions. These unique advantages are critical in medical applications. With BlueRiver-enabled SDVoE solutions, any video source up to 4K resolution is available on multiple interfaces in near real time. Content from surgical scopes, X-ray and CT/MRI scans, patient records, and even custom signage and infotainment can be distributed via Ethernet to enable enhanced and flexible medical AV systems.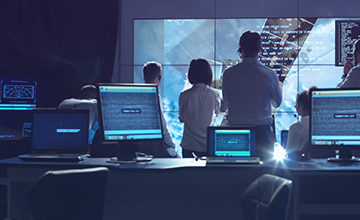 When public safety is paramount, swift and accurate response is essential. Command and control systems based on Semtech's BlueRiver technology provide the highest fidelity viewing for operators to maximize information distribution. Ultra HD-quality multiview screens give operators access to multiple sources on a single screen, with seamless switching between live content. BlueRiver also provides the flexibility and scalability for parliament and legislature buildings to be equipped with state of the art AV systems to meet the needs of local and national governments.
In the competitive world of higher education, schools, colleges and universities are attracting students not only with their academic prowess, but with advanced AV and IT infrastructure. Providing advanced technology in the classroom gives teachers and students the tools to deliver engaging and immersive content. With networked solutions based on BlueRiver, campus-wide AV systems deploy with image quality to support demanding content, and thanks to 10G networking, solutions scale to meet the institution's future needs.
BlueRiver technology drives advanced display systems for visually stunning images from sports bars and casinos, rock concerts and theatres, arenas and stadia, to hotel lobbies and conference facilities. Installers can offer the most flexible SDVoE-based systems, dynamically configurable using advanced custom software control, all powered by the SDVoE API. Ultra-HD quality video combined with multichannel audio provides fully immersive experiences to captivate consumers, clients and concert goers in this dynamic vertical market.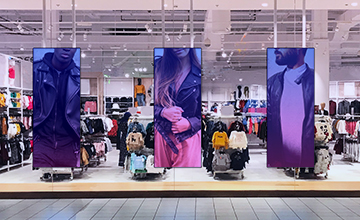 The boom in digital advertising has largely been driven by advanced Ultra-HD AV. These stunning and lifelike displays transform storefronts into exciting and compelling experiences for consumers. Combining these displays with the powerful software configurability of SDVoE and Semtech's dynamic BlueRiver chipsets provides the flexibility and scalability to turn any store or mall into the ultimate shopping experience.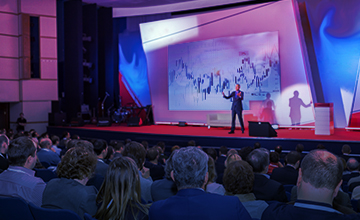 In the new age of both campus-scale corporations and a remote workforce, global companies need access to the most flexible and dynamic AV technology to maximize their impact and messaging. Executive staff demand the highest fidelity picture quality and audio production delivered over a range of innovative platforms. SDVoE solutions based on Semtech's BlueRiver technology enable the highest image quality delivered over enterprise-grade 10G networks, providing maximum return on investment for businesses of any size.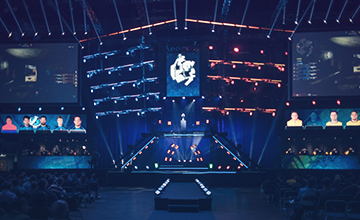 SDVoE solutions based on Semtech's BlueRiver technology offer the perfect Pro AV solution for esports. BlueRiver is built on 10 gigabit Ethernet transport for AV with visually stunning image quality. Ethernet provides scalability and flexibility for limitless event configurations, with sub-millisecond performance to enable near-zero latency for both players and the audience. 4K60 at uncompressed quality for high resolution and smooth gameplay action, including Fast Switch modes for instant switching between gameplay, statistics, live video and commentary, provides the perfect experience for esports.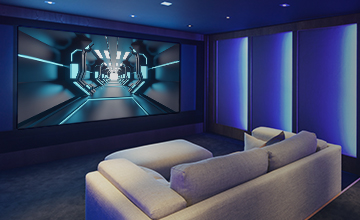 SDVoE-based products for residential AV deliver pixel-perfect Ultra-HD video and multichannel audio over an IP switching platform. BlueRiver chipsets provide this high-quality AV video over standard IP networks combined with the high-bandwidth of 10G Ethernet, to enable the ultimate AV experience at home. The powerful SDVoE software platform drives not only unlimited AV distribution, but also integration of other systems for the home, such as security, lighting and environmental control, enhancing user experience.