Applications
Professional AV
---
As shown in Figure 1 below, a typical Bring Your Own Meeting (BYOM) setup only requires an HDMI connection to a wall mounted display, allowing local participants to view shared content and the remote attendee's video feeds, plus hear the remote audio via the TV speakers. A USB camera with embedded microphone is mounted to provide both the video and audio from the room for remote participants. All this needs to be connected to the personal device that is driving the call, as illustrated.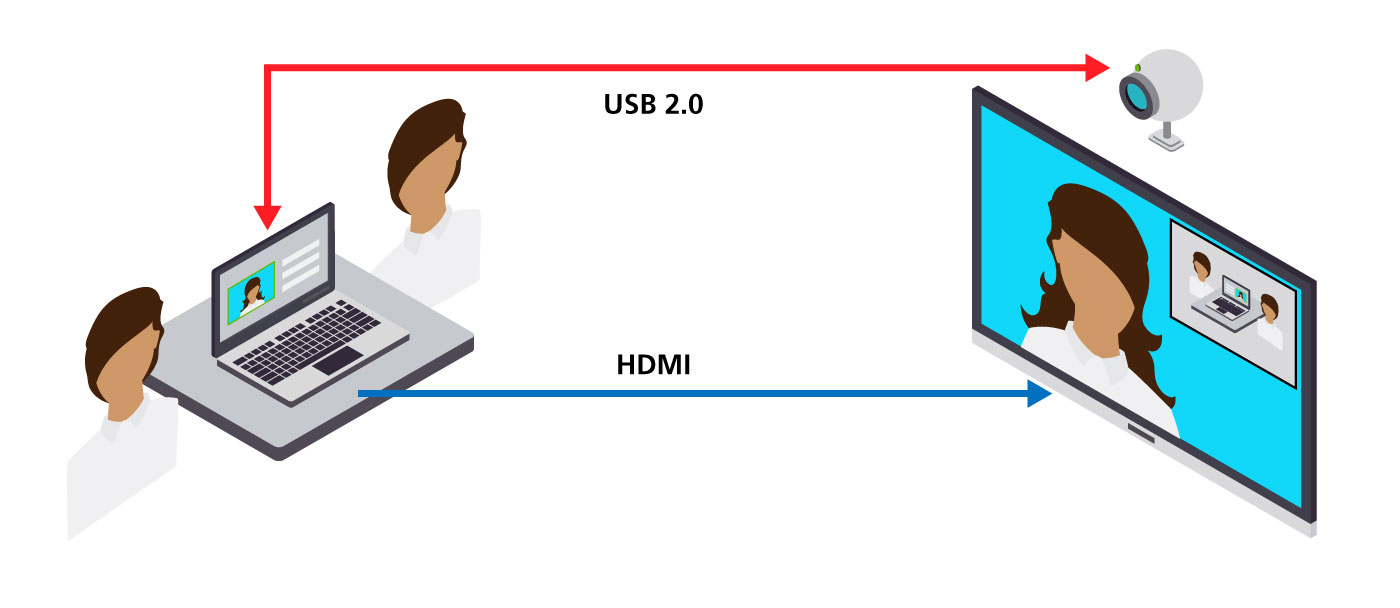 Figure 1. Typical BYOM Connectivity.
The size and layout of meeting and huddle rooms can vary greatly and may necessitate the use of AV extension technologies to remove any restrictions on AV device placement. While HDMI technology is widespread and convenient, challenges with long cable can result in a less-than-optimum experience, from failure to get an image on the display with longer cables, to using short cables which may restrict the seating position of the user whose device is driving the meeting. Similarly, other extension technologies such as HDBaseT may restrict the choice of Category cable to costly and cumbersome high-performance cable, while also limiting cable distance due to poor performance in the presence of EMI.
Most of today's laptops and tablets provide universal connectivity using the latest USB-C interface standard. With USB-C, video and audio connectivity is enabled through advanced modes such as DisplayPort Alternate Mode (DP Alt Mode), while simultaneously maintaining backwards compatibility with USB 2.0 connectivity, plus device charging, all over a single cable. As is the case with all versions of the USB standard, cable reach is limited, typically to 2m or less, so the need for an extension solution is even more critical. And given the prevalence and simplicity of USB-C, it means that any AV extension solution for BYOM should provide this connectivity as standard.
Enabling Single Port USB-C Connectivity
Semtech's BlueRiver technology is uniquely designed to extend HDMI, up to 4KP60 4:4:4 resolution, over both copper category cabling and optical fiber. By utilizing 10 Gigabit (10G) Ethernet transmission technology, BlueRiver provides transmission up to 100m using Cat-6a unshielded twisted pair (UTP) cable, or from 300m to over 40km using optical fiber. BlueRiver devices can simultaneously transmit uncompressed quality 4K video, multi-channel audio, Gigabit Ethernet, USB, and other control signals such as RS232 and Infrared, offering unprecedented levels of performance for AV extension in video conference and meeting room applications.

Figure 2. BlueRiver-based BYOM System with USB-C Extension.
Figure 2 shows a Bring Your Own Meeting video conference room set up where the user connects their personal device running the video conferencing application to a remote display and camera via a single point-to-point 10G Ethernet link. In this setup, a simple desktop hub is conveniently provided on the meeting room tabletop, allowing connection of the laptop AV via a single USB-C port. With just one cable connected directly into a USB-C desktop hub, AV content can be sent over the 10G link, while the remote USB 2.0 camera is connected back to the meeting host device via the same link. This really reduces the need for multiple cables or converters, and greatly simplifies the connectivity and design of the BYOM desktop hub.
A single copper category cable is used to carry all the audio, video and USB signals to the display hub, which provides the connectivity for the TV and camera, typically mounted on the meeting room wall. Taking further advantage of standard 10G Ethernet technology, BlueRiver-based designs can incorporate Power over Ethernet (PoE). With the display hub configured as the Power Sourcing Equipment (PSE), and the desktop hub as the Powered Device (PD), the desktop hub only requires a single cable connection for extending AV, USB 2.0 and power, reducing the number of cables on the tabletop, and providing a neat and clutter free design.
Inside the Box with AVP1000: Cost-Effective & Reliable Performance
For the most cost effective BlueRiver-based USB-C extension solution which provides the lowest end-to-end latency performance, Semtech's AVP1000 AV Processor can be used to transmit up to 4K60 video over 100m of Cat-6a standard copper category cabling. For small huddle spaces, where shorter cable distances may suffice, lower cost Cat-6 or even Cat-5e cable can be used. To enable full USB 2.0 performance, the AVP1000 is paired with the ExtremeUSB® device from ADI Icron, as shown in Figure 3. With such a low component count and low power operation, compact and sleek desktop AV hub designs can be realized with USB-C connectivity, including flush mounted pop-up AV consoles.
Figure 3. BlueRiver-based USB-C Desktop AV Hub.
As shown in the Figure 4 below, an AVP1000-based display hub can be designed to connect HD or 4K TV's and displays, along with high performance USB 2.0 cameras, and optionally provide audio connectivity to in wall or in ceiling speakers. Again, pairing with the ADI Icron ExtremeUSB® device provides seamless connectivity and extension of USB 2.0 HD conferencing cameras. With the display hub designed as the PoE Power Sending Equipment (PSE), the desktop hub can be fully powered via the 10G link, removing the need for additional power connectivity on the meeting room table, and since USB-C can optionally provide device charging, users don't need to bring their own laptop or tablet power supply.
Figure 4. BlueRiver Display Hub with Optional Analog Audio for External Speakers.
For BlueRiver with USB-C reference design schematics, please contact your local Semtech representative.
Discover our semiconductor solutions for all your Pro AV needs.
USB-C Recommended Solutions
Related Resources
---
Videos