Applications
Networking & Optical Communications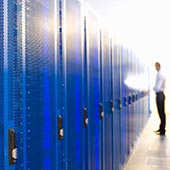 Semiconductor Solutions for Data Centers
ClearEdge® and Tri-Edge™ CDRs are critical components in the latest optical modules which are used to connect the many servers, switches and other equipment which make up the data center. Leading suppliers use these CDRs in 100-400G Optical Modules (QSFP, OSFP, QSFP-DD, etc), Active Optical Cables (AOCs) and COBO solutions.
Alternative DSP-based data center module solutions often rely on Semtech's high performance FibreEdge linear TIAs and Laser Drivers to provide the low noise, high linearity and dynamic range required.
Technology companies continue to break ground on data centers throughout the world to support the ever-increasing demand for Cloud computing, social networking, multimedia streaming, and mobile usage. Semtech is a high speed optical transceiver IC market leader that is trusted by optical networking solution providers to data centers.
400G QSFP-DD AOC
The block diagram below shows the key components of a 400G QSFP-DD module as part of an Active Optical Cable (AOC) assembly. The GN2558 and GN2559 Tri-Edge CDRs are quad 53G CDRs with VCSEL driver and TIA respectively.
100G QSFP28 CWDM module
The block diagram below shows the key components of a 100G QSFP28 module for 100G CWDM applications. The GN2105 and GN2108 ClearEdge CDRs are quad 25Gbps CDRs with DML driver and TIA respectively
---
Tools and Resources
---
Data Centers Recommended Solutions
---
Videos
Tri-Edge: The Future of Technology Today
Tri-Edge Ultra-low Latency Signal Integrity Solutions
Open Eye MSA
Semtech Signal Integrity Products