Applications
Professional AV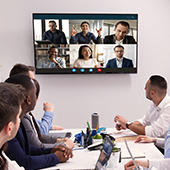 Semiconductor Solutions for BYOM Video Conferencing
Semtech's AVXT chipset is uniquely designed to provide long distance extension of AV content, up to 4KP60 4:4:4 (HDMI 2.0b), over both copper category cabling and optical fiber. By utilizing the same technology used for 10G Ethernet, AVXT provides guaranteed transmission up to 100m using Cat-6a unshielded twisted pair (UTP) cable, or tens of kilometers using optical fiber. AVXT-based devices simultaneously transmit uncompressed-quality 4K video, multi-channel audio, Gigabit Ethernet, USB 2.0, and other control signals, offering unprecedented levels of performance for standalone point-to-point AV extension for video conference solutions and meeting room applications.

Figure 1. Typical "Bring Your Own Meeting" (BYOM) setup, where users connect devices running video conferencing software to a remote display and camera via an AVXT link.
The diagram above shows a typical "Bring Your Own Meeting" (BYOM) meeting room, where a user connects their laptop running Teams or Zoom video conferencing software to a remote display and camera via an AVXT Link. Typically, an AV hub is located on the meeting room table, allowing connection of the laptop via HDMI and the USB connectivity for the conferencing camera. A single copper Category cable is then used to carry all the audio, video and USB signals from the AV hub to the speakers, display and camera mounted on the meeting room wall. By using Power over Ethernet (PoE), with the AVXT Receiver configured as the Power Sourcing Equipment (PSE), and the AVXT Transmitter as the Powered Device (PD), the desktop AV hub only requires a single Cat cable connection for remote AV, USB and power, reducing the number of cables at the desktop, and providing a clean and clutter free design.
Since AVXT Links provide 10Gbps of bandwidth for AV and control signals, with video consuming less than 9Gbps, there is more than enough bandwidth left over to carry the full 480Mbps required by USB 2.0. This means that high quality, low-cost USB 2.0 webcams supporting up to 1080p30 video with very low latency can be used for a full HD high end video conferencing experience. Other AV extension technologies such as HDBaseT only offer up to 200Mbps maximum of USB 2.0 throughput, which means little to no support of high quality, low latency HD webcams.
Inside the Box With AVX200: Cost-Effective, Lowest End-to-End Latency Performance
Figure 2. Pairing AVX100 with Icron's ExtremeUSB enables full 480Mbps transmission of USB 2.0.
For the most cost-effective point-to-point matrix switch solution, providing the lowest end-to-end latency performance, Semtech's AVX100 AV Extender can be used to transmit up to 4K60 video over 100m of Cat-6a standard copper category cabling. If shorter distances are required for smaller meeting rooms, Cat-6 or Cat-5e cable can be used. To enable the full 480Mbps transmission of USB 2.0, the AVXT is paired with the ExtremeUSB® device from Icron Technologies. With such a low component count, compact and sleek AV hub designs can be realized for desktop AV connectivity.
Figure 3. When paired with Icron's ExtremeUSB, an AVX100 based receiver provides seamless connectivity and extention of the highest quality HD webcams.
With just a handful of core components, an AVX100 based Receiver can be designed to connect HD and 4K displays, along with 1080p USB cameras, providing an end-to-end solution with sub-millisecond latency for high performance BYOD video conferencing applications using copper category cabling. Paired with the Icron ExtremeUSB device provides seamless connectivity and extension of the highest quality HD webcams. Further implementing PoE with the Receiver configured as the PSE means that the AV hub (Transmitter) can be fully powered over the AVXT Link, removing the need for additional power connectivity on the meeting room table.
Discover our semiconductor solutions for your ProAV needs.
Point-to-Point Matrix Switching Recommended Solutions
Related Resources