Semtech SMDA15CN-5
15 V 5-Line Bidirectional TVS Array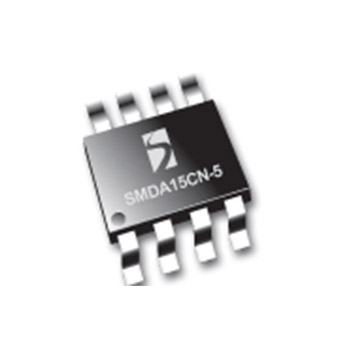 The SMDAxxCN-5 series of  transient voltage suppressors are designed to protect  components which are connected to data and transmission lines from voltage surges caused by electrostatic discharge (ESD), electrical fast transients (EFT), and lightning.
This part has reached End Of Life. Datasheet is for information purposes only.
Features
300 watts peak pulse power (tp = 8/20 µs)
Protects up to 5 bidirectional lines
Working voltage: 15 V
ESD protection for high-speed data lines to

IEC 61000-4-2 (ESD) ± 15 kV (air), ± 8 kV (contact)
IEC 61000-4-4 (EFT) 40 A (5/50 ns)
IEC 61000-4-5 (lightning) 12 A (8/20 µs)

Low leakage current
Low operating voltage
Low clamping voltage
Solid-state silicon-avalanche technology
Small SO-8 surface-mount package
Lead-free, RoHS and WEEE compliant
Applications
RS-232 data lines
RS-423 data lines
LAN/WAN equipment
Notebooks, desktops, and servers
Instrumentation
Peripherals
Set-top boxes
Packaging
SO-8
500 pcs. Tape & Reel - Min order req.
Order Codes
SMDA15CN-5.TBT - not recommended for use; Use SMDA15C-7.TBT instead