Semtech TClamp2492S
NEW
Low Capacitance TransClamp®, Surge Protection for xDSL Interfaces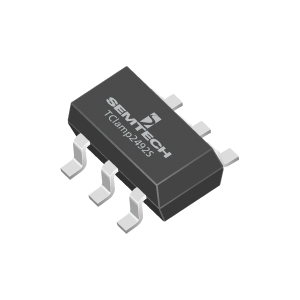 TClamp®2492S is specifically designed to provide secondary surge and electrostatic discharge (ESD) protection for Class-H VDSL2 line drivers. It features high surge current capability of 35A (tp=8/20μs) and low clamping voltage, making them ideal for use in harsh transient environments.
Features
Transient protection to

IEC 61000-4-2 (ESD) 30kV (contact & air)
IEC 61000-4-4 (EFT) 2kV (5/50ns)
IEC 61000-4-5 (lightning) 35A (8/20μs)

Bias diodes prevent charging of transient voltage suppression (TVS) capacitance
Working voltage: 24V
Low capacitance: 3.5pF maximum
Solid-state silicon-avalanche technology
Applications
ADSLx / VDSLx secondary protection
VDSL2 Class-H line driver secondary protection
Modems
G.Fast
Access equipment
Central office equipment
Customer premise equipment
Packaging
JEDEC SOT-23 6L package: 2.80 x 2.92 x 1.10 mm
Order Codes
TClamp2492S.C: Pb-free, halogen-free, RoHS/WEEE-compliant, 3,000 pcs.