Semtech RClamp1851ZA
Ultra Small RClamp® 1-Line, 18V ESD Protection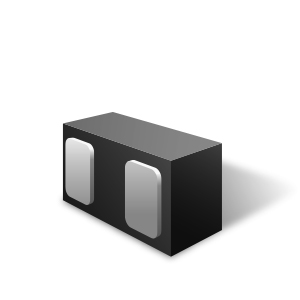 RClamp® TVS diodes are designed to protect sensitive electronics from damage or latch-up due to ESD. They are designed to replace multilayer varistors (MLVs) in portable applications such as cell phones, notebook computers, and other portable electronics. This device offers desirable characteristics for board level protection including fast response time, low operating and clamping voltage, and no device degradation.
Features
High ESD withstand Voltage: +/-17kV (Contact) and +/- 20kV (Air) per IEC 61000-4-2
Ultra-small package
Protects one high speed data line
Low ESD clamping voltage
Working voltage: 18V
Low capacitance: 0.35pF typical
Low leakage current
Extremely low dynamic resistance: 0.16 Ohms (Typ)
Solid-state silicon-avalanche technology
Applications
Near Field Communication (NFC) lines
RF signal lines
Cellular Handsets
Tablets
FM Antenna
Packaging
SLP0603P2X3F: 0.6 x 0.3 x 0.25mm
Order Codes
RClamp1851ZATFT: Pb-Free, Halogen Free, RoHS/WEEE Compliant, 15,000 pcs.