Semtech RClamp0564P
Femto Farad RailClamp® 4-Line, 170fF ESD Protection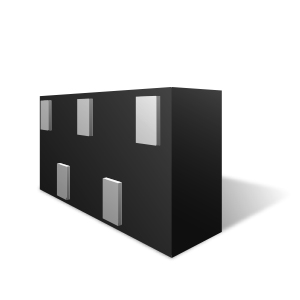 The RClamp0564P is a 5V, ultra low capacitance electrostatic discharge (ESD) protection device designed to safeguard high speed differential lines from overvoltage threats. The RClamp0564P, with its fast response time, achieves a low ESD clamping voltage and the flow-through package is ideal for optimal board layout.
Features
High ESD Withstand Voltage

IEC 61000-4-2 (ESD) 10kV (contact)

Ultra-Low Capacitance: 0.17pF Typical
Very Small PCB Area Protects Four High-Speed Data Lines
Working Voltage: 5V
Low Dynamic Resistance: 0.65 Ohms
Large Operating Bandwidth: 12GHz
Solid-State Silicon-Avalanche Technology
Applications
HDMI 1.4, HDMI1.4b and HDMI 2.0
USB 3.0 and USB 3.1
USB Type-C
Thunderbolt
MIPI / MDDI
Packaging
SGP2010N5 - 2.0 x 1.0 x .060mm package
Order Codes
RClamp0564P.TNT - Pb-Free, Halogen Free, RoHS/WEEE Compliant, 10,000 pcs. Tape & Reel.