Semtech uClamp3612S
NEW
TVS Diode Array for Proximity Switch Protection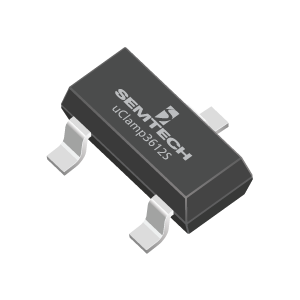 μClamp®3612S is specifically designed to provide surge and electrostatic discharge (ESD) protection of sensitive digital sensors used in proximity switches and industrial control applications. μClamp3612S integrates two transient voltage suppressor (TVS) diodes rated at 33V. ESD characteristics are highlighted by high ESD withstand voltage (+/-30kV per IEC 61000-4-2) and low dynamic resistance. Each device will protect one I/O line and the power supply rail featuring high surge capability (16 Amps, 1.2/50μs, 8/20μs combination waveform) and low clamping voltage.
Features
Transient protection to:

IEC 61000-4-2 (ESD), 30kV (air), 30kV (contact)
IEC 61000-4-4 (EFT) 4kV (5/50ns)
IEC 61000-4-5 (lightning) 16A (8/20μs)

Replaces two discrete devices
Protects two lines
Working voltage: 33V
High surge capability
Dynamic resistance: 0.29 ohms (Typ)
Solid-state silicon-avalanche technology
Applications
Two, three and four wire DC high-side proximity switch
I/O link
Digital sensor input protection
DC supply protection
Industrial equipment
Packaging
Order Codes
μClamp3612S.TCT: Pb-free, halogen-free, RoHS/WEEE-compliant, 3,000 pcs.