Semtech uClamp2411ZA
Ultra Small μClamp® 1-Line, 24V ESD Protection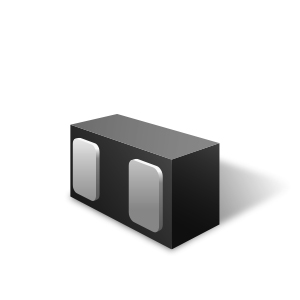 μClamp® TVS diodes are designed to protect sensitive electronics from damage or latch-up due to ESD. It features large cross-sectional area junctions for conducting high transient currents. This device offers desirable characteristics for board level protection including fast response time, low operating and clamping voltage, and no device degradation.
Features
Transient protection for data and power lines to

IEC 61000-4-2 (ESD)
IEC 61000-4-4 (EFT)
Cable Discharge Event (CDE)

Ultra-small package
Protects one data or DC Power line
Low clamping voltage
Working voltage: 24V
Low leakage current
Solid-state silicon-avalanche technology
Applications
Cellular Handsets & Accessories
Notebook Computers
Tablets
Portable Instrumentation
Chip-on-Glass Driver IC data line
Peripherals
24V DC Power Rails
Packaging
• SLP0603P2X3F: 0.6 x 0.3 x 0.25mm
Order Codes
• µClamp2411ZATFT: Pb-Free, Halogen Free, RoHS/WEEE Compliant, 15,000 pcs.