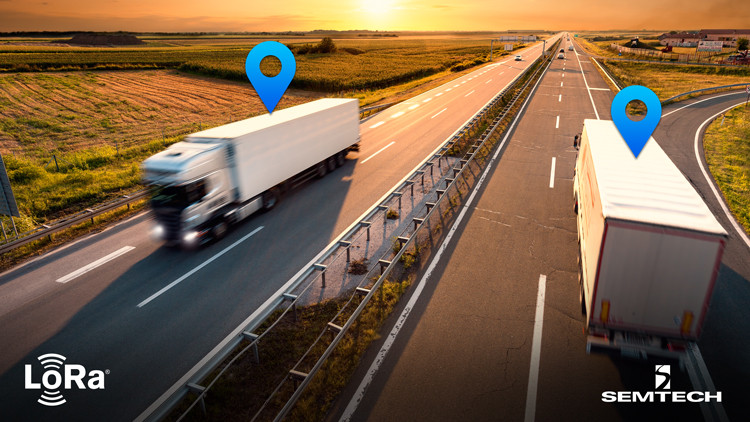 Semtech, Ryoden and Renesas Electronics Launch Zero Carbon Solution with the LoRa Edge™ Platform and a RE Microcontroller
New maintenance-free, energy harvesting solution is ideal for asset management uses and offers advanced security features
CAMARILLO, Calif., Sept. 28, 2021 – Semtech Corporation (Nasdaq: SMTC), a leading supplier of high performance analog and mixed-signal semiconductors and advanced algorithms, and Ryoden Corporation, a key LoRa® ecosystem solution and network provider, announced a new zero carbon solution with a RE Family Microcontroller from Renesas. The solution features a Renesas RE Family microcontroller (MCU) to connect directly to the LoRa Cloud™ utilizing Semtech's LoRa Edge™ platform (LR1110), and provides enhanced security features. The addition of the LoRa Edge platform allows for geolocation capabilities driven by the world class battery-free green energy solution and is best applied for tracking of personal valuables, transportation and logistics, animals, and health care.
"The demand for green energy solutions are increasing as the world becomes more conscious of the environmental impacts we make," said Dr. Shiro Kamohara, senior principal specialist from Renesas' Low Power Product Department. "The energy harvesting RE Family represents the evolution of MCU products that have the advantages of being maintenance-free while keeping top-class efficiency. Through our collaboration with Semtech, we are able to offer a cost-efficient green energy solution for our customers."
Deemed the "world's most energy efficient MCU" by Renesas, the new RE Family MCU is based on the Arm® Cortex® M0+, and consists of a built-in controller which can make a battery-less, maintenance-free product, ideal for energy harvesting applications. The new solution also features security capabilities that are critical to the Internet of Things (IoT) and can help protect IoT embedded devices from viral infections and eavesdropping. In addition, when integrated with Semtech's LoRa Edge (LR1110) platform, the power consumption of the product is extremely reduced, providing cost-effective savings to end users.
"The collaboration between Ryoden, Renesas and Semtech is in line with our overall strategy of extending low power geolocation to newer IoT platforms and applications," said Sree Durbha, director of product management in Semtech's Wireless and Sensing Products Group. "With the low power nature and end-to-end security of the LoRa Edge platform, the embedded LoRa Basics™ Modem-E native modem software operating on the LoRaWAN® standard, and the LoRa Cloud™ geolocation and device and application services, the Renesas RE Family is one of the most power-efficient MCUs available on the market."
Target applications for the LoRa Edge platform with Renesas RE Family include asset management, tracking of goods through the supply chain and several other use cases requiring continuous indoor or outdoor tracking.
To learn more about Renesas RE Family, please visit renesas.com/re.
To learn more about Semtech's IoT solutions, please visit semtech.com/products/wireless-rf.
About Semtech's LoRa® Platform
Semtech's LoRa device-to-Cloud platform is a globally adopted long range, low power solution for IoT applications, enabling the rapid development and deployment of ultra-low power, cost efficient and long range IoT networks, gateways, sensors, module products, and IoT services worldwide. Semtech's LoRa technology provide the communication layer for the LoRaWAN® standard, which is maintained by the LoRa Alliance®, an open IoT alliance for Low Power Wide Area Network (LPWAN) applications that has been used to deploy IoT networks in over 100 countries. Semtech is a founding member of the LoRa Alliance. To learn more about how LoRa enables IoT, visit Semtech's LoRa site.
About Ryoden Corporation
Ryoden Corporation (TSE: 8084) is a member of the Mitsubishi Electric Group and is one of the largest technology trading companies (system integrators) in Japan. They are a LPWA (Low Power Wide Area-network) communication carrier registered with the Ministry of Internal Affairs and Communications, and provides data communication services that utilize IoT devices. In addition, they sell electronic devices, FA systems, ICT systems, and provide agriculture production and health care solutions. In this project, we manage and operate network servers as a network service provider for LoRaWAN communication, and provide related applications and support services.
For more information, visit www.ryoden.co.jp/en.
About Renesas Electronics Corporation
Renesas Electronics Corporation (TSE: 6723) delivers trusted embedded design innovation with complete semiconductor solutions that enable billions of connected, intelligent devices to enhance the way people work and live. A global leader in microcontrollers, analog, power, and SoC products, Renesas provides comprehensive solutions for a broad range of automotive, industrial, infrastructure, and IoT applications that help shape a limitless future. Learn more at renesas.com.
About Semtech
Semtech Corporation is a leading global supplier of high performance analog and mixed-signal semiconductors and advanced algorithms for infrastructure, high-end consumer and industrial equipment. Products are designed to benefit the engineering community as well as the global community. The Company is dedicated to reducing the impact it, and its products, have on the environment. Internal green programs seek to reduce waste through material and manufacturing control, use of green technology and designing for resource reduction. Publicly traded since 1967, Semtech is listed on the NASDAQ Global Select Market under the symbol SMTC. For more information, visit semtech.com.
Forward-Looking and Cautionary Statements
All statements contained herein that are not statements of historical fact, including statements that use the words "designed to" or other similar words or expressions, that describe Semtech Corporation's or its management's future plans, objectives or goals are "forward-looking statements" and are made pursuant to the Safe-Harbor provisions of the Private Securities Litigation Reform Act of 1995, as amended. Such forward-looking statements involve known and unknown risks, uncertainties and other factors that could cause the actual results of Semtech Corporation to be materially different from the historical results and/or from any future results or outcomes expressed or implied by such forward-looking statements. Such factors are further addressed in Semtech Corporation's annual and quarterly reports, and in other documents or reports, filed with the Securities and Exchange Commission (www.sec.gov) including, without limitation, information under the captions "Management's Discussion and Analysis of Financial Condition and Results of Operations" and "Risk Factors." Semtech Corporation assumes no obligation to update any forward-looking statements in order to reflect events or circumstances that may arise after the date of this release, except as required by law.
Semtech, the Semtech logo and LoRa are registered trademarks or service marks, and LoRa Basics, LoRa Edge and LoRa Cloud are trademarks or service marks, of Semtech Corporation or its affiliates.
SMTC-P
###