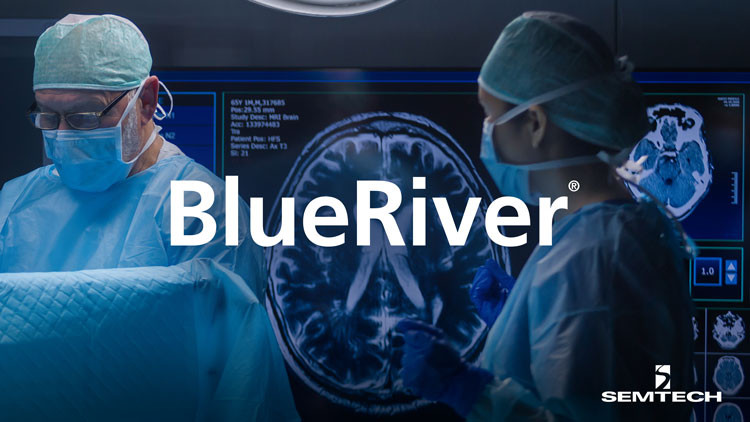 Semtech Launches KVM Software Development Kit for BlueRiver®-based Platforms
New kit designed to advance Keyboard, Video & Mouse (KVM) switching applications for Software Defined Video over Ethernet (SDVoE™)
CAMARILLO, Calif. Jan. 31, 2023 – Semtech Corporation (Nasdaq: SMTC), a high-performance semiconductor, Internet of Things (IoT) systems and Cloud connectivity service provider, announced the first Software Development Kit (SDK) to enable advanced software-based KVM applications using the BlueRiver® platform for Software Defined Video over Ethernet (SDVoE™).
"Making the KVM software development kit freely available shows Semtech's commitment to accelerating our customers product developments and adding KVM as an important application in the rapidly expanding SDVoE ecosystem for professional AV," said Don Shaver, vice president of video products for Semtech's Signal Integrity Products Group. "Semtech expects to expand our KVM offering, adding advanced and innovative features to enable remote desktop, USB collaboration and touchscreen applications."
Semtech's KVM SDK provides source code as well as fully compiled examples that can be used as a reference model to develop a BlueRiver-based KVM server, designed to manage USB device routing and connectivity using BlueRiver-based endpoint devices and the SDVoE Control Server. The most basic function of a KVM server is to allow control, switching and management of multiple remote PCs or USB hosts via a single keyboard, display and mouse using standard Ethernet networks.
"Combined with the powerful BlueRiver AV Manager software tool, the KVM SDK takes Semtech's available software solutions for Pro AV beyond just simple AV switching and distribution," said Melissa Nolet, director of product management of video products for Semtech's Signal Integrity Products Group. "With the KVM SDK, our customers and development partners can quickly enable advanced KVM solutions for applications such as medical operating rooms, control rooms and interactive learning."
Semtech's KVM software development kit, including source code and compiled examples, is freely available for download via the mySemtech self-serve customer portal. For more information on Semtech's BlueRiver platform, please visit here.
The KVM SDK 1.0 will be demonstrated along with the BlueRiver AV Manager software tool at Integrated Systems Europe (ISE) taking place Jan. 31 - Feb. 3, 2023, in Barcelona, Spain. Register to attend here.To book a meeting with Semtech at the SDVoE Alliance® booth 5D200 at ISE, please contact Melissa Nolet at mnolet@semtech.com.
About Semtech's BlueRiver® Platform
Semtech's BlueRiver platform, brings the disruptive power of Ethernet to AV signal distribution, forever changing the dynamics of the Pro AV industry by allowing installers and OEMs to replace proprietary AV matrix switches with off-the-shelf Ethernet networks that deliver dramatically better price/performance, flexibility and scalability. The BlueRiver platform delivers a single programmable system on chip (SoC), which can be used to replace traditional AV/KVM extenders, matrix switchers, video wall controllers and windowing processors with a simple network of transmitters, receivers and off-the-shelf Ethernet switches. BlueRiver chipsets are the foundation of SDVoE technology offering near zero-latency, uncompressed 4K streaming over standard Ethernet with unique support for HDMI 2.0a and HDR. They also integrate high-fidelity video scaling, windowing and audio downmixing. For more information, visit www.semtech.com/products/professional-av/blueriver.
About Semtech
Semtech Corporation (Nasdaq: SMTC) is a high-performance semiconductor, IoT systems and Cloud connectivity service provider dedicated to delivering high quality technology solutions that enable a smarter, more connected and sustainable planet. Our global teams are dedicated to empowering solution architects and application developers to develop breakthrough products for the infrastructure, industrial and consumer markets. To learn more about Semtech technology, visit us at semtech.com or follow us on LinkedIn or Twitter.
Forward-Looking and Cautionary Statements
All statements contained herein that are not statements of historical fact, including statements that use the words "expects to," "will," "designed to" or other similar words or expressions, that describe Semtech Corporation, its subsidiaries or their respective management's future plans, objectives or goals are "forward-looking statements" and are made pursuant to the Safe-Harbor provisions of the Private Securities Litigation Reform Act of 1995, as amended. Such forward-looking statements involve known and unknown risks, uncertainties and other factors that could cause the actual results to be materially different from the historical results and/or from any future results or outcomes expressed or implied by such forward-looking statements. Such factors include, but are not limited to: the uncertainty surrounding the impact and duration of supply chain constraints and any associated disruptions; future responses to and effect of the ongoing COVID-19 pandemic or other similar health crises; export restrictions and laws affecting Semtech Corporation's trade and investments and tariffs or the occurrence of trade wars; worldwide economic and political disruptions, including as a result of inflation and the current conflict between Russia and Ukraine; competitive changes in the marketplace including, but not limited to, the pace of growth or adoption rates of applicable products or technologies; downturns in the business cycle; and the additional risk factors set forth in Semtech Corporation's Annual Report on Form 10-K filed with the Securities and Exchange Commission (www.sec.gov) on March 16, 2022 as such risk factors may be updated, amended or superseded from time to time by subsequent reports that Semtech Corporation files with the Securities and Exchange Commission. Semtech Corporation assumes no obligation to update any forward-looking statements in order to reflect events or circumstances that may arise after the date of this release, except as required by law.
Semtech, Semtech logo and BlueRiver are registered trademarks or service marks of Semtech Corporation or its subsidiaries. SDVoE is a trademark or service mark of the SDVoE Alliance.
SMTC-P
###