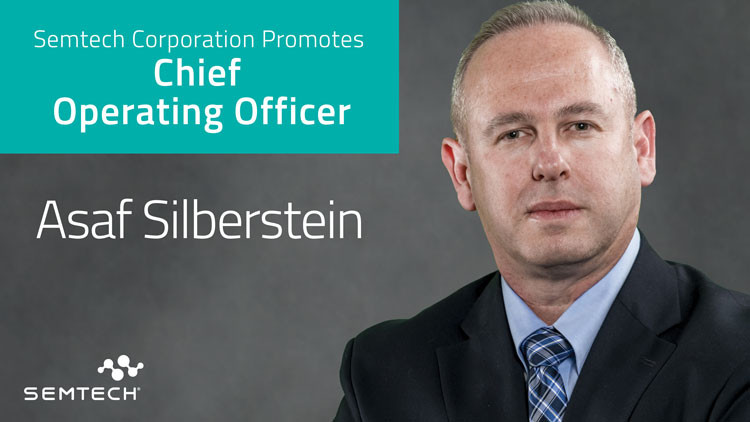 Semtech Corporation Promotes Asaf Silberstein to Chief Operating Officer
Semtech Corporation has announced the appointment of Asaf Silberstein as its new chief operating officer (COO).
CAMARILLO, Calif., March 15, 2023 – Semtech Corporation (Nasdaq: SMTC), a high-performance semiconductor, IoT systems and service provider, today announced that Asaf Silberstein has been promoted to the newly created role of chief operating officer (COO) from his previous position of executive vice president, worldwide operations and information technology. Mr. Silberstein will report directly to Semtech's president and chief executive officer, Mohan Maheswaran. As COO, Mr. Silberstein will lead Semtech's business groups, sales, operations and information technology.
Mr. Silberstein has more than two decades of operations experience in the semiconductor industry. He joined Semtech in 2011 as vice president of operations managing Semtech's supply chain and operations and added information technology to his responsibilities in 2016. Before joining Semtech, Mr. Silberstein served as vice president of operations and information technology at Microsemi Corporation and as COO at PowerDsine.
"Having recently completed the transformative acquisition of Sierra Wireless, which doubled the size of Semtech, I believe now is the right time to enhance our operational focus with this new position. Asaf is a seasoned executive and has been an integral part of Semtech's leadership team. I am confident his strong track record of operational performance will serve us well," said Mr. Maheswaran, Semtech's president and chief executive officer.
"I am humbled and thrilled to have been chosen as Semtech's new COO. With the tremendous momentum we have already established, I am confident that we are well positioned to achieve even greater success in the future and to drive growth and innovation across our business. I am excited to be part of such an exceptional organization as we continue to set new standards of excellence in our industry," Mr. Silberstein said.
About Semtech
Semtech Corporation (Nasdaq: SMTC) is a high-performance semiconductor, IoT systems and Cloud connectivity service provider dedicated to delivering high quality technology solutions that enable a smarter, more connected and sustainable planet. Our global teams are dedicated to empowering solution architects and application developers to develop breakthrough products for the infrastructure, industrial and consumer markets. To learn more about Semtech technology, visit us at Semtech.com or follow us on LinkedIn or Twitter.
Investor Contact
Anojja Shah
VP, Investor Relations
anojja.shah@semtech.com
630-390-6413
Press Contact
Shannon Love
Senior Director of Communications
602-575-9045
Forward-Looking and Cautionary Statements
This press release contains "forward-looking statements" within the meaning of the "safe harbor" provisions of the Private Securities Litigation Reform Act of 1995, as amended ("forward-looking statements"), and is based on management's current expectations, estimates and projections regarding future events. Forward-looking statements are statements other than historical information or statements of current condition and, as used in this press release, relate to matters such as, among others, Semtech's outlook or expectations regarding the acquisition of Sierra Wireless and Semtech's ability to grow its business, extend its innovation leadership, optimize its product portfolio and position itself for long-term success. Statements containing words such as "may," "believes," "anticipates," "expects," "intends," "plans," "projects," "estimates," "should," "will," "designed to," or "projections," or other similar expressions also constitute forward-looking statements.
Forward-looking statements involve known and unknown risks, uncertainties and other factors that could cause actual results and events to differ from those expressed or implied by such forward-looking statements. Potential factors that could cause actual results to differ materially from those in the forward-looking statements include, but are not limited to the inherent risks, costs and uncertainties associated with integrating the businesses successfully and risks of not achieving all or any of the anticipated benefits of the transaction, or the risk that the anticipated benefits of the transaction may not be fully realized or take longer to realize than expected; future responses to and effects of the ongoing COVID-19 pandemic or other similar health crises; export restrictions and laws affecting Semtech's trade and investments, and tariffs or the occurrence of trade wars; worldwide economic and political disruptions, including as a result of inflation and the current conflict between Russia and Ukraine; competitive changes in the marketplace including, but not limited to, the pace of growth or adoption rates of applicable products or technologies; downturns in the business cycle; decreased average selling prices of Semtech's products; Semtech's reliance on a limited number of suppliers and subcontractors for components and materials; changes in projected or anticipated end-user markets; Semtech's ability to forecast and achieve anticipated net sales and earnings estimates in light of periodic economic uncertainty, including impacts arising from Asian, European and global economic dynamic; and the additional risk factors set forth in Semtech's Annual Report on Form 10-K filed with the Securities and Exchange Commission (the "SEC") (www.sec.gov) on March 16, 2022, as such risk factors may be updated, amended or superseded from time to time by subsequent reports that Semtech files with the SEC. These forward-looking statements are made as of the date of this press release and Semtech assumes no obligation to update any forward-looking statements in order to reflect events or circumstances that may arise after the date of this release, except as required by law.
Semtech and the Semtech logo are registered trademarks or service marks of Semtech Corporation or its subsidiaries.