What is LoRa®?
LoRa: Long range, low power wireless platform is the prevailing technology choice for building IoT networks worldwide.
Smart IoT applications have improved the way we interact and are addressing some of the biggest challenges facing cities and communities: climate change, pollution control, early warning of natural disasters, and saving lives. Businesses are benefiting too, through improvements in operations and efficiencies as well as reduction in costs.
This wireless RF technology is being integrated into cars, street lights, manufacturing equipment, home appliances, wearable devices – anything, really. LoRa Technology is making our world a Smart Planet.
LoRa Technology
A Semtech innovation, LoRa Technology offers a very compelling mix of long range, low power consumption and secure data transmission. Public and private networks using this technology can provide coverage that is greater in range compared to that of existing cellular networks. It is easy to plug into the existing infrastructure and offers a solution to serve battery-operated IoT applications. Semtech builds LoRa Technology into its chipsets. These chipsets are then built into the products offered by our vast network of IoT partners and integrated into LPWANs from mobile network operators worldwide.

LoRaWAN Protocol
LoRaWAN is a protocol specification built on top of the LoRa technology developed by the LoRa Alliance. It uses unlicensed radio spectrum in the Industrial, Scientific and Medical (ISM) bands to enable low power, wide area communication between remote sensors and gateways connected to the network. This standards-based approach to building a LPWAN allows for quick set up of public or private IoT networks anywhere using hardware and software that is bi-directionally secure, interoperable and mobile, provides accurate localization, and works the way you expect. The specification is available for free to download from the LoRa Alliance website today.
Network Diagram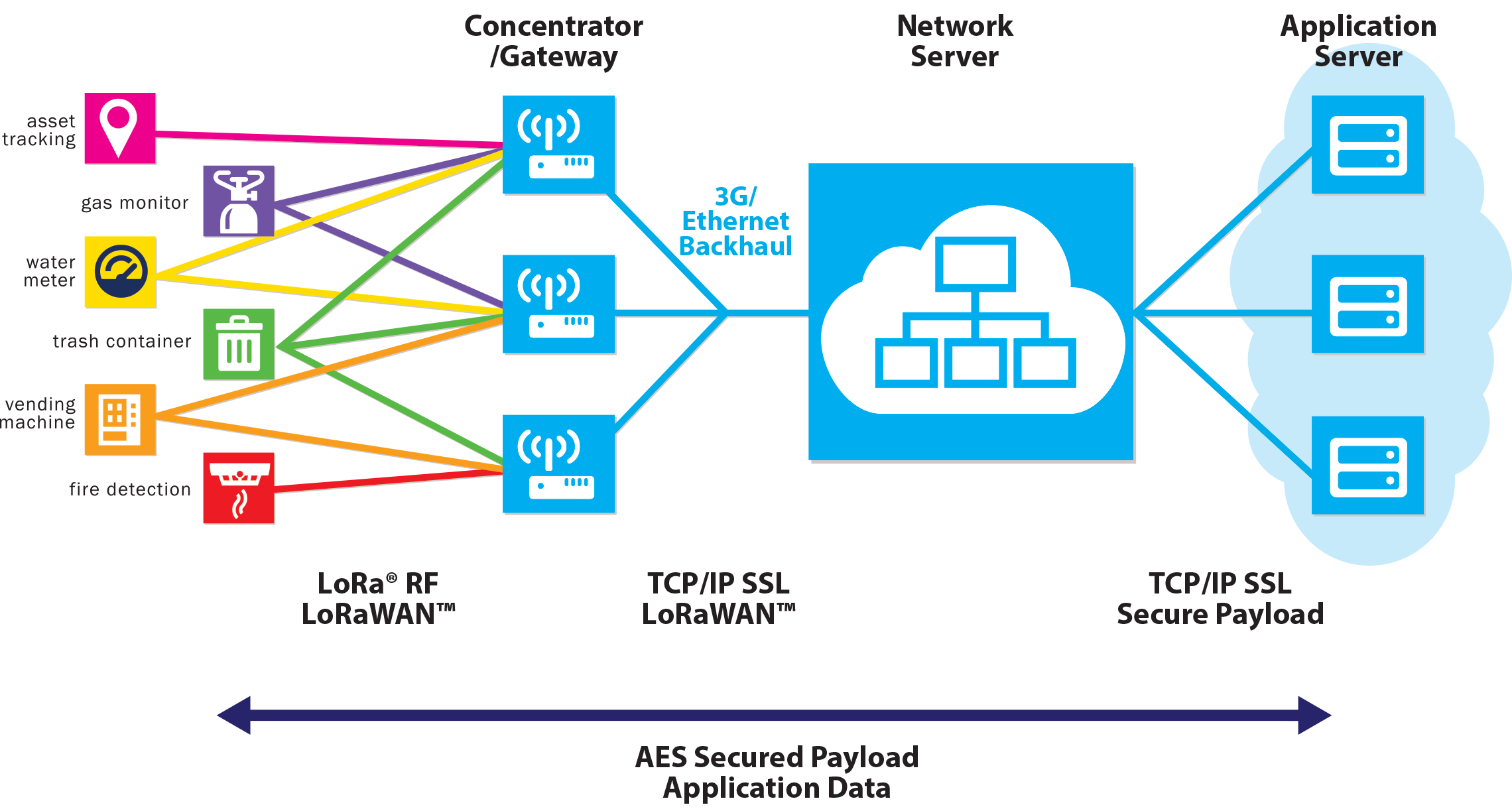 How LoRa Wireless RF is Enabling IoT
Semtech provides the silicon that embeds LoRa Wireless RF Technology. Optimized exclusively for IoT communications, we build the connection between remote end-points, picocells and gateways then transmit that information to the Cloud for delivery to mobiles and systems—making our world a Smart Planet.

Silicon
LoRa is the physical layer or the wireless modulation utilized to create the long range communication link.

Sensors
Semtech's LoRa RF transceivers are embedded into sensors.

Picocells & Gateways
Captures and transmits data over long ranges using minimal power for indoor and outdoor IoT applications.
Operator Deployment Highlights
The LoRaWAN™ network is being deployed around the globe by key operators in major markets,
enabling a connected world for IoT communications.

By leveraging LoRa Technology, machineQ delivers highly scalable and secure connectivity. With LoRaWAN network deployments in US metropolitan areas and major Comcast markets, machineQ is preparing dense networks for IoT deployments.
Alibaba Cloud
Alibaba Cloud plans to support an extensive ecosystem in China created by LoRa-based sensors.
Learn more >>
Blog >> Press >>
TATA Communications
TATA has pioneered deployment of a LoRaWAN network for IoT connectivity in India.
Learn more >> Press >>