Semtech SX8644
Ultra Low Power, Capacitive Button and Slider Touch Controller (12 sensors) with Enhanced LED Drivers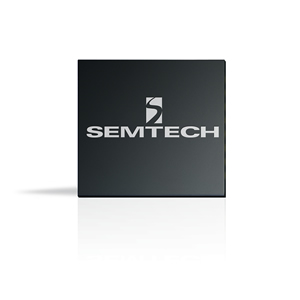 Not Recommended for New Designs. Datasheet is for information purposes only.
Features
Complete 12 Sensors Capacitive Touch Controller for

Buttons and Slider

Pre-configured for 6 Buttons and a Slider
8 LED Drivers with Individual Intensity, Fading Control and Autolight Mode
256 steps PWM Linear and Logarithmic control

High Resolution Capacitive Sensing


Up to 100pF of Offset Capacitance Compensation at Full Sensitivity
Capable of Sensing through Overlay Materials up to 5mm thick

Extremely Low Power Optimized for Portable Application


8uA (typ) in Sleep Mode
80uA (typ) in Doze Mode (Scanning Period 195ms)
220uA (typ) in Active Mode (Scanning Period 30ms)

Programmable Scanning Period from 15ms to 1500ms

Auto Offset Compensation


Eliminates False Triggers due to Environmental
Factors (Temperature, Humidity)
Initiated on Power-up and Configurable Intervals

Multi-Time In-Field Programmable Firmware Parameters for Ultimate Flexibility


On-chip user programmable memory for fast, self contained start-up

"Smart" Wake-up Sequence for Easy Activation from Doze
No External Components per Sensor Input
Internal Clock Requires No External Components
Differential Sensor Sampling for Reduced EMI
400 KHz Fast-Mode I²C Interface with Interrupt
AEC-Q100 Qualified Part
-40°C to +85°C Operation
I²C logo is a trademark of NXP B.V.
Applications
Notebook/Netbook/Portable/Handheld computers
Cell phones, PDAs
Consumer Products, Instrumentation, Automotive
Mechanical Button Replacement
Packaging
Order Codes
SX8644I05AWLTR- 3000 units/reel - Lead free, RoHS/WEEE compliant and Halogen Free
SX8644EVK: Evaluation Kit