Semtech SC33001AH
3A Low VIN Ultra-Low Rdson Load Switch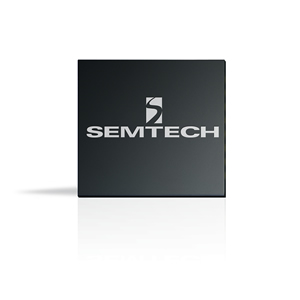 The SC33001AH is an ultra-low Rdson load switch optimized for use in battery powered applications. It supports up to 3A continuous output current. Sophisticated integrated circuitry maximizes Vgs of the power NMOS to minimize Rdson resistance over a wide range of operating conditions.
Features
Input voltage range — 1.7V to 5.5V

3A Continuous Output Current

Ultra-Low Rdson – 9m ohm

Constant Rdson over wide VIN range

Slow turn on slew with no output discharge circuit

Typical current limit 6A

Minimum current limit 3A

Typical foldback current limit 2A

Over temperature protection

Low shutdown current

Low quiescent current

Package: CSP — 0.9mm x 1.4mm , 0.5mm Pitch
Applications
Battery powered equipment

Smart Phones/Tablet PCs

Consumer electronics

STB/Audio/Video

Industrial/Network equipment

Other Portable Devices
Packaging
CSP — 0.9mm x 1.4mm , 0.5mm Pitch 6-bump
Order Codes
SC33001AHCSTRT — CSP 0.9mm × 1.4mm, 6-Bump

SC33001AH-EVB — Evaluation Board
Lead-free package only. Device is WEEE and RoHS compliant, and halogen free.