Semtech TS30013
High Efficiency 3A Current-Mode Synchronous Buck DC/DC Converter, 1MHz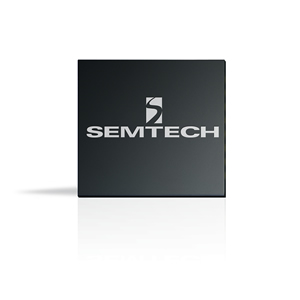 The TS30013 (3A) is a DC/DC synchronous switching regulator with fully integrated power switches, internal compensation, and full fault protection. The switching frequency of 1MHz enables the use of small filter components resulting in minimal board space and reduced BOM costs.
Features
Fixed output voltage choices: 1.5V, 1.8V, 2.5V, 3.3V, and 5V with +/- 2% output tolerance

Adjustable version output voltage range: 0.9V to 5.5V with +/- 1.5% reference

Wide input voltage range

TS30013: 4.5V to 18V (20V Abs Max)

1MHz +/- 10% fixed switching frequency

Continuous output current: 3A (TS30013)

High efficiency – up to 95%

Current mode PWM control with PFM mode for improved light load efficiency

Voltage supervisor for VOUT reported at the PG pin

Input supply under voltage lockout

Soft start for controlled startup with no overshoot

Full protection for over-current, over-temperature, and VOUT over-voltage

Less than 10uA in standby mode

Low external component countmal board space and reduced BOM costs.
Applications
On-card switching regulators

Set-top box, DVD, LCD, LED supply

Industrial power supplies
Packaging
Order Codes
TS30013-M000QFNR
TS30013-M015QFNR
TS30013-M018QFNR
TS30013-M025QFNR
TS30013-M033QFNR
TS30013-M050QFNR