Semtech SC810
Single Input/Single Mode Single-cell Li-ion Battery Charger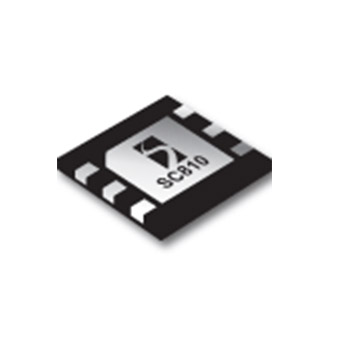 Not recommended for new designs.

The SC810 is a linear single-cell Li-ion battery charger in a 6 lead 2x2 MLPD Ultra-thin package. The input will survive sustained input voltage up to 30V to protect against hot plug overshoot and faulty charging adapters.
Features
Single input charger
Constant voltage — 4.2V, 1% regulation
Fast-charge current regulation — 15% at 70mA, 9% at 700mA
Three mode charging — current regulation, voltage regulation, and thermal limiting
Input voltage protection — 30V
Current-limited charging support — reduces power dissipation in charger IC
Instantaneous CC-to-CV transition for faster charging
Three termination options — fl oat-charge, automatic re-charge, or forced re-charge to keep the battery topped-off after termination without fl oat-charging
Soft-start reduces adapter load transients
High operating voltage range permits use of unregulated adapters
Complies with CCSA YD/T 1591-2006
Space saving 2x2x0.6 (mm) MLPD package
WEEE and RoHS compliant
Applications
Mobile phones
MP3 players
GPS handheld receivers
Packaging
Order Codes
SC810ULTRT: Lead-free package, fully WEEE and RoHS compliant, tape and reel only.