Semtech SC286
Dual Channel 4A Synchronous Step-Down Regulator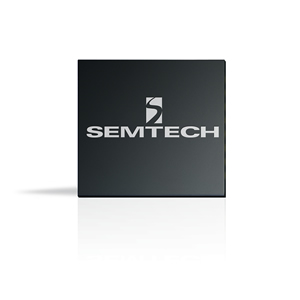 Not recommended for new designs.

The SC286 is a dual channel 4A synchronous step-down regulator designed to operate with an input voltage range of 2.9V to 5.5V. Each channel offers fifteen pre-determined output voltages via separate control pins programmable from 0.8 to 3.3 Volts.
Features
Input Voltage Range — 2.9 to 5.5V
Output Voltage Range — 0.8V to 3.3V
Output Current — up to 4A for each channel
Ultra-Small Footprint — <1mm Height Solution
Switching Frequency — 1.6MHz
Automatic Power Save Mode
Efficiency Up to 95%
Low Output Noise Across Load Range
Excellent Transient Response
Start Up into Pre-Bias Output
Duty-Cycle Low Dropout Operation — 100%
Shutdown Current — <1µA
Externally Programmable Soft Start Time
Power Good indicator
Input Under-Voltage Lockout
Output Over-Voltage, Current Limit Protection
Over-Temperature Protection
Thermally Enhanced 4 x 4 x 0.6 (mm)
MLPQ-UT28 package
Lead-free, Halogen free, and RoHS/WEEE compliant
Applications
Routers and Network Cards
LCD TV
Office Automation
Printers
Packaging
Order Codes
SC286ULTRT- Lead-free, Halogen free, and RoHS/WEEE compliant.