Semtech RClamp0594P
NEW
Low Capacitance RailClamp® 4-Line Surge and ESD Protection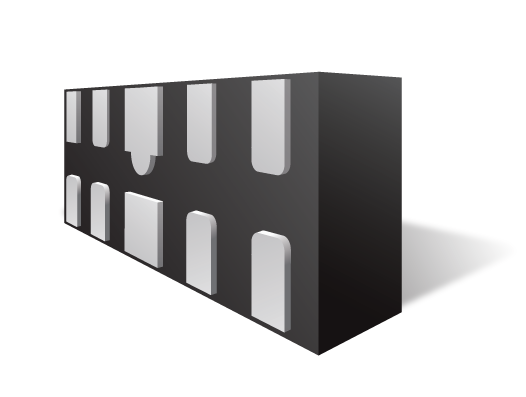 RailClamp® TVS arrays are ultra low capacitance electrostatic discharge (ESD) protection devices designed to protect high-speed data interfaces. This series has been specifically designed to protect sensitive components which are connected to high-speed data and transmission lines from overvoltage caused by ESD, cable discharge events (CDE) and electrical fast transients (EFT).
Features
Transient protection to:

IEC 61000-4-2 (ESD) ±17 kV (air), ±12kV (contact)
IEC 61000-4-4 (EFT) 40A (5/50ns)
IEC 61000-4-5 (lightning) 6A (8/20µs)

Protects four high-speed data lines
Package design optimized for high-speed lines
Working voltage: 5V
Low clamping voltage
Low capacitance: 0.3 pF typical (I/O to I/O)
Solid-state silicon-avalanche technology
Pb-free, Halogen-free, RoHS/WEEE-compliant
Applications
HDMI 2.0
Embedded display port (eDP)
Display port
LVDS
V-by-one
Packaging
DFN 2.5 x 1.0 x 0.55mm 10-Lead - 5,000 pcs.
Order Codes