Semtech GS2964
Short Reach, 3G-SDI Adaptive Cable Equalizer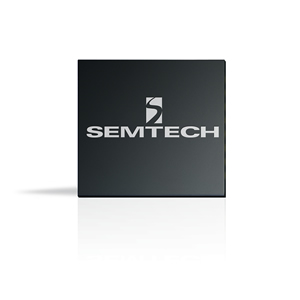 Not recommended for new designs.
Please use the GS2994 for new designs.
The GS2964 is a cost optimized short reach equalizer that still supports 100m at 3Gbps. The GS2964 is a high-speed BiCMOS integrated circuit designed to equalize and restore signals received over 75ohm coaxial cable. 
The device is designed to support SMPTE 424M, SMPTE292M and SMPTE 259M, and is optimized for performance at 270Mbps, 1.485Gbps and 2.97Gbps.
The GS2964 features DC restoration to compensate for the DC content of SMPTE pathological test patterns.
The Carrier Detect output pin (CD) indicates whether a valid input signal has been detected. It can be connected directly to the MUTE pin to mute the output on loss of carrier. A voltage programmable threshold, which can be changed via the SQ_ADJ pin, forces CD high when the input signal amplitude falls below the threshold. This allows the GS2964 to distinguish between low-amplitude SDI signals and noise at the input of the device.
The equalizing and DC restore stages are disengaged when the BYPASS pin is HIGH. No equalization occurs in Bypass mode.
The differential outputs can be DC-coupled to Gennum® 3.3V cable drivers and reclockers and to other industry-standard 3.3V CML logic.
The GS2964 is footprint and drop-in compatible with existing GS2974 designs, with no additional application changes required.
The device is available in a 16-pin, 4mm x 4mm QFN package.
Power consumption of the GS2964 is typically 215mW.
The GS2964 is Pb-free, and the encapsulation compound does not contain halogenated flame retardant.
This component and all homogeneous subcomponents are RoHS compliant.
Features
SMPTE 424M, SMPTE 292M and SMPTE 259M compliant
Automatic cable equalization
100m cable length at 3Gbps, 140m at HD, 180m at SD
Multi-standard operation from 143Mbps to 2.97Gbps
Performance optimized for 270Mbps, 1.485Gbps and 2.97Gbps. Typical equalized length of Belden 1694A cable:

100m at 2.97Gbps
140m at 1.485Gbps
180m at 270Mbps

Supports DVB-ASI at 270Mbps
Manual bypass (useful for low data rates with slow rise/fall times)
Programmable carrier detect with squelch threshold adjustment
Standard EIA/JEDEC logic control and status signal levels
Single 3.3V power supply operation
215mW power consumption (typical)
Wide operating temperature range of -40°C to +85°C
Small footprint QFN package (4mm x 4mm)

Drop-in compatible with the GS2974

Pb-free and RoHS compliant
Applications
Audio De-embedders
Audio Embedders
Camera
Camera Control Units
Distribution Amplifiers
Encoders/Decoders
Format Detectors
Master Control Switchers
Monitors
Multiviewers
Production Switchers
Routers
SMPTE 424M, SMPTE 292M and SMPTE 259M coaxial cable serial digital interfaces
Test and Measurement Equipment
Up/Down/Cross Converters
Video Capture Cards
Video Servers
Video Tape Recorders
Order Codes
GS2964-INE3: Lead-Free, RoHS Compliant, Tray-490 Pieces
GS2964-INTE3: Lead-Free, RoHS Compliant, Tape and Reel-250 Pieces
GS2964-INTE3Z: Lead-Free, RoHS Compliant, Tape and Reel-2500 Pieces