Semtech GS12170
SDI/HDMI Bridge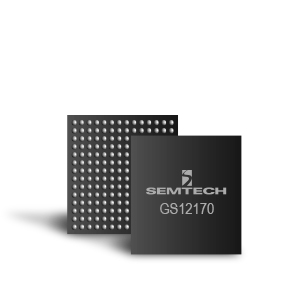 The GS12170 is a fully featured SDI/HDMI bridge chip (including backwards compatibility with the GS12070 UHD-SDI Gearbox) for SDI link conversion applications. The GS12170 can be configured to operate in one of three modes: SDI to HDMI bridge mode, HDMI to SDI bridge mode or SDI gearbox mode.
The device fully supports SDI interface standards from HD-SDI (ST 292) to UHD-SDI at 12Gbps (ST 2082-1), including all Multi-Link SDI standards at these rates. When configured for HDMI bridging, the GS12170 fully supports the HDMI 2.0 standard up to 4Kp60 4:2:2 format.
The G12170 is the ideal solution for chip-to-chip connectivity using TMDS signaling for UHDTV products requiring a 12Gbps UHD-SDI interface. For example, add a 12Gbps UHD-SDI input interface to a UHDTV monitor simply by adding the GS12170 in SDI to HDMI Mode, with TMDS connection directly into off-the-shelf image processing ASICs.

For applications requiring multi-channel audio, the GS12170 includes a full 16-channel audio de-embedding and embedding feature. Up to 16 channels of digital audio at 48kHz sampling, or up to eight channels at 96kHz sampling, can be extracted from the input video, and output on dedicated balls in AES/EBU or I2S serial digital formats. Existing audio is also simultaneously re-embedded in the selected output interface format. Users may also choose to insert up to eight channels of new audio using dedicated audio input balls.

In HDMI to SDI Mode, the GS12170 can extract all HDMI InfoFrames, including HDR meta data. Video payload information is automatically converted to SMPTE ST 352 packets. Similarly, in SDI to HDMI Mode, SDI SMPTE ST 352 packets are extracted and converted to equivalent InfoFrames. All InfoFrame and ancillary data packets can be read via the GSPI host interface. Users can also choose to insert new SDI ancillary data packets via the GSPI.

In SDI gearbox mode, the device will automatically reorder the output serial stream according to the received ST 352 packets, and may also duplicate outputs to unused serial output ports, or route any input channel to an unused output.

The device will also automatically compensate for up to 400ns of skew between Multi-Link SDI inputs. This aids in any lane-to-lane variance introduced by cable mismatch or upstream routing and distribution equipment.

For optimal SDI performance, the GS12170 is designed to interface directly with Semtech's UHD-SDI equalizers and cable drivers. For HDMI connectivity, the TMDS inputs and outputs are designed for direct chip-to-chip connectivity. The device can be connected to physical HDMI connectors using an HDMI re-driver device.

The GS12170 is packaged in a space-saving 12 mm by 12 mm 196-ball BGA package, and offers low power operation of less than 2W typically.

This makes the device ideal for adding UHD-SDI interfaces to existing HDMI 2.0 based UHDTV products, and for low-cost SDI/HDMI converters and extenders.
Features
Fully standards compliant SDI interface bridging to and from HDMI 2.0
Support for 4K video formats up to 60Hz at 10-bit 4:2:2 sampling
Converts between Single-Link and Multi-Link SDI inerfaces from HD-SDI to 12Gbps UHD-SDI
Three modes of operation:

SDI to HDMI bridge mode
HDMI to SDI bridge mode
SDI to SDI gearbox mode

Supports up to 16 channels of digital audio de-embedding and embedding at 48kHz or 96kHz

Simultaneous de-embedding and embedding in all modes of operation

Dedicated AES/EBU or I2S serial digital audio inputs and outputs
Extraction and insertion of HDMI InfoFrames
Extraction and insertion of SDI ancillary data packets
Extraction and insertion of Time Code (TC) data packets
SDI Gearbox Mode also supports all functions and features of the GS12070 UHD-SDI Gearbox
Automatic and manual handling of SMPTE ST 352 packets
Automatic skew compensation for multi-link SDI inputs
Automatic input link order handling for multi-link SDI inputs
Four 100Ω differential inputs with input trace equalization up to 12dB
Four 100Ω differential outputs with individually selectable output swing adjust
Single 27MHz reference clock/crystal input
Gennum Serial Peripheral Interface (GSPI) serial control and monitoring interface
Typical power <2W
12 mm x 12 mm 196-ball BGA (0.8 mm pitch)
Pb-free, halogen-free, RoHS / WEEE compliant
Applications
UHDTV monitors & displays
UHDTV cameras & camcorders
SDI/HDMI converters
HDMI extenders
SDI I/O adapters
SDI/HDMI switchers & routers
Packaging
Order Codes
GS12170-IBE3, 189-piece tray
Application Notes
Datasheets
Product Briefs
Reference Designs
Reliability Report
Software Releases (Firmware)
Tools & Software