Company
Thriving Workplace
At Semtech, we are proud of our role as a leading provider of disruptive technology platforms that enable our customers and partners to deliver solutions for a smarter, more sustainable planet.
Behind our transformational technology is an impressive team of innovators from across the globe representing different cultures, backgrounds and experiences. Semtech's Core Values serve as a uniting force and foster a productive and safe workplace for our employees to flourish.
Training & Development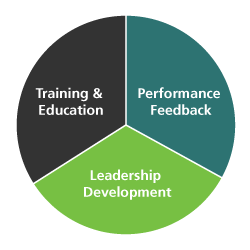 To be our best as a team, our culture encourages education, innovation, collaboration, and individual career growth. We invest in employees' success by providing resources to enhance skills and achieve professional goals that align with our vision, mission and business objectives. Employees have the opportunity to participate in the following programs:
Leadership Excellence Program
Three-phased fundamentals and training curriculum for Semtech's leadership facilitated by external specialists.

Performance Appraisal and Feedback
SMART (Specific, Measurable, Achievable, Realistic, and Timely) goal plans for employee performance reviews twice annually.

LinkedIn Learning Hub
Online intelligent skill-building library of 6,400 courses in seven different languages that empowers learners with personalized content. Each Semtech employee completes an average of seven development courses annually.

Coursera
Technical training tracks offering self-paced courses, professional degrees and certificates from world-class universities and companies.

Tuition Reimbursement
Educational assistance funding towards completing a 2-year, 4-year or postgraduate degree at an accredited school, college or university.

Annual Business and Compliance Training
Semtech's required program for employees to learn about business ethics and diversity topics, including code of conduct, sexual harassment avoidance, inclusion and belonging, protecting intellectual property, trade compliance, data privacy and physical and mental wellness.
Employee Well-being

Semtech has increased its commitment to the physical, mental and financial well-being of all our employees around the world by instituting the following programs:
Well-being Solutions
Resource hub and engagement application designed to enhance employees' health and happiness based on the 5 Pillars of Well-being.

Employee Assistance Program
A confidential resource for all employees and their dependents to connect with licensed therapists, financial specialists and legal professionals.

Hybrid Work Model
A flexible model that supports a blend of in-office, remote and on-the-go working.

Long-Term Incentives
Eligible Semtech employees participate in Long-Term Incentive programs, including Restricted Stock Units (RSUs) and time-based cash bonuses.

Parental Leave
Enhanced policy of up to 20 weeks of paid maternity/pregnancy and parental leave for regular, full- and part-time employees based in the U.S., Canada and UK.

Patent Awards & Inventor Royalties
Awards that recognize and encourage the development of new technologies and provide an annual cash award for design engineers that are based on realized sales of these new technologies.

Dr. Binneg Y. Lao Award for Technology Innovation
Annual cash and equity award to the design engineer or team that creates the most extraordinary and impactful technology innovation at Semtech.
Diversity, Equity and Inclusion
Semtech believes that a culturally and geographically diverse team drives innovation, facilitates collaboration and delivers stronger business results. From our interns to our executives, we recognize inclusion as an essential part of our success, and actively support initiatives to increase the number of women and minorities in high tech.
STEM
Semtech is a proud sponsor of "Beautiful Connections" boot camp. The program, created by MIT, teaches computational theories and details advantages of careers in STEM to girls 13 to 17 years old.

University Relations
Semtech collaborates with Historically Black Colleges and Universities (HBCUs) for career fairs and sponsors early talent student organizations such as Women in Engineering and the Society of Women Engineers (SWE).

Internships
We identify and engage with universities for recruitment of students for Semtech's 10-week paid internship programs, offering skill development in a variety of fields, including engineering, sales, IT, and finance.

Rotation Program
Semtech offers a two-year rotation to recent graduates as regular full-time employees across different positions based on individual interests such as sales, product marketing, engineering, and account management.

Women in Leadership
We are committed to cultivating a culture of fairness and justice with gender equity practices being a major focus. Our female talent pipeline continues to grow and presently represents 20% of Semtech's managerial positions.
Employee Experience
Our employees' level of commitment, motivation and satisfaction are important drivers to success.
We believe every voice matters. Each year, we administer employee surveys to obtain feedback on our strengths and learn about opportunities for improvement. We compare Semtech's employee results with benchmark results from the Workforce Science Associates (WSA) global average, comprised of 116M survey responses across 282 unique organizations worldwide.
For 2022, the employee survey yielded an 84% participation rate from all Company employees. Findings indicated strengths in a unified commitment to Semtech's Core Values and pride in Semtech's products and services.
Results at a glance:
Immediate supervisor does great job managing work

Exceptional at people management

Extremely satisfied with Semtech as a place to work

Would recommend Semtech to people they know

Rarely think about a new job with another company

Access to necessary resources to do job effectively

Departments collaborate effectively

Clearly defined performance goals and objectives
Ethical Employment
Semtech is diligent in monitoring and addressing any issues that may negatively affect the human or labor rights of our employees. This includes issues such as working hours, non-discrimination, prevention of forced labor, fair wages, and minimum age requirements. We provide an anonymous Employee Hotline to confidentially report any concerns employees may have to third-party provider, Ethico.
Semtech is a global company with people and offices located around the world. As such, we take our responsibility to protect employees either directly or through suppliers, very seriously. Semtech's Statement Against Human Trafficking and Slavery outlines our commitment to address and mitigate the risk of modern slavery and human trafficking in our operations and throughout our supply chain.