Products
Power Management
Semtech SC1565
Very Low Dropout 1.5 Amp Regulator With Enable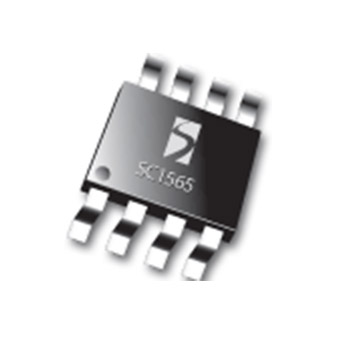 The SC1565 is a high performance positive voltage regulator designed for use in applications requiring very low dropout voltage at up to 1.5 Amps. Since it has superior dropout characteristics compared to regular LDOs, it can be used to supply 2.5V on motherboards or 2.8V on peripheral cards from the 3.3V supply thus allowing the elimination of costly heatsinks.
Features
350mV dropout @ 1.5A
Adjustable output from 1.2V to 4.8V (1)
2.5V and 1.8V options (adjustable externally using resistors) (1)
Over current and over temperature protection
Enable pin (1)
10µA quiescent current in shutdown (1)
Low reverse leakage (output to input)
Surface mount and through-hole packages
Full industrial temperature range
TO-220, TO-263, SOT-223 and SO-8 Packages
Note: (1) SO-8, TO-220-5 and TO-263-5 packages only.
Applications
Battery-powered systems
Motherboards
Peripheral cards
Network cards
Set-top boxes
Medical equipment
Notebook Computers
Packaging
TO-263-5, SOIC-8, SOT-223, TO-263-3
Order Codes
SC1565I5-1.8TR: Package Minimum Tape & Reel Only
SC1565I5-2.5TR: Package Minimum Tape & Reel Only
SC1565I5T-2.5: $500.00 min.line Bulk (50 pcs.increments)
SC1565IM-1.8TR: Package Minimum Tape & Reel Only
SC1565IM-2.5TR: Package Minimum Tape & Reel Only
SC1565IM-2.5TRT: RoHS Compliant, Package Minimum Tape & Reel Only
SC1565IS-1.8.TR: Package Minimum Tape & Reel Only
SC1565IS-1.8TRT: Lead-Free, RoHS and WEEE Compliant, Package Minimum Tape & Reel Only
SC1565IS-2.5.TR: Package Minimum Tape & Reel Only
SC1565IS-2.5TRT: Lead-Free, RoHS and WEEE Compliant, Package Minimum Tape & Reel Only
SC1565IST-1.8TR: Package Minimum Tape & Reel Only
SC1565IST-2.5TR: Package Minimum Tape & Reel Only
SC1565IST18TRT: RoHS Compliant, Package Minimum Tape & Reel Only
SC1565IST25TRT: RoHS Compliant, Package Minimum Tape & Reel Only
SC1565IT-1.8: $500.00 min.line Bulk (50 pcs.increments)
SC1565IT-2.5: $500.00 min.line Bulk (50 pcs.increments)
SC1565IT-2.5T: RoHS Compliant, $500.00 min.line Bulk (50 pcs.increments)