Semtech TSWIRX-LI2-EVM
LinkCharge® LP Receiver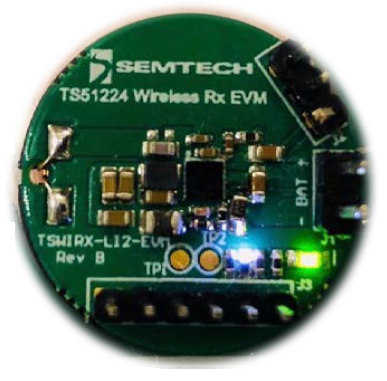 The Semtech TSWIRX-LI2-EVM is an evaluation platform for the test and experimentation of a wireless charging receiver based on the Semtech TS51224 fully-integrated Wireless Power Receiver and battery charger for low-power IC. This evaluation module, in conjunction with its compatible transmitter TSWITX-G4-EVM, provides a complete system solution for low power transmission, receiving and charging for wearable devices.
The TSWIRX-LI2-EVM Evaluation Module is coupled with its compatible transmitter module, the Semtech TSWITX-G4-EVM, to form a complete wireless power transmission system, to directly chare a single cell Li-ion battery for approximately 250mA of charging current.
The key technology in the EVM is the Semtech TS51224, which is a fully-integrated wireless power receiver and battery charger for low-power, wearable applications that require a low-cost and space-saving solution. The TS51224 can operate by itself as a single-chip wireless power receiver in proprietary applications. It can also operate in conjunction with a wireless power controller or an application microcontroller to support up to 2W combined system/battery power.
Features
Semtech IC Contents