Semtech GS9076
SD-SDI Quad-input Reclocker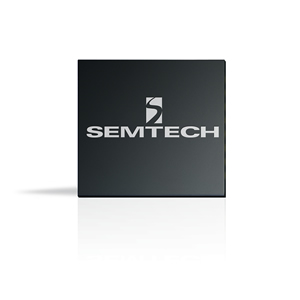 Not recommended for new designs.
Please use the GS6152 for new designs.
The GS9076 is an SD-SDI Serial Digital Reclocker designed to automatically recover the embedded clock from a digital video signal and re-time the incoming video data.
The device automatically detects and locks to incoming SMPTE 259M-C SDI and DVB-ASI signals at 270Mb/s. 
The GS9076 removes the high frequency jitter components from the bit-serial stream. Input termination is on-chip for seamless matching to 50Ohm transmission lines. The device requires only one external crystal to set the VCO frequency when notlocked and provides adjustment free operation.
In systems which require passing of non-SMPTE data rates, the GS9076 can be configured to either automatically or manually enter a bypass mode in order to pass the signal without reclocking.
The GS9076 offers a choice of dual reclocked data outputs or one data output and one recovered clock output. The device is footprint and drop-in compatible with existing GS2975A designs, with no additional application changes required.
The GS9076 is Pb-free, and the encapsulation compound does not contain halogenated flame retardant.
This component and all homogeneous sub-components are RoHS compliant.
Features
SMPTE 259M-C compliant
Automatic lock to SDI and DVB-ASI at 270Mb/s
4:1 input multiplexer patented technology
Choice of dual reclocked data outputs or one data output and one recovered clock output
Loss of Signal (LOS) Output
Lock Detect Output
On-chip Input and Output Termination
Differential 50 Ohm inputs and outputs
Mute, Bypass and Autobypass functions
Footprint and drop-in compatible with existing GS2975A designs
Pb-free and RoHS Compliant
Single 3.3V power supply
Operating temperature range: 0°C to 70°C
Applications
SMPTE 259M-C Serial Digital Interfaces
Order Codes
GS9076-CNTE3: Lead-Free, RoHS Compliant, Tape and Reel-250 Pieces
GS9076-CNE3: Lead-Free, RoHS Compliant, Tray-260 Pieces