Semtech GS1675
HD-SDI Quad-input Reclocker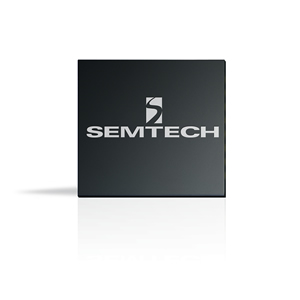 The GS1675 is a multi-rate serial digital reclocker designed to automatically recover the embedded clock from a digital video signal and retime the incoming video data. It will recover the embedded clock signal and retime the data from a SMPTE 292M or SMPTE 259M-C compliant digital video signal.
The GS1675 can operate in either Auto or Manual rate selection mode. In Auto mode, the device will automatically detect and lock onto incoming SMPTE SDI data signals at SD and HD data rates. For single-rate data systems, the GS1675 can be configured to operate in Manual mode. In both modes, the device requires only one external crystal to set the VCO frequency when not locked, and provides adjustment-free operation. In systems which require passing non-SMPTE data rates, the GS1675 can be configured to either automatically or manually enter a bypass mode in order to pass the signal without reclocking.
The GS1675 accepts industry-standard differential input levels including LVPECL and CML. The differential data and clock outputs feature selectable output swing via the host interface, ensuring compatibility with most industry-standard, terminated differential receivers. The GS1675 features dual differential outputs. The second output can be configured to emit either the recovered clock signal or the re-timed video data.
Features
SMPTE 292M and SMPTE 259M-C compliant
Supports DVB-ASI at 270Mb/s
Single-supply operation at 3.3V or 2.5V
180mW typical power consumption (213mW with RCO enabled) at 2.5V
2:1 input multiplexer patented technology
Choice of dual reclocked data outputs or one reclocked data output and one clock output
Uses standard 27MHz crystal
Differential inputs and outputs

supports DC-coupling to industry-standard differential logic
on-chip 100? differential data input/output termination
selectable 400mVppd or 800mVppd output swing on each output

4-wire SPI host interface for device configuration and monitoring
Standard logic control and status signal levels
Auto and Manual modes for rate selection
Standards indication in Auto mode
Lock Detect Output
Mute, Bypass and Autobypass functions
SD/HD indication output to control GS1678 or GS1679 cable drivers
Operating temperature range: -40°C to +85°C
32 pin 5mm x 5mm QFN package
Pb-free and RoHS compliant
Forward pin-compatible with the Gennum's 3G GS2965 reclocker
Applications
Audio De-embedders
Audio Embedders
Camera
Camera Control Units
Distribution Amplifiers
Encoders/Decoders
Format Detectors
Master Control Switchers
Monitors, Multiviewers
Production Switchers
Routers
SMPTE 292M and SMPTE 259M coaxial cable serial digital interfaces
Test and Measurement Equipment
Up/Down/Cross Converters
Video Capture Cards
Video Servers
Video Tape Recorders
Order Codes
GS1675-INTE3: Lead-Free, RoHS Compliant, Tape and Reel-250 Pieces
GS1675-INE3: Lead-Free, RoHS Compliant, Tray-490 Pieces