Semtech AVX100
AVX100 AV Extender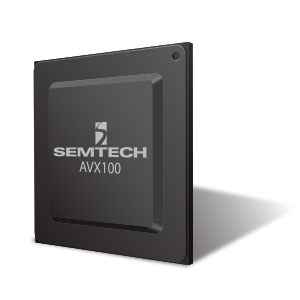 The AVXT extender ASIC series pushes the envelope on multimedia connectivity between AV equipment and remote displays by simultaneously transmitting uncompressed quality Ultra HD (4K) video, multi-channel audio, Gigabit Ethernet, 480Mb/s USB2.0 and other control signals on a single category cable.
The AVX100 AV extender provides the most cost effective solution for point to point AV extension over copper cables, with less than 0.1 milliseconds latency at maximum cable reach.
The new AVXT extender chipset series also includes the AVX200T, which is fully interoperable with the AVX100. Products using these chipsets can be integrated into AV transmitters, AV receivers, AV matrix switches, presentation switchers and other AV equipment to address a variety of market applications, and are an ideal replacement for HDBaseT.
Features
Point to point extension of audio, video, Gigabit Ethernet and control signals between AV equipment (e.g. sources, displays, AV Matrix switches)
Full range of formats including 4K60 RGB/4:4:4, HDR, 3D and broadcast-friendly 4K60 10-bit 4:2:2
HDMI audio embedding, de-embedding and breakaway
Supports 10G Ethernet over category cabling
Power over Ethernet (PoE) support
Applications
AV/KVM extension
AV/KVM matrix switching
Video Wall processing
Packaging
576-ball BGA 25mm x 25mm (1.0mm ball pitch)
Order Codes
AVX100-IBE3: Lead-Free, RoHS Compliant, Tray-40 Pieces
Key Specifications
Key Specifications
Video Interfaces
HDMI 2.0 supporting all resolutions up to 594MHz
4K60 RGB and 4:4:4 8-bit
4K60 4:2:2 10-bit for broadcast and medical applications
4K60 4:2:0 10-bit and 12-bit HDR
Audio Interfaces
Integrated HDMI audio with 2-channel I2S in or out with 8-channel I2S in and out
Supporting all HDMI 2.0 formats including multi-channel PCM, Dolby True-HD and DTS-HD master audio
HDMI audio embedding, de-embedding & breakaway
Control Interfaces
Quad RS-232, infrared I/O, Gigabit Ethernet, USB-HID and GPIO
USB 2.0 full device support at 480Mbps with third-party chipset
Transmission Performance
End-to-end latency under 100 microseconds
Video is uncompressed, except 4K60 8-bit 4:4:4 and 10-bit 4:2:2
Ultra-lightweight compression with 1.3-to-1 compression ratio and 100% artefact-free
Transmission Interface
10 Gigabit Ethernet via XFI, IEEE 802.3, and 2.5/5 Gigabit interface via IEEE 802.3bz
Compatible with 10GBaseT or NBaseT copper PHY
Power over Ethernet (PoE) support with compatible PHY devices
Transmission Distance
Up to 100 meters via 10GBaseT or NBaseT on category cable
General
Power: 2.6W Typical
Package: 576-BGA (25mm x 25mm)
Block Diagram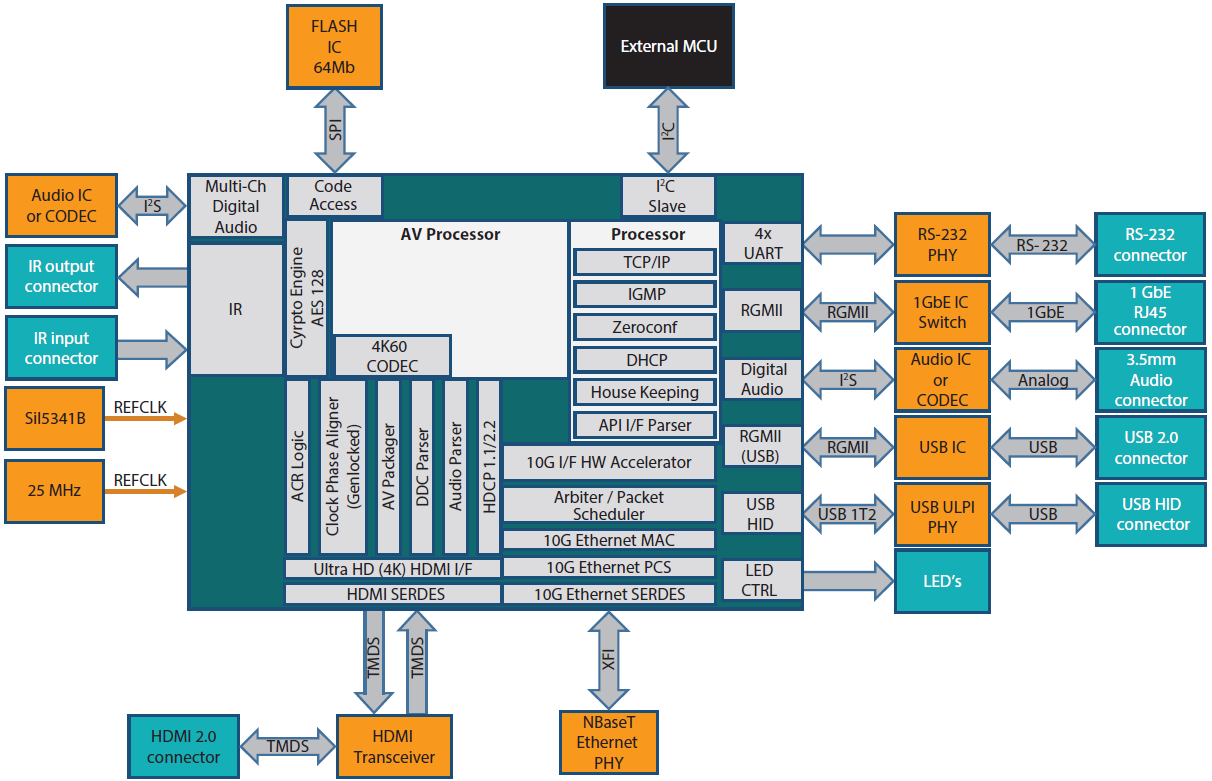 Click diagram to enlarge