Products
High Reliability
Semtech SC4525EM
28V 3A Step-Down Switching Regulator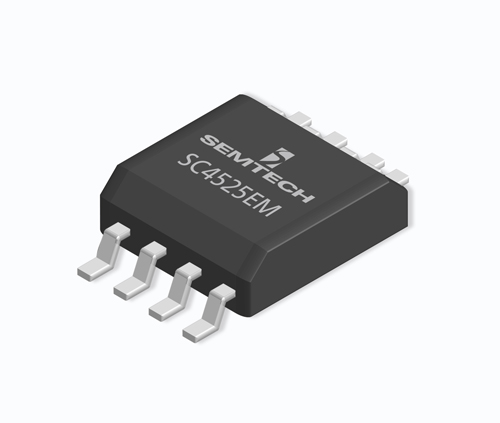 The SC4525EM is a constant frequency peak current-mode step-down switching regulator capable of producing 3A output current from an input ranging from 3V to 28V. The switching frequency of the SC4525EM can be programmed up to 2MHz for component miniaturization or it can be set at lower frequencies to accommodate high step-down ratios. The SC4525EM is suitable for various point of load applications.
Peak current-mode PWM control employed in the SC4525EM achieves fast transient response with simple loop compensation. Cycle-by-cycle current limiting and hiccup overload protection reduces power dissipation during output overload. Soft-start function reduces input start-up current and prevents the output from overshooting during power-up.
The SC4525EM is available in SOIC-8 EDP package.
Features
Wide Input Voltage Range: 3V to 28V
3A Output Current
200kHz to 2MHz Programmable Frequency
Precision 1V Feedback Voltage
Peak Current-Mode Control
Cycle-by-Cycle Current Limiting
Hiccup Overload Protection with Frequency Foldback
Soft-Start and Enable
Thermal Shutdown
Thermally Enhanced 8-pin SOIC Package
Fully RoHS and WEEE Compliant
Military Temperature Range: -55°C to +125°C
Applications
Point of Load Applications
Packaging
SC4525EMSETRT(1)(2) | SOIC-8 EDP
SC4525EEVB (3) | Evaluation Board

Notes:
(1) Available in tape and reel only. A reel contains 2,500 devices.
(2) Available in lead-free package only. Device is fully WEEE and RoHS compliant and halogen-free.
(3) This EVB comes populated with the industrial temperature grade device.