Semtech EClamp2367NQ
EMIClamp® EMI Filter and ESD Protection For SD Card Interfaces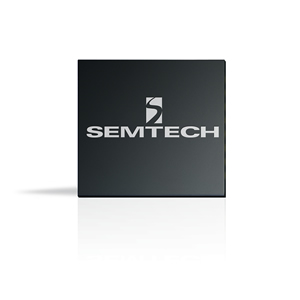 EClamp®2367NQ integrates low capacitance ESD protection, low pass filters, and pull up resistors designed specifically for secure digital card interfaces in automotive applications. It is compliant with SD3.01 UHS-1 SDR 104 standard.
EClamp2367NQ is an easily implemented solution for replacing discrete resistors and ESD protection devices in a single package. These devices utilize silicon avalanche technology for superior ESD and TLP clamping performance. They feature maximum ESD withstand voltage of ±12kV contact, ±15kV air discharge per IEC 61000-4-2. They are qualified to AEC-Q100 for use in automotive applications.
EClamp2367NQ is in a SLP3030P16 package, measuring 3.0 x 3.0mm with a nominal height of 0.60mm. The leads have a nominal pin-to-pin pitch of 0.50mm.
Features
Transient Protection to

ŒŒIEC 61000-4-2 (ESD): 15kV (Air), 12kV (Contact)
ŒŒIEC 61000-4-4 (EFT) 4kV (5/50ns)
ŒŒISO-10605 (ESD): 15kV (Air), 12kV (Contact)

Qualified to AEC-Q100, Grade 1
Compliant with SD3.01 UHS-1 SDR 104 Standard
Low capacitance to accommodate long PCB traces
Low ESD Clamping Voltage
Solid-State Silicon-Avalanche Technology
Applications
Automotive Applications
Secure Digital (SD) Memory Card Interfaces
Multimedia Card Interfaces (MCI)