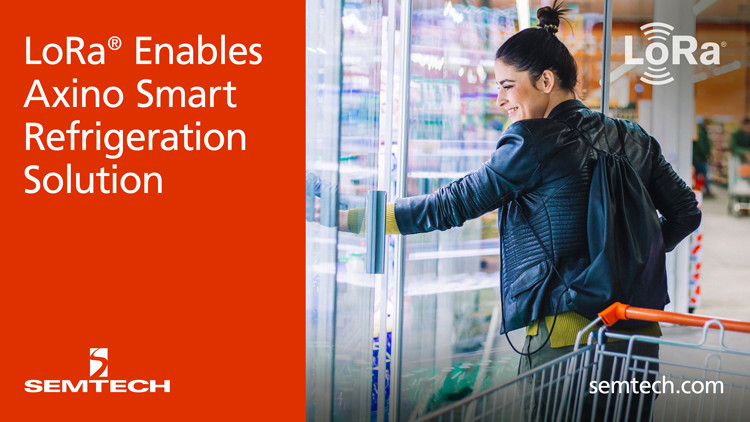 Semtech's LoRa® Technology Integrated into Axino's Smart Refrigeration Solutions
LoRa-based sensors deploy provide real-time temperature data to meet food safety requirements and hundreds of thousands of savings a year
CAMARILLO, Calif., June 4, 2019 – Semtech Corporation (Nasdaq: SMTC), a leading supplier of high performance analog and mixed-signal semiconductors and advanced algorithms, announced that Axino Solutions, an innovative software and systems integrator for the planning and implementation of comprehensive IT solutions, has integrated Semtech's LoRa® devices and wireless radio frequency technology (LoRa Technology) into its smart refrigeration solutions to track food temperature for the food retail industry. Axino's LoRa-based solution has been deployed globally including with Migros, Switzerland's largest supermarket chain. Since deployment of a LoRa-based solution, Migros has measured hundreds of thousands of Euros of savings per year.
"Semtech's LoRa Technology is an enabling platform which provided us just with the right resilient wireless signal to be able to roll out our solution in. LoRa Technology provides us with the right plug-and-play characteristics for an easy to deploy and maintain solution, making this solution very attractive to potential customers," said Ihab Hourani, CTO at Axino Solutions. "For smart refrigeration solutions, LoRa Technology allows accurate and consistent monitoring of temperature data. Axino's artificial intelligence (AI) algorithms utilize this data to predict core temperatures of different food items and automatically adjust temperature levels to comply with safety regulations. As a result, customers reduce their amount of wasted product and increase their return on investment."
In the food retail industry, food must be carefully monitored to ensure shelf life is maximized and it remains safe to consume. Additionally, food often has a long journey that is transported by a refrigerated truck to the supermarket, traveling from temperature-controlled warehouse to the final shelf. Many factors over the course of this journey may affect food safety and quality, including improper handling by personnel and inaccurate refrigerator calibration. Axino's LoRa-based temperature sensors quickly deploy into refrigeration infrastructure through a magnet with no external wiring. The sensor monitors core temperature data in real-time and is accurate to one degree Celsius. Sensors can be preprogrammed to adjust individual refrigerator unit temperatures thereby maintaining a consistent temperature and keeping food safe. Real-time data evaluation and autonomous refrigeration adjustment help eliminate human error, prolong food shelf life and save customers money.
"LoRa-based solutions, such as those from Axino, are simple to deploy and provide the capacity to accurately and consistently track data for years at a time," said Marc Pegulu, Vice President of Internet of Things (IoT) for Semtech's Wireless and Sensing Products Group. "The smart supply chain and logistics IoT market could be worth as much as $6.3 trillion by 2025. LoRa Technology's ease of deployment, scalability and cost-saving capabilities make it a de facto leader for IoT, and well equipped to lead this space."
Axino will be presenting at the LoRa Alliance's LoRaWAN® Live and Market Place. Visit here to learn more.
About Semtech's LoRa® Devices and Wireless RF Technology
Semtech's LoRa devices and wireless radio frequency technology is a widely adopted long-range, low-power solution for IoT that gives telecom companies, IoT application makers and system integrators the feature set necessary to deploy low-cost, interoperable IoT networks, gateways, sensors, module products, and IoT services worldwide. IoT networks based on the LoRaWAN® specification have been deployed in 100 countries and Semtech is a founding member of the LoRa Alliance™, the fastest growing IoT Alliance for Low Power Wide Area Network applications. To learn more about how LoRa enables IoT, visit Semtech's LoRa site.
About Axino Solutions
The Axino Group, consisting of Axino Solutions AG in Switzerland and Axino Solutions GmbH in Germany, is a leading provider of communications solutions and services. Designed, implemented and based on innovative software Axino Solutions operates comprehensive enterprise services IT solutions Management (ESM), Enterprise Asset Management (EAM) and Mobile Solutions, IoT Solutions as well as International Carrier Business Support Systems. The company focuses on the automotive, energy, retail, pharma, telecommunications, and local and government customer segments. For more information, visit https://axino.ai/
About Semtech
Semtech Corporation is a leading supplier of high performance analog and mixed-signal semiconductors and advanced algorithms for high-end consumer, enterprise computing, communications, and industrial equipment. Products are designed to benefit the engineering community as well as the global community. The Company is dedicated to reducing the impact it, and its products, have on the environment. Internal green programs seek to reduce waste through material and manufacturing control, use of green technology and designing for resource reduction. Publicly traded since 1967, Semtech is listed on the Nasdaq Global Select Market under the symbol SMTC. For more information, visit www.semtech.com.
Forward-Looking and Cautionary Statements
All statements contained herein that are not statements of historical fact, including statements that use the words "will," "designed to," or other similar words or expressions, that describe Semtech Corporation's or its management's future plans, objectives or goals are "forward-looking statements" and are made pursuant to the Safe-Harbor provisions of the Private Securities Litigation Reform Act of 1995, as amended. Such forward-looking statements involve known and unknown risks, uncertainties and other factors that could cause the actual results of Semtech Corporation to be materially different from the historical results and/or from any future results or outcomes expressed or implied by such forward-looking statements. Such factors are further addressed in Semtech Corporation's annual and quarterly reports, and in other documents or reports, filed with the Securities and Exchange Commission (www.sec.gov) including, without limitation, information under the captions "Management's Discussion and Analysis of Financial Condition and Results of Operations" and "Risk Factors." Semtech Corporation assumes no obligation to update any forward-looking statements in order to reflect events or circumstances that may arise after the date of this release, except as required by law.
Semtech, the Semtech logo, LoRa, and LoRaWAN are registered trademarks or service marks of Semtech Corporation or its affiliates.
SMTC-P
###