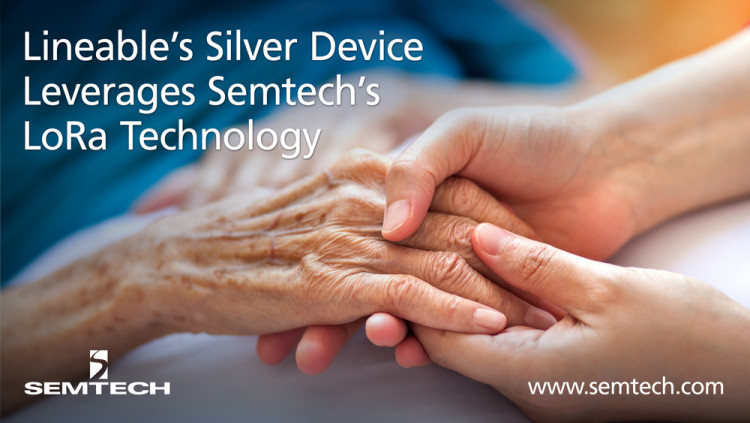 Semtech's LoRa Technology Help Saves Alzheimer Patients in Real-Time
The police in Korea plan to give Lineable's Silver, a wearable Internet of Things (IoT) device, for free to actively locate Alzheimer patients
CAMARILLO, Calif., Feb. 8, 2018 – Semtech Corporation (Nasdaq: SMTC), a leading supplier of high performance analog and mixed-signal semiconductors and advanced algorithms, announced that Lineable, a Seoul-based startup manufacturer of GPS trackers, has integrated LoRa® devices and wireless radio frequency technology (LoRa Technology) in its new wearable safety device, Silver.
Lineable's Silver device, co-developed by the National Police Agency of Korea, SK Telecom and SK Hynix, is specifically designed for patients with Alzheimer's. Through a hybrid GPS system, caregivers are notified when patients leave the house or out of the designated safe zone. Many patients are not constantly monitored by a supervisor, and in Korea, about 10,000 Alzheimer patients go missing each year. Silver is currently being used by the police in Korea and the police plan to distribute 3,000 devices each year to Alzheimer patients, free of charge. During its first month of service in October 2017, the Silver device helped save six patients and in three months, it helped save 20 more patients.
"The Lineable LoRa-based device provides a universal solution for tracking Alzheimer patients at a low cost due to its low battery consumption and wide network coverage," said Harris Shim, Head of Business Operations at Lineable. "SK Telecom has created the first nationwide LoRaWAN™ network and Lineable is one of the first companies to develop a solution that leverages Semtech's LoRa Technology to track people's location."
"Lineable's Silver wearable technology has already seen early success in Korea by being able to locate Alzheimer patients in real-time," said Vivek Mohan, Director of Wireless and Sensing Products Group at Semtech. "The LoRa-based device is able help the community and its police force by providing a technology that gives families peace of mind."
About Semtech's LoRa® Devices and Wireless RF Technology
Semtech's LoRa devices and wireless radio frequency technology is a widely adopted long-range, low-power solution for IoT that gives telecom companies, IoT application makers and system integrators the feature set necessary to deploy low-cost, interoperable IoT networks, gateways, sensors, module products, and IoT services worldwide. IoT networks based on the LoRaWAN™ specification have been deployed in over 45 countries and Semtech is a founding member of the LoRa Alliance™, the fastest growing IoT Alliance for Low Power Wide Area Network applications. To learn more about how LoRa enables IoT, visit Semtech's LoRa site and join the LoRa Community to access free training as well as an online industry catalog showcasing the products you need for building your ideal IoT application.
About Lineable
Lineable, headquartered in Seoul, Korea, is a hardware-based startup that is creating smart solutions to help families protect and prevent potential problems. By using a combination of the most common and most advanced technologies such as Bluetooth, GPS and LPWAN, Lineable delivers the most effective and price competitive gadgets to the market. For more information, visit www.lineable.net/.
About Semtech
Semtech Corporation is a leading supplier of high performance analog and mixed-signal semiconductors and advanced algorithms for high-end consumer, enterprise computing, communications, and industrial equipment. Products are designed to benefit the engineering community as well as the global community. The Company is dedicated to reducing the impact it, and its products, have on the environment. Internal green programs seek to reduce waste through material and manufacturing control, use of green technology and designing for resource reduction. Publicly traded since 1967, Semtech is listed on the Nasdaq Global Select Market under the symbol SMTC. For more information, visit www.semtech.com.
Forward-Looking and Cautionary Statements
All statements contained herein that are not statements of historical fact, including statements that use the words "designed for," "plan to," "designed to," "expected to," or other similar words or expressions, that describe Semtech Corporation's or its management's future plans, objectives or goals are "forward-looking statements" and are made pursuant to the Safe-Harbor provisions of the Private Securities Litigation Reform Act of 1995, as amended. Such forward-looking statements involve known and unknown risks, uncertainties and other factors that could cause the actual results of Semtech Corporation to be materially different from the historical results and/or from any future results or outcomes expressed or implied by such forward-looking statements. Such factors are further addressed in Semtech Corporation's annual and quarterly reports, and in other documents or reports, filed with the Securities and Exchange Commission (www.sec.gov) including, without limitation, information under the captions "Management's Discussion and Analysis of Financial Condition and Results of Operations" and "Risk Factors." Semtech Corporation assumes no obligation to update any forward-looking statements in order to reflect events or circumstances that may arise after the date of this release, except as required by law.
Semtech, the Semtech logo and LoRa are registered trademarks or service marks, and LoRaWAN is a trademark or service mark, of Semtech Corporation or its affiliates.
SMTC-P
###