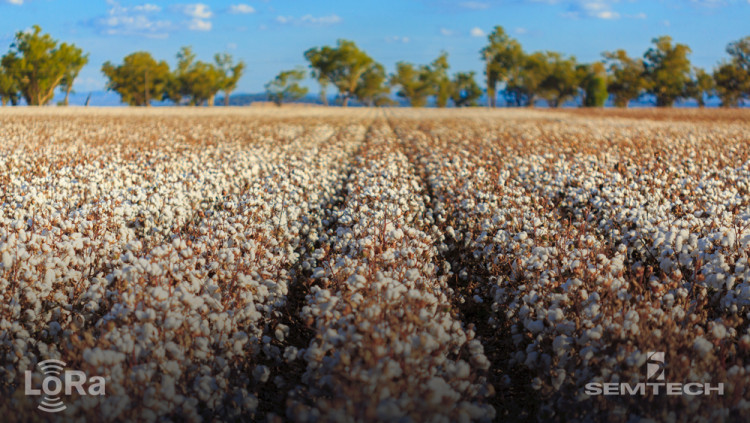 Semtech's LoRa Technology Creates Smarter Farming Networks in Australia
This extension of LoRaWAN-based network coverage adds three million hectares to NNNCo's publicly available smart agriculture network
CAMARILLO, Calif., Dec. 5, 2018 – Semtech Corporation (Nasdaq: SMTC), a leading supplier of high performance analog and mixed-signal semiconductors and advanced algorithms, announced that the National Narrowband Network Co (NNNCo), an Australian carrier, is deploying a publicly available network based on the LoRaWAN™ protocol that will leverage Semtech's LoRa® devices and wireless radio frequency technology (LoRa Technology) to build Internet of Things (IoT) applications. The network is being rolled out with Goanna Ag, a major Australian agriculture company, with the goal of bringing smarter irrigation management solutions to Australian cotton growers.
The network, an extension of NNNCo's existing LoRaWAN-based network coverage, covers an area of about three million hectares, stretching across Murrumbidgee irrigation area and the Murrumbidgee, Lachlan, Gwydir MacIntyre, Namoi, and Macquarie valleys. NNNCo plans to expand the LoRaWAN-based network throughout 2019. The network will be used to bring low-cost Cloud-connected sensors and data analytics to growers, combining soil moisture data via installed probes, local weather data and satellite imagery to optimize irrigation scheduling.
"Every day a cotton crop is under stress can cost a grower over $100 per hectare," said Alicia Garden, CEO of Goanna Ag. "We help growers schedule and apply just the right amount of water to use on crops at just the right time so they can optimize performance and profit. Connectivity has always been an issue for regional and rural areas due to lack of coverage and the relatively high cost of connection. Semtech's LoRa Technology and LoRaWAN-based networks have proved ideal for agriculture due to the low cost of sending essential data on very low power."
As this cotton season begins, NNNCo and Goanna Ag will deploy their first 100 gateways in New South Wales and Queensland, along with over 2,000 sensors across cotton farms. LoRa-based sensors will include soil moisture probes, rain gauges, weather stations, and water and fuel tank monitors among others. NNNCo is delivering a nationwide network and end-to-end platform to enable solutions for agriculture, cities, utilities, buildings and logistics. NNNCo is also providing the essential data layer platform (N2N-DL) behind the interface for farmers, simplifying the aggregation of data of any device into the visualization and analytics platform.
"The network will significantly drive down the cost of connection for data communication and the cost of sensors using this technology," said Rob Zagarella, NNNCo Founder & CEO. "This will make the difference between isolated usage and widespread deployment of the sensors which will in turn provide more granular information and higher value to the industry. NNNCo has a strong partnership with Goanna Ag and has been working with them on network extension across regional areas for over 12 months."
"IoT solutions for smart agriculture based on Semtech's LoRa Technology enable farmers to easily create smart solutions to better monitor their crops and improve their yields," said Vivek Mohan, Director of IoT in Semtech's Wireless and Sensing Products Group. "NNNCo and partners such as Goanna Ag are delivering smart solutions that help farmers keep up with increasing demands while closely monitoring overhead costs. Commercial farms are increasingly turning to LoRa Technology with its flexible and proven capabilities to help maximize their farm's efficiency and create a smarter planet."
Learn more about LoRa Technology and smart agriculture applications.
About Semtech's LoRa® Devices and Wireless RF Technology
Semtech's LoRa devices and wireless radio frequency technology is a widely adopted long-range, low-power solution for IoT that gives telecom companies, IoT application makers and system integrators the feature set necessary to deploy low-cost, interoperable IoT networks, gateways, sensors, module products, and IoT services worldwide. IoT networks based on the LoRaWAN™ specification have been deployed in 100 countries and Semtech is a founding member of the LoRa Alliance™, the fastest growing IoT Alliance for Low Power Wide Area Network applications. To learn more about how LoRa enables IoT, visit Semtech's LoRa site and join the LoRa Community to access free training as well as an online industry catalog showcasing the products you need for building your ideal IoT application.
About NNNCo
NNNCo is a leading Australian IoT Enterprise provider and LoRaWAN network operator. The company provides the network layer and technology-agnostic data platform that makes IoT accessible across any industry to enable enterprise-grade solutions for business and government. NNNCo's Enterprise IoT service is deployed using LoRaWAN technology, the globally-adopted open standard for secure, carrier-grade IoT connectivity. For more information, visit https://www.nnnco.com.au/
About Goanna Ag
Goanna Ag was formed in 2018 when Ag-tech company Discovery Ag (formed in 2016) acquired Goanna Telemetry, a leading provider of telemetry products to the irrigated cotton market for over 15 years. The company provides analytics solutions to farmers and the supply chain, helping them to access, consolidate, manage and interpret information critical to improving productivity and driving efficiencies. For more information, visit https://www.goannaag.com.au/
About Semtech
Semtech Corporation is a leading supplier of high performance analog and mixed-signal semiconductors and advanced algorithms for high-end consumer, enterprise computing, communications, and industrial equipment. Products are designed to benefit the engineering community as well as the global community. The Company is dedicated to reducing the impact it, and its products, have on the environment. Internal green programs seek to reduce waste through material and manufacturing control, use of green technology and designing for resource reduction. Publicly traded since 1967, Semtech is listed on the Nasdaq Global Select Market under the symbol SMTC. For more information, visit www.semtech.com.
Forward-Looking and Cautionary Statements
All statements contained herein that are not statements of historical fact, including statements that use the words "will," "goal of," "to enable," "designed to," or other similar words or expressions, that describe Semtech Corporation's or its management's future plans, objectives or goals are "forward-looking statements" and are made pursuant to the Safe-Harbor provisions of the Private Securities Litigation Reform Act of 1995, as amended. Such forward-looking statements involve known and unknown risks, uncertainties and other factors that could cause the actual results of Semtech Corporation to be materially different from the historical results and/or from any future results or outcomes expressed or implied by such forward-looking statements. Such factors are further addressed in Semtech Corporation's annual and quarterly reports, and in other documents or reports, filed with the Securities and Exchange Commission (www.sec.gov) including, without limitation, information under the captions "Management's Discussion and Analysis of Financial Condition and Results of Operations" and "Risk Factors." Semtech Corporation assumes no obligation to update any forward-looking statements in order to reflect events or circumstances that may arise after the date of this release, except as required by law.
Semtech, the Semtech logo and LoRa are registered trademarks or service marks, and LoRaWAN is a trademark or service mark, of Semtech Corporation or its affiliates.
SMTC-P
###