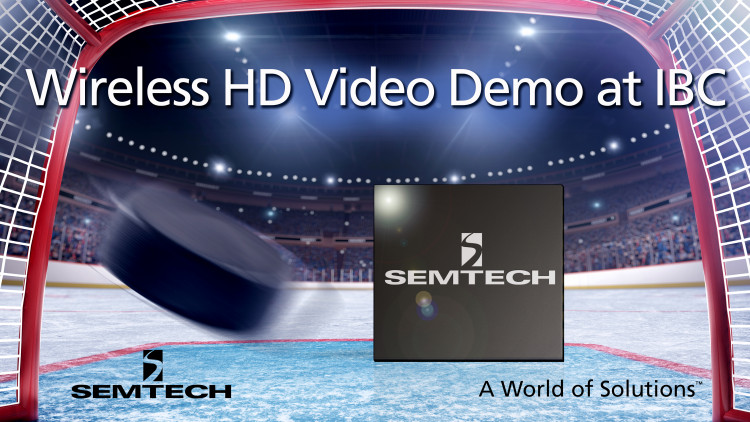 Semtech to Showcase Wireless High Definition Television Transmission Link Technology at IBC 2016
Demonstration features Maja Systems' 60 GHz wireless technology enabled by Semtech's real time multi-media streaming technologies
Camarillo, California - September 7, 2016 -
Semtech Corporation (Nasdaq: SMTC), a leading supplier of analog and mixed-signal semiconductors, and Maja Systems will demonstrate a 60 GHz wireless transmission link with a high definition television (HDTV) camera and receiver technology platform at the International Broadcasting Convention (IBC) exhibition, stand 10.F46, on September 9-13 in Amsterdam.
Semtech's leading serial digital interface technology with Maja Systems' mmWave wireless devices enables video system providers to offer the highest performance, wireless high definition (HD) video solutions. This wireless camera link technology can be utilized in applications where traditional coaxial or fiber optic interfaces are impractical or cost prohibitive, including:
Broadcast television sports production

Hockey point of view (POV) goal cameras
Basketball POV net cameras

Professional video production

Courtroom cameras
Houses of worship
Corporate boardrooms

Video surveillance
The wireless transmission link is equipped with Semtech's high definition visually lossless compression (HD-VLC™) technology and is uniquely designed to reduce video data rates for long distance transmission. In addition, Semtech's powerful forward error correction (FEC) engine ensures robust performance and broadcast quality video in wireless systems. Combined with Maja Systems' integrated multi-gigabit wireless platform, it provides high quality, wireless HD video transmission up to 1080p at 60 frames per second.
"Semtech is a leader in the development of multi-media transmission technologies for long-reach wired and wireless applications," said John Hudson, Director of Strategic Technology and New Business Development for Semtech's Signal Integrity Product Group. "The combination of our audio and video processing, signal integrity and multimedia transmission technologies, along with Maja's sophisticated 60GHz wireless technology and expertise, delivers a unique capability for ultra-high performance wireless solutions that are ideal for an expansive range of camera applications."
"A 60 GHz wireless HDTV transmission link is ideal for many applications where using copper or fiber interfaces isn't feasible," said Romain Pelard, VP of Products for Maja Systems. "Semtech is the industry leader in real time multi-media streaming technology, and in conjunction with our 60 GHz CMOS single chip transceiver and high-performance integrated antenna, created an ideal solution for HDTV applications requiring a cost-effective wireless transmission link and ultra-high image quality."
About Maja Systems' 60 GHz CMOS single chip transceiver
Maja Systems' 60 GHz CMOS single chip transceiver is co-designed with a high-performance integrated antenna for multi-gigabit wireless connectivity. It is the industry's only 60 GHz single chip CMOS transceiver that includes all mmWave components, modulation engine, ADC and DAC with total power consumption within 400 mW. The product platform enables wireless 1080p60 link distances of up to 100 m resulting in the lowest cost, highest level of integration and highest performance to date.
About Maja Systems
Maja Systems is a leading supplier of mmWave CMOS gigabit wireless connectivity and sensing products: where 5G meets IoT. Maja's customers are Fortune 500 companies who build solutions for industrial systems, enterprise connectivity, and wireless HD-Video platforms. For more information, visit www.majasystems.com.
About Semtech
Semtech Corporation is a leading supplier of analog and mixed-signal semiconductors for high-end consumer, computing, communications and industrial equipment. Products are designed to benefit the engineering community as well as the global community. The company is dedicated to reducing the impact it, and its products, have on the environment. Internal green programs seek to reduce waste through material and manufacturing control, use of green technology and designing for resource reduction. Publicly traded since 1967, Semtech is listed on the NASDAQ Global Select Market under the symbol SMTC. For more information, visit www.semtech.com.
Forward-Looking and Cautionary Statements
All statements contained herein that are not statements of historical fact, including statements that use the words " "will," desgined to," and "designed for" or other similar words or expressions, that describe Semtech Corporation's or its management's future plans, objectives or goals are "forward-looking statements" and are made pursuant to the Safe-Harbor provisions of the Private Securities Litigation Reform Act of 1995, as amended. Such forward-looking statements involve known and unknown risks, uncertainties and other factors that could cause the actual results of Semtech Corporation to be materially different from the historical results and/or from any future results or outcomes expressed or implied by such forward-looking statements. Such factors are further addressed in Semtech Corporation's annual and quarterly reports, and in other documents or reports, filed with the Securities and Exchange Commission (www.sec.gov) including, without limitation, information under the captions "Management's Discussion and Analysis of Financial Condition and Results of Operations" and "Risk Factors". Semtech Corporation assumes no obligation to update any forward-looking statements in order to reflect events or circumstances that may arise after the date of this release, except as required by law.
Semtech and the Semtech logo are registered trademarks or service marks, of Semtech Corporation and/or its affiliates. Third-party trademarks or service marks mentioned herein are the property of their respective owners.