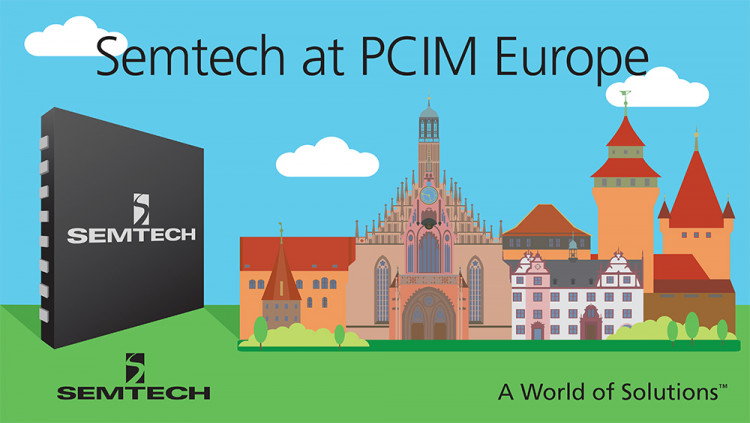 Semtech to Showcase Portfolio of Protection, Wireless Charging, Isolated Switching and LoRa Wireless Platforms at PCIM Europe 2016
Semtech breakthrough platforms for IoT, Automotive and Smart Industrial solutions on display
Camarillo, California - May 5, 2016 -
Semtech Corporation (Nasdaq: SMTC), a leading supplier of analog and mixed-signal semiconductors, will demonstrate an array of products from its Protection, Power and High-Reliability, and Wireless and Sensing product groups at PCIM Europe (Power Conversion and Intelligent Motion) 2016 in Nuremberg, Germany on May 10-12 in booth 6-138.
PCIM Europe, which focuses on power electronics, intelligent motion, renewable energy and energy management, is a premier trade show for leading companies in the power electronics industry. Semtech will display an array of products, including ESD and electrical overvoltage protection for industrial and data communications applications, wireless charging, isolated switching and other power management products for next generation, smart applications, and wireless and sensing connectivity solutions for Internet of Things (IoT), Smart City and machine-to-machine applications.
"We're excited to attend PCIM for the first time and believe it's a perfect venue to highlight the wide range of platforms Semtech offers for today's most innovative, influential power electronics products," said Alberto Guerra, Chief Marketing Officer of Semtech. "We look forward to showcasing our diverse portfolio of proven power electronics components that enable next generation technologies such as the IoT, infotainment systems, portable and mobile devices, industrial equipment, smart appliances and more."
Resources
About Semtech
Semtech Corporation is a leading supplier of analog and mixed-signal semiconductors for high-end consumer, computing, communications and industrial equipment. Products are designed to benefit the engineering community as well as the global community. The company is dedicated to reducing the impact it, and its products, have on the environment. Internal green programs seek to reduce waste through material and manufacturing control, use of green technology and designing for resource reduction. Publicly traded since 1967, Semtech is listed on the NASDAQ Global Select Market under the symbol SMTC. For more information, visit www.semtech.com.
Forward-Looking and Cautionary Statements
All statements contained herein that are not statements of historical fact, including statements that use the words "will," "offers," "enable" or other similar words or expressions, that describe Semtech Corporation's or its management's future plans, objectives or goals are "forward-looking statements" and are made pursuant to the Safe-Harbor provisions of the Private Securities Litigation Reform Act of 1995, as amended. Such forward-looking statements involve known and unknown risks, uncertainties and other factors that could cause the actual results of Semtech Corporation to be materially different from the historical results and/or from any future results or outcomes expressed or implied by such forward-looking statements. Such factors are further addressed in Semtech Corporation's annual and quarterly reports, and in other documents or reports, filed with the Securities and Exchange Commission (www.sec.gov) including, without limitation, information under the captions "Management's Discussion and Analysis of Financial Condition and Results of Operations" and "Risk Factors". Semtech Corporation assumes no obligation to update any forward-looking statements in order to reflect events or circumstances that may arise after the date of this release, except as required by law.
Semtech, the Semtech logo and LoRa are registered trademarks or service marks, or trademarks or service marks, of Semtech Corporation and/or its affiliates. Third-party trademarks or service marks mentioned herein are the property of their respective owners.