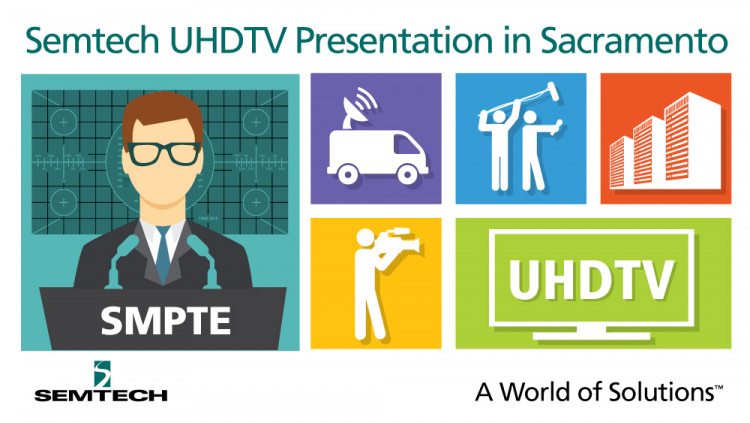 Semtech to Present UHDTV Infrastructure Paper at SMPTE® Sacramento Section Meeting
Paper to feature a comprehensive analysis on transporting UHDTV over existing broadcast infrastructures
Camarillo, California - February 23, 2016 -
Semtech Corporation (Nasdaq: SMTC), a leading supplier of analog and mixed-signal semiconductors, today announced that John Hudson, Director of Strategic Technology for Semtech's Signal Integrity Product Group, will be presenting a paper focusing on enabling transport of UHDTV over existing In-Plant infrastructures, as well as updates on the broadcast industry, standards and technology. The paper will be presented at the Society of Motion Picture and Television Engineers® (SMPTE®) Sacramento Section's regular meeting on February 24 in Nevada City, Calif.
Semtech is an industry leader in high-speed signal integrity solutions for both the broadcast (UHD-SDI) and datacom (10GbE, 40GbE and 100GbE) markets. Semtech is actively involved in international standardization of next generation interface technologies in both SMPTE, and the IEEE. As such, Semtech is uniquely positioned to provide technology insight into both SDI and IP real-time media transport.
"Semtech is very active in our standardization activities and we appreciate the insight into UHDTV infrastructures this presentation will bring," said Bob Hudelson, SMPTE Sacramento Section Chair. "UHDTV continues to gain traction in the market and this type of knowledge is an invaluable tool for our members."
"The adoption of UHDTV by the broadcast industry continues to gain momentum, and Semtech is pleased to be able to share its expertise in UHDTV infrastructure technology at the SMPTE Sacramento Section meeting," said Don Shaver, Director of Video Products for Semtech's Signal Integrity Product Group. "Semtech's comprehensive portfolio of UHD-SDI products, including advanced gearbox technology, enables commercial off the shelf (COTS) UHDTV technology solutions today that meet the demanding requirements of broadcasters. UHD-SDI is the only standardized UHDTV interface available and is backward compatible and interoperable with existing SDI infrastructures, making it the preferred interface for next generation UHDTV infrastructures."
Semtech's UHD-SDI products feature ultra-low power consumption and provide industry-leading performance at up to 12Gbps rates. UHD-SDI is ideal for UHDTV infrastructures that include routers, cameras, monitors, switchers and more. It offers pristine image quality, is backwards-compatible with existing SDI systems and is standardized by both SMPTE and the International Telecommunication Union (ITU), simplifying UHDTV infrastructure upgrades and reducing risk for broadcasters.
About the Society of Motion Picture and Television Engineers® (SMPTE®)
Winner of an Oscar® and multiple Emmy® Awards, the Society of Motion Picture and Television Engineers® (SMPTE®) is a global leader in the advancement of the art, science, and craft of the image, sound, and metadata ecosystem. A professional membership association that is internationally recognized and accredited, SMPTE advances moving-imagery education and engineering across the communications, technology, media, and entertainment industries. For a century, SMPTE has published the SMPTE Motion Imaging Journal and developed more than 800 standards, recommended practices, and engineering guidelines.
More than 6,000 members — motion-imaging executives, engineers, creative and technology professionals, researchers, scientists, educators, and students — who meet in Sections worldwide, sustain the Society. Through the Society's partnership with HPA®, this membership is complemented by the professional community of businesses and individuals who provide the expertise, support, tools, and infrastructure for the creation and finishing of motion pictures, television programs, commercials, digital media, and other dynamic media content. Information on joining SMPTE is available at www.smpte.org/join.
About Semtech
Semtech Corporation is a leading supplier of analog and mixed-signal semiconductors for high-end consumer, computing, communications and industrial equipment. Products are designed to benefit the engineering community as well as the global community. The company is dedicated to reducing the impact it, and its products, have on the environment. Internal green programs seek to reduce waste through material and manufacturing control, use of green technology and designing for resource reduction. Publicly traded since 1967, Semtech is listed on the NASDAQ Global Select Market under the symbol SMTC. For more information, visit www.semtech.com.
Forward-Looking and Cautionary Statements
All statements contained herein that are not statements of historical fact, including statements that use the words "will," "enables," "meets," or "provides" or other similar words or expressions, that describe Semtech Corporation's or its management's future plans, objectives or goals are "forward-looking statements" and are made pursuant to the Safe-Harbor provisions of the Private Securities Litigation Reform Act of 1995, as amended. Such forward-looking statements involve known and unknown risks, uncertainties and other factors that could cause the actual results of Semtech Corporation to be materially different from the historical results and/or from any future results or outcomes expressed or implied by such forward-looking statements. Such factors are further addressed in Semtech Corporation's annual and quarterly reports, and in other documents or reports, filed with the Securities and Exchange Commission (www.sec.gov) including, without limitation, information under the captions "Management's Discussion and Analysis of Financial Condition and Results of Operations" and "Risk Factors". Semtech Corporation assumes no obligation to update any forward-looking statements in order to reflect events or circumstances that may arise after the date of this release, except as required by law.
Semtech and the Semtech logo are registered trademarks or service marks, of Semtech Corporation and/or its affiliates. Third-party trademarks or service marks mentioned herein are the property of their respective owners.