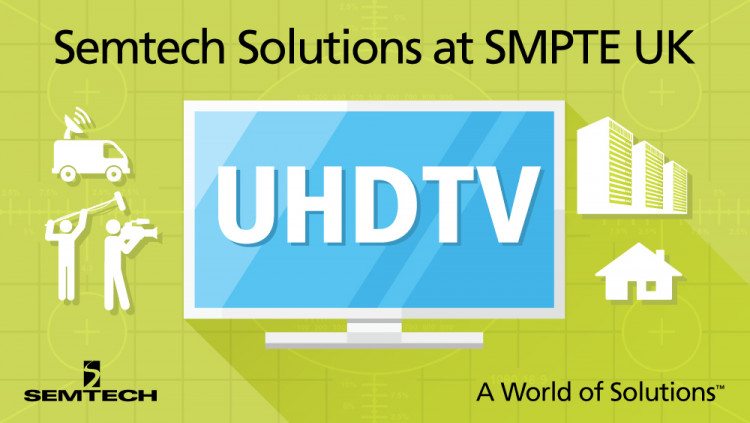 Semtech to Present at SMPTE® UK Section's Real-Time Media Transport Seminar in London
Section seminar to offer solutions for implementing next-generation UHDTV infrastructures
Camarillo, California - February 9, 2016 -
Semtech Corporation (Nasdaq: SMTC), a leading supplier of analog and mixed-signal semiconductors, today announced that Nigel Seth-Smith, Manager of Strategic Technology for Semtech's Signal Integrity Product Group, will be discussing the challenges associated with implementing next-generation UHDTV infrastructures at the Society of Motion Picture and Television Engineers® (SMPTE®) UK Section's day-long seminar titled "Real-Time Media Transport — From SDI to Hybrid to Full IP" in London on Feb. 11.
Semtech is an industry leader in high speed signal integrity solutions for both the broadcast (UHD-SDI) and datacom (10GbE, 40GbE and 100GbE) markets, and is actively involved in international standardization of next generation interface technologies in both SMPTE, and the IEEE. As such, Semtech is uniquely placed to provide technology insight from both sides of the real time media transport debate.
This SMPTE UK Section seminar will feature a broad cross section of industry experts, challenging common assumptions associated with implementing next-generation UHDTV infrastructures and providing an in-depth analysis and status update of proposed solutions.
"This seminar is aimed at providing SMPTE members with knowledge and awareness of the challenges of moving from SDI to Hybrid to IP infrastructure," said Peter Weitzel, SMPTE International Membership Director and Secretary/Treasurer for the UK Section. "This is critical, as we will see the growth of UHD live production over the next three years."
"The adoption of UHDTV by the broadcast industry continues to accelerate. Semtech is pleased to be able to participate in this SMPTE UK Section seminar and offer its expertise in next generation UHDTV infrastructure solutions," said Don Shaver, Director of Video Products for Semtech's Signal Integrity Product Group. "Semtech's comprehensive portfolio of UHD-SDI products, including advanced gearbox technology that enables seamless transition between UHD-SDI interface formats, will enable equipment manufacturers to design products to meet the demanding needs of broadcasters."
Semtech's UHD-SDI products feature ultra-low power consumption and provide industry-leading performance at up to 12Gbps rates. UHD-SDI is ideal for UHDTV infrastructures that include routers, cameras, monitors, switchers and more. It offers pristine image quality, is backwards-compatible with existing SDI systems and is standardized by both SMPTE and the International Telecommunication Union (ITU), simplifying UHDTV infrastructure upgrades and reducing risk for broadcasters.
About the SMPTE® United Kingdom (UK) Section
Re-established in 2012, the SMPTE® United Kingdom (UK) Section has seen a high degree of interest and support from individuals and companies throughout creative, manufacturing, broadcasting, and service organizations. The Section holds regular meetings across the UK and each month in London, providing ample refreshments, time to network, and opportunities to explore a wide range of topics with industry experts. The Section also holds an annual one-day seminar. The popularity of the Section led to the creation of the SMPTE UK Region this year, which provides the Section with formal representation on the SMPTE Board of Governors.
About Semtech
Semtech Corporation is a leading supplier of analog and mixed-signal semiconductors for high-end consumer, enterprise computing, communications and industrial equipment. Products are designed to benefit the engineering community as well as the global community. The company is dedicated to reducing the impact it, and its products, have on the environment. Internal green programs seek to reduce waste through material and manufacturing control, use of green technology and designing for resource reduction. Publicly traded since 1967, Semtech is listed on the NASDAQ Global Select Market under the symbol SMTC. For more information, visit www.semtech.com.
Forward-Looking and Cautionary Statements
All statements contained herein that are not statements of historical fact, including statements that use the words "will," "aimed," "enables." "meets," "offers" or "to design," or other similar words or expressions, that describe Semtech Corporation's or its management's future plans, objectives or goals are "forward-looking statements" and are made pursuant to the Safe-Harbor provisions of the Private Securities Litigation Reform Act of 1995, as amended. Such forward-looking statements involve known and unknown risks, uncertainties and other factors that could cause the actual results of Semtech Corporation to be materially different from the historical results and/or from any future results or outcomes expressed or implied by such forward-looking statements. Such factors are further addressed in Semtech Corporation's annual and quarterly reports, and in other documents or reports, filed with the Securities and Exchange Commission (www.sec.gov) including, without limitation, information under the captions "Management's Discussion and Analysis of Financial Condition and Results of Operations" and "Risk Factors". Semtech Corporation assumes no obligation to update any forward-looking statements in order to reflect events or circumstances that may arise after the date of this release, except as required by law.
Semtech and the Semtech logo are registered trademarks or service marks, of Semtech Corporation and/or its affiliates. Third-party trademarks or service marks mentioned herein are the property of their respective owners.