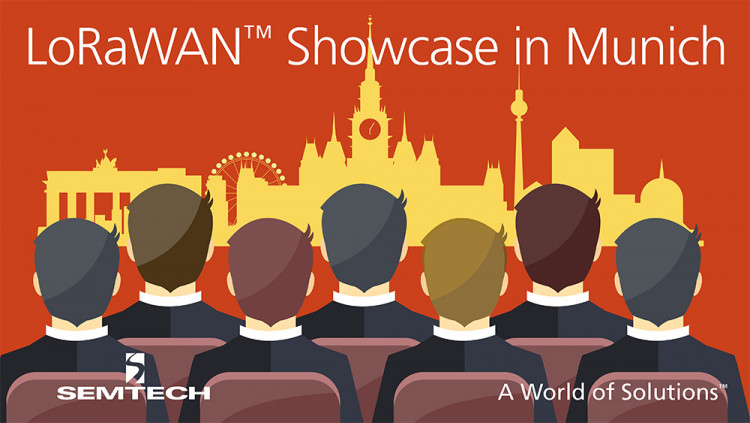 Semtech to Participate in LoRa Alliance™ Member's Meeting and Open House on July 19-21
LoRa Alliance members from all over the world to meet and showcase LoRaWAN™ solutions in Munich with open house for non-members on July 21
Camarillo, California - July 14, 2016 -
Semtech Corporation (Nasdaq: SMTC), a leading supplier of analog and mixed-signal semiconductors, will demonstrate its LoRa® wireless RF technology, including its recently announced LoRa geolocation solution, at the LoRa Alliance™ All Members Meeting and Open House on July 19-21 at the Hilton Munich.
Member companies from around the world will be attending to discuss the widely adopted, standardized LoRaWAN™ specification, based on Semtech's LoRa wireless RF technology for Internet of Things (IoT) networks and applications, to display a wide range of IoT solutions, and to showcase the robust selection of LoRaWAN use cases for interested non-members.
"We expect a lot of interest in our recently announced LoRa geolocation solution for existing LoRaWAN network infrastructure," said Jaap Groot, Vice President of System Business Development for Semtech's Wireless and Sensing Product Group. "This upgrade is applicable to a large majority of member companies' solutions so we look forward to introducing it to them at this event."
Semtech's LoRa geolocation solution was announced at Mobile World Congress Shanghai on June 30. The upgrade to existing LoRaWAN infrastructure allows companies to implement geolocation capabilities to their applications without the need for GPS. For more information on the LoRa geolocation solution, visit www.semtech.com/wireless-rf/lora-geolocation.
The LoRa Alliance, which was launched by Semtech and other industry leaders in March 2015, is a group of over 300 companies committed to driving and enhancing the LoRaWAN specification to ensure interoperability and scalability of LPWANs and IoT applications. Through its work with member companies and IoT industry groups, it is making LoRaWAN the standard for LPWANs focused on low power, long range IoT applications. To date, there are LoRaWAN public and private networks in more than 50 countries worldwide.
Resources
About Semtech
Semtech Corporation is a leading supplier of analog and mixed-signal semiconductors for high-end consumer, computing, communications and industrial equipment. Products are designed to benefit the engineering community as well as the global community. The company is dedicated to reducing the impact it, and its products, have on the environment. Internal green programs seek to reduce waste through material and manufacturing control, use of green technology and designing for resource reduction. Publicly traded since 1967, Semtech is listed on the NASDAQ Global Select Market under the symbol SMTC. For more information, visit www.semtech.com.
Forward-Looking and Cautionary Statements
All statements contained herein that are not statements of historical fact, including statements that use the words "will," "expect," "allows" or other similar words or expressions, that describe Semtech Corporation's or its management's future plans, objectives or goals are "forward-looking statements" and are made pursuant to the Safe-Harbor provisions of the Private Securities Litigation Reform Act of 1995, as amended. Such forward-looking statements involve known and unknown risks, uncertainties and other factors that could cause the actual results of Semtech Corporation to be materially different from the historical results and/or from any future results or outcomes expressed or implied by such forward-looking statements. Such factors are further addressed in Semtech Corporation's annual and quarterly reports, and in other documents or reports, filed with the Securities and Exchange Commission (www.sec.gov) including, without limitation, information under the captions "Management's Discussion and Analysis of Financial Condition and Results of Operations" and "Risk Factors". Semtech Corporation assumes no obligation to update any forward-looking statements in order to reflect events or circumstances that may arise after the date of this release, except as required by law.
Semtech, the Semtech logo, LoRa and LoRaWAN are registered trademarks or service marks, or trademarks or service marks, of Semtech Corporation and/or its affiliates. Third-party trademarks or service marks mentioned herein are the property of their respective owners.