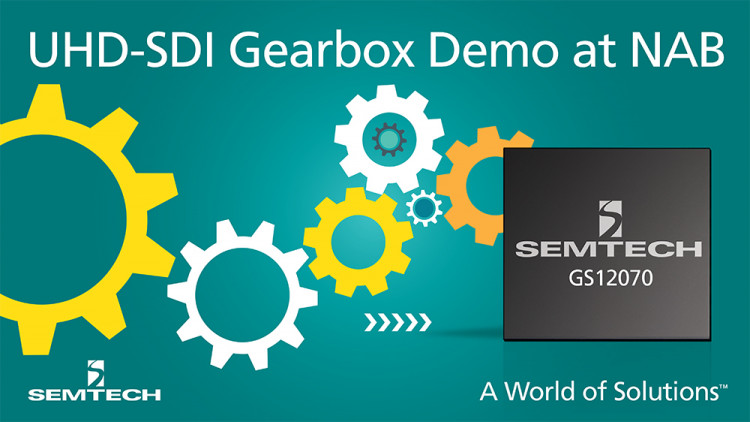 Semtech to Launch its GS12070 UHD-SDI Gearbox for Next Generation UHDTV Infrastructures at the NAB Show 2016
Semtech to demonstrate how its UHD-SDI Gearbox will help drive industry UHDTV infrastructure adoption (Booth N5024)
Camarillo, California - April 14, 2016 -
Semtech Corporation (Nasdaq: SMTC), a leading supplier of analog and mixed-signal semiconductors, today announced the GS12070 UHD-SDI Gearbox , an advanced integrated circuit (IC) for next generation UHDTV infrastructures.
The GS12070 features single-chip UHD-SDI rate conversion and enables equipment manufacturers and broadcasters to take a standards-based, commercial off-the-shelf approach to UHDTV infrastructures, minimizing the risk of interoperability issues.
Next generation UHDTV infrastructures, in addition to requiring seamless conversion between different UHD-SDI formats, will require integration with existing SDI infrastructures. The GS12070 seamlessly converts between HD-SDI, 3G, 6G and 12G UHD-SDI interface profiles. Alternative conversion technologies require equipment manufacturers to license third-party IP cores at an additional expense or develop in-house intellectual property solutions with increased development, schedule and interoperability risks.
"UHD-SDI is the ideal interface for UHDTV infrastructures," said Don Shaver, Director of Video Marketing for Semtech's Signal Integrity Product Group. "Broadcasters are demanding a fully standardized, interoperable, commercial off-the-shelf technology for their next-generation UHDTV infrastructures, and the GS12070 Gearbox is uniquely positioned to enable these demanding requirements today."
Semtech's booth (N5024) at the National Association of Broadcasters (NAB) Show on April 18-21 at the Las Vegas Convention Center will feature a dedicated, public Gearbox Zone to demonstrate the GS12070's features and benefits, as well as key UHDTV gearbox applications from Semtech.
Key Features of the GS12070
Fully integrated gearbox solution: Four-input and four-output IC supporting conversions between multi-link, dual-link and single-link UHD-SDI interfaces. Support for 12G, 6G, 3G and HD line rates to maximize compatibility with existing SDI infrastructures.
Automatic link ordering: Automatic link ordering for multi-link interfaces simplifies integration and automatically compensates for UHD-SDI cabling issues that often arise during installation.
Automatic skew correction: In the most common conversion modes, automatic compensation for channel skew, an unavoidable system challenge in multi-link UHD-SDI systems, exceeds the Society of Motion Picture & Television Engineers' (SMPTE) recommended skew tolerance specification. This minimizes the need for additional system resources and simplifies the overall system design.
Integrated 4x4 crosspoint switch: Enables signal routing from any of the four 12G UHD-SDI inputs to any of the four 12G UHD-SDI outputs making it an ideal choice for UHDTV routing and distribution amplifier applications.
Small form factor: Simplifies design integration and application compatibility.
Resources:
Availability
The GS12070 will be available for sale the second half of 2016. Semtech offers comprehensive design assistance, including field- and factory-based support. Data sheets, volume pricing and delivery quotes, as well as evaluation kits and samples, are available at www.semtech.com/info.
About Semtech
Semtech Corporation is a leading supplier of analog and mixed-signal semiconductors for high-end consumer, computing, communications and industrial equipment. Products are designed to benefit the engineering community as well as the global community. The company is dedicated to reducing the impact it, and its products, have on the environment. Internal green programs seek to reduce waste through material and manufacturing control, use of green technology and designing for resource reduction. Publicly traded since 1967, Semtech is listed on the NASDAQ Global Select Market under the symbol SMTC. For more information, visit www.semtech.com.
Forward-Looking and Cautionary Statements
All statements contained herein that are not statements of historical fact, including statements that use the words "will," "enable" or "positioned to" or other similar words or expressions, that describe Semtech Corporation's or its management's future plans, objectives or goals are "forward-looking statements" and are made pursuant to the Safe-Harbor provisions of the Private Securities Litigation Reform Act of 1995, as amended. Such forward-looking statements involve known and unknown risks, uncertainties and other factors that could cause the actual results of Semtech Corporation to be materially different from the historical results and/or from any future results or outcomes expressed or implied by such forward-looking statements. Such factors are further addressed in Semtech Corporation's annual and quarterly reports, and in other documents or reports, filed with the Securities and Exchange Commission (www.sec.gov) including, without limitation, information under the captions "Management's Discussion and Analysis of Financial Condition and Results of Operations" and "Risk Factors". Semtech Corporation assumes no obligation to update any forward-looking statements in order to reflect events or circumstances that may arise after the date of this release, except as required by law.
Semtech and the Semtech logo are registered trademarks or service marks, of Semtech Corporation and/or its affiliates. Third-party trademarks or service marks mentioned herein are the property of their respective owners.