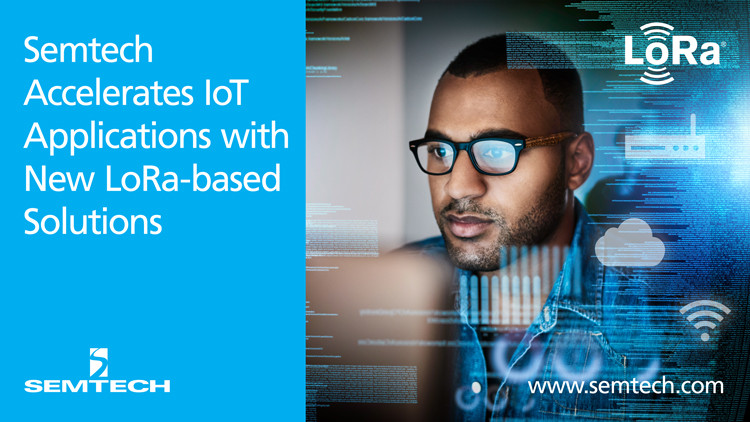 Semtech Simplifies IoT Applications with Release of LoRa®-based Solution Accelerators
Roadmap includes new developer building blocks, Cloud services, and manageable hardware to drastically simplify the process of developing IoT applications; enables a faster time-to-market for IoT solution providers and systems integrators
CAMARILLO, Calif., Mar. 13, 2019 — Semtech Corporation (Nasdaq: SMTC), a leading supplier of high performance analog and mixed signal semiconductors and advanced algorithms, announced the launch of a robust platform of new LoRa®-based solutions: developer building blocks, Cloud services and manageable hardware. Underscoring its commitment to connecting tomorrow's Internet of Things (IoT) solutions today, Semtech is offering a complete bundle of development accelerators that streamline and simplify the process of developing, deploying and managing LoRa-based IoT applications.
In today's fast moving technology world, the ability to rapidly identify and respond to customers' needs for the operational, process and return on investment (ROI) improvements that IoT solutions can deliver is critical to the success of both solution developers and systems integrators. Recent advances in IoT Cloud platforms have done much to simplify the process of building IoT applications and advanced analytics once the data needed is "in the Cloud," but the process of connecting both legacy and new edge devices to securely ingest that data remains challenging. In addition, IoT innovators face problems bridging the gap to a mature solution with a variety of choices for edge connectivity, complicated by fragmented ecosystems and solutions that target only the most battle-hardened hardware design teams.
Semtech recognizes that the technological strengths of the LoRaWAN™ protocol (low power, long range and flexible public or private deployment) combined with the fact that LoRaWAN is available to implement today means that solution providers can already build and deploy secure, scalable and manageable LoRaWAN based IoT solutions that deliver rapid ROI. Further simplifying the process of developing solutions based on LoRaWAN will free up these innovators to develop solutions that meet the needs of their customers more quickly and with lower development overhead.
"IoT solutions have the potential to change the world by delivering analytical insights which modify the ways in which we live, work and consume natural resources. Many developers and system integrators want to grasp this opportunity, but need easy to use accelerators that help them develop IoT applications more quickly," said Alistair Fulton, Vice President and General Manager of Semtech's Wireless and Sensing Products Group. "At Semtech, we believe that we can simplify the IoT solution development process by providing new products and services which make LoRa the easiest way to build and manage IoT solutions, enabling our customers to deliver higher value, more rapidly to the market."
Roadmap Designed Specifically for Solution Providers and Systems Integrators
This LoRa-based platform focuses on three key areas for rapid IoT application design and deployment in support of the open LoRaWAN standard from the LoRa Alliance™ and in collaboration with its ecosystem.
LoRa Basics™: Basic code building blocks to assist solution developers in quickly realizing the ROI their customers want. The first of these building blocks, LoRa Basics™ Station (LoRaWAN gateway firmware), was announced and simultaneously released on GitHub in January 2019. Future areas of focus include device firmware, firmware updates over the air (FUOTA) and network performance analytics. To make accessing these tools easy, Semtech is revamping and evolving its LoRa Community™ into an open developer ecosystem portal to provide access to a comprehensive suite of developer training, technical resources and community tools.
LoRa Cloud™ Services: Cloud services which deliver easy to use "ingredients" that solution providers can leverage to deliver value more rapidly with less development overhead. Announced today, LoRa Cloud™ Geolocation is the first of several of these services expected to be introduced this year. This service enables developers to quickly build IoT solutions which leverage multi-modal location capabilities (including Wi-Fi, GNSS and LoRaWAN-based geolocation) without taking on the development complexity (and repetition) involved in building a solution from scratch. The service is designed from the outset to support flexibility in deployment options, cost effectiveness and ease of use.
Modem-based, LoRa Hardware: Hardware platforms which simplify the deployment and management of IoT solutions. Semtech will be launching a new flexible modem-based hardware platform along with a Cloud-based device provisioning and management service, which will dramatically simplify the full life cycle management of LoRa-based devices and accelerate both the development and deployment of secure fully-managed IoT solutions.
As we continue to evolve these tools and services, Semtech is focused on understanding the needs of our customers – the solution providers and systems integrators who work every day to make the promise of the IoT a reality for their many customers across consumer, enterprise and Industrial segments – by providing easy to use, accessible tools, which they can use to more rapidly innovate.
All products will be available by the end of 2019. Contact a local Semtech sales office to learn more.
About Semtech's LoRa® Devices and Wireless RF Technology
Semtech's LoRa® devices and wireless radio frequency technology is a widely adopted long-range, low-power solution for IoT that gives telecom companies, IoT application makers and system integrators the feature set necessary to deploy low-cost, interoperable IoT networks, gateways, sensors, module products, and IoT services worldwide. IoT networks based on the LoRaWAN™ specification have been deployed in 100 countries and Semtech is a founding member of the LoRa Alliance™, the fastest growing IoT Alliance for Low Power Wide Area Network applications. To learn more about how LoRa enables IoT, visit Semtech's LoRa site.
About Semtech
Semtech Corporation is a leading supplier of high performance analog and mixed-signal semiconductors and advanced algorithms for high-end consumer, enterprise computing, communications, and industrial equipment. Products are designed to benefit the engineering community as well as the global community. The Company is dedicated to reducing the impact it, and its products, have on the environment. Internal green programs seek to reduce waste through material and manufacturing control, use of green technology and designing for resource reduction. Publicly traded since 1967, Semtech is listed on the Nasdaq Global Select Market under the symbol SMTC. For more information, visit www.semtech.com.
Forward-Looking and Cautionary Statements
All statements contained herein that are not statements of historical fact, including statements that use the words "commitment to," "will," "should," "potential to," "believe," "to be," "designed to" or other similar words or expressions, that describe Semtech Corporation's or its management's future plans, objectives or goals are "forward-looking statements" and are made pursuant to the Safe-Harbor provisions of the Private Securities Litigation Reform Act of 1995, as amended. Such forward-looking statements involve known and unknown risks, uncertainties and other factors that could cause the actual results of Semtech Corporation to be materially different from the historical results and/or from any future results or outcomes expressed or implied by such forward-looking statements. Such factors are further addressed in Semtech Corporation's annual and quarterly reports, and in other documents or reports, filed with the Securities and Exchange Commission (www.sec.gov) including, without limitation, information under the captions "Management's Discussion and Analysis of Financial Condition and Results of Operations" and "Risk Factors." Semtech Corporation assumes no obligation to update any forward-looking statements in order to reflect events or circumstances that may arise after the date of this release, except as required by law.
Semtech, the Semtech logo and LoRa are registered trademarks or service marks, and LoRa Cloud, LoRa Basics, LoRaWAN and LoRa Community are trademarks or service marks, of Semtech Corporation or its affiliates.
SMTC-P
###