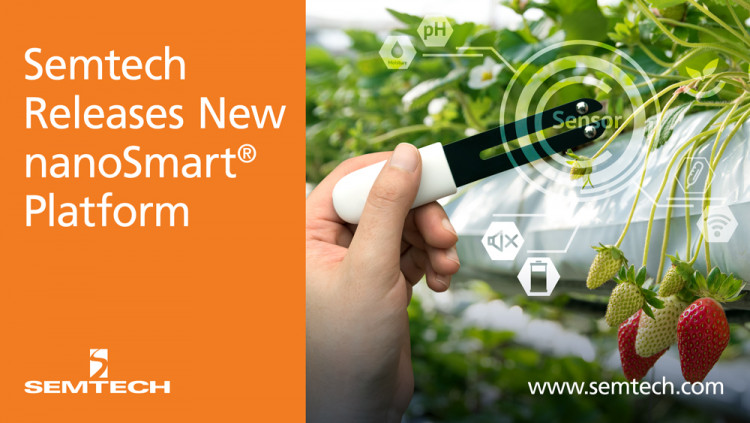 Semtech Releases New Product for nanoSmart® Platform to Support LoRa-based Applications
New nanoSmart IC's low noise and low quiescent current limits radio transmission interference and enables energy savings
CAMARILLO, Calif., July 11, 2018 ― Semtech Corporation (Nasdaq: SMTC), a leading supplier of analog and mixed-signal semiconductors and advanced algorithms, today announced a new product to its nanoSmart® platform of low power, Low Dropout (LDO) regulators that targets applications for Internet of Things (IoT) sensors including Semtech's LoRa® devices and wireless radio frequency technology (LoRa Technology).
A consistent voltage output with low noise (100μVRMS) is necessary for low-power radio devices, such as LoRa-based sensors, to function without noise interference with radio information transmission. The new nanoSmart SC573 device's low quiescent current (50μA) enables energy savings in everyday products by extending operating life for battery-powered IoT sensors up to 10 years. The IC is ideal for developers designing solutions for industrial and consumer applications including smart metering and smart building.
"Semtech's new nanoSmart LDO is essential for low power devices that need continuous supply voltage," said Francois Ricodeau, Senior Product Line Manager for Semtech's Wireless and Sensing Products Group. "The combined functionality of low noise and energy savings makes nanoSmart the regulator of choice for LoRa-based applications, and consumer and industrial electronics."
The new nanoSmart LDO is currently available in 2 voltages (3.3V and 1.8V) and is priced at $0.130 in volumes of 10,000 units. For additional information, visit the Semtech website.
Features
Shutdown current — 100nA
Output noise — 100μVRMS /V
Quiescent supply current — 50μA
Input voltage range — 2.3V to 5.5V
Single 300mA (maximum) output
Internal 100Ω output discharge
Dropout at 300mA load — 180mV
About Semtech's nanoSmart® LDOs
Semtech nanoSmart ultra-low power technology enables energy savings in everyday products. The nanoSmart LDO products support multiple energy accumulation technologies including thermal, RF and indoor and outdoor solar. The platform implements advanced system power management and has a real-time clock making it ideal for remote sensing and control applications.
About Semtech
Semtech Corporation is a leading supplier of analog and mixed-signal semiconductors for high-end consumer, enterprise computing, communications, and industrial equipment. Products are designed to benefit the engineering community as well as the global community. The Company is dedicated to reducing the impact it, and its products, have on the environment. Internal green programs seek to reduce waste through material and manufacturing control, use of green technology and designing for resource reduction. Publicly traded since 1967, Semtech is listed on the Nasdaq Global Select Market under the symbol SMTC. For more information, visit www.semtech.com.
Forward-Looking and Cautionary Statements
All statements contained herein that are not statements of historical fact, including statements that use the words "targets," "ideal for" or other similar words or expressions, that describe Semtech Corporation's or its management's future plans, objectives or goals are "forward-looking statements" and are made pursuant to the Safe-Harbor provisions of the Private Securities Litigation Reform Act of 1995, as amended. Such forward-looking statements involve known and unknown risks, uncertainties and other factors that could cause the actual results of Semtech Corporation to be materially different from the historical results and/or from any future results or outcomes expressed or implied by such forward-looking statements. Such factors are further addressed in Semtech Corporation's annual and quarterly reports, and in other documents or reports, filed with the Securities and Exchange Commission (www.sec.gov) including, without limitation, information under the captions "Management's Discussion and Analysis of Financial Condition and Results of Operations" and "Risk Factors." Semtech Corporation assumes no obligation to update any forward-looking statements in order to reflect events or circumstances that may arise after the date of this release, except as required by law.
Semtech, the Semtech logo, LoRa and nanoSmart are registered trademarks or service marks of Semtech Corporation or its affiliates.
SMTC-P
###