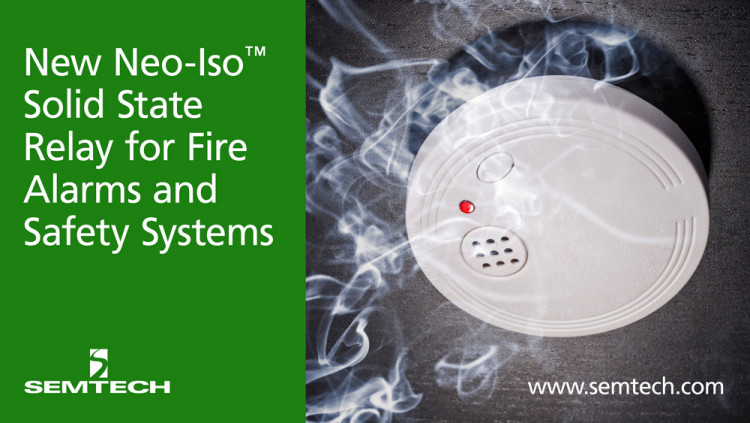 Semtech Releases New Neo-Iso™ Solid State Relay for Fire Alarms and Safety Systems
Offers engineers an enhanced alternative to mechanical relays and opto-MOS
CAMARILLO, Calif., August 7, 2018 – Semtech Corporation (Nasdaq: SMTC), a leading supplier of analog and mixed-signal semiconductors and advanced algorithms, today announced a new Neo-Iso™ Solid State Relay (SSR) targeted at Internet of Things such as connected and automated building systems and devices including fire alarms, siren drivers, smoke detectors, laser barriers, sensors for automatic doors, and safety and intercom systems.
This Neo-Iso SSR is an alternative to mechanical relays and opto-MOS. It offers up to 10 times lower control current and RDSon, protection from overcurrent including a feedback status pin, a 90% smaller package, and higher robustness because there is no moving part. The on/off commands are sent with a simple transient‐immune differential clock signal from any microcontroller. The device also includes integrated 240 mΩ bidirectional load switch allowing AC or polarity free applications up to 36V peak.
"Semtech's new Neo-Iso solid state relay expands our platform with an enhanced feature set required for Internet of Things (IoT) such as automated building systems market," said Francois Ricodeau, Sr. Product Line Manager for Semtech's Wireless and Sensing Products Group. "Our new SSR is powered and controlled from a simple clock interface, thus reducing the design-in effort to a minimum for engineers. We believe Semtech's Neo-Iso platform will become the standard for multiple systems."
The new Neo-Iso SSR, TS13501, supports DC and AC systems and is priced at $0.62 in volumes of 10,000 units. For more information, visit the product page.
Key Features
Switch Characteristics

Bi‐directional blocking in OFF state
Single 36V switch, 240 mΩ RDS(on)
Up to 1A operating current
Steady‐state over‐current protection, 1.5A nominal
Inrush current tolerant for 40 ms, 3A nominal

Supports polarity free DC and AC systems
Switch to Controller scalable galvanic isolation
Differential signaling interface for transient‐immune differential serial protocol
Device powered via galvanically‐isolated interface CLK/NCLK; no power rail required
Transient protection for SW1 and SW2:

IEC 61000‐4‐2 (ESD) ±24kV (air), ±16kV (contact)
IEC 61000‐4‐4 (EFT) 40A (5/50 ns) level 4
IEC 61000‐4‐5 (Surge/Lightning) 80V with 2Ω internal impedance (1.2/50 μs)
About Semtech's Neo-Iso™ Solid State Relays
Semtech's Neo-Iso technology is an energy harvesting platform engineered for self-powered control systems. It enhances Internet of Things applications, such as smart home technology, by adding higher levels of intelligence and control. Our compact Neo-Iso switches make it possible for low-power microcontrollers to control high voltage loads in a system. Reporting of fault conditions from the switch to the controller enables system responses resulting in a safer, more efficient operation. Low current draw allows each switch to operate on power harvested from the load, eliminating the need for additional supplies. These isolated power switches are designed as a silent operation with low quiescent operating current and a single control panel for on/off input.
About Semtech
Semtech Corporation is a leading supplier of analog and mixed-signal semiconductors for high-end consumer, enterprise computing, communications, and industrial equipment. Products are designed to benefit the engineering community as well as the global community. The Company is dedicated to reducing the impact it, and its products, have on the environment. Internal green programs seek to reduce waste through material and manufacturing control, use of green technology and designing for resource reduction. Publicly traded since 1967, Semtech is listed on the Nasdaq Global Select Market under the symbol SMTC. For more information, visit www.semtech.com.
Forward-Looking and Cautionary Statements
All statements contained herein that are not statements of historical fact, including statements that use the words "will," "make possible," "designed to" or other similar words or expressions, that describe Semtech Corporation's or its management's future plans, objectives or goals are "forward-looking statements" and are made pursuant to the Safe-Harbor provisions of the Private Securities Litigation Reform Act of 1995, as amended. Such forward-looking statements involve known and unknown risks, uncertainties and other factors that could cause the actual results of Semtech Corporation to be materially different from the historical results and/or from any future results or outcomes expressed or implied by such forward-looking statements. Such factors are further addressed in Semtech Corporation's annual and quarterly reports, and in other documents or reports, filed with the Securities and Exchange Commission (www.sec.gov) including, without limitation, information under the captions "Management's Discussion and Analysis of Financial Condition and Results of Operations" and "Risk Factors." Semtech Corporation assumes no obligation to update any forward-looking statements in order to reflect events or circumstances that may arise after the date of this release, except as required by law.
Semtech and the Semtech logo are registered trademarks or service marks, and Neo-Iso is a trademark or service mark, of Semtech Corporation or its affiliates.
SMTC-P
###