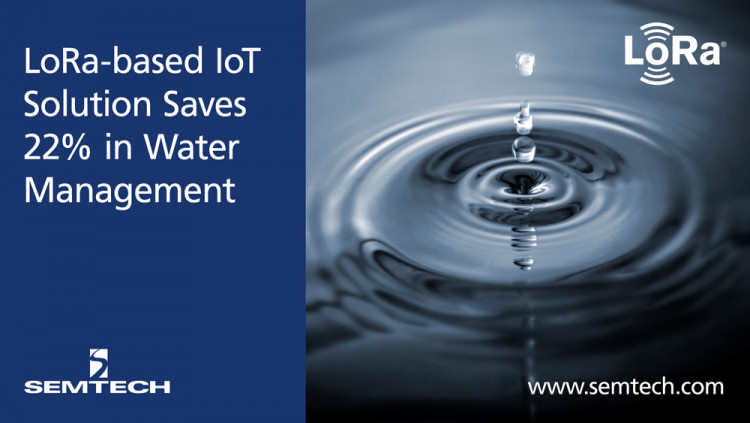 Semtech LoRa-based IoT Solution Saves 22% in Water Management
Apana's Internet of Things (IoT) water management system deployed by Costco monitors real-time utility usage
LOS ANGELES, at Mobile World Congress Americas, Sept. 12, 2018 ― Semtech Corporation (Nasdaq: SMTC), a leading supplier of high performance analog and mixed-signal semiconductors and advanced algorithms, announced that Apana®, a market-leading technology company focusing on smart water utility systems, incorporated Semtech's LoRa® devices and wireless radio frequency technology (LoRa Technology) into its smart water sensors, saving Costco Wholesale Corporation (Costco) millions in overhead operation costs.
"Before developing our smart water leakage detection solution, companies, like Costco, did not have any method to monitor their water usage in real-time or even know that they had a water usage issue. They would receive excessive water bills and would not know why or how to stop the high overhead costs," said Matt Rose, Co-founder and CEO of Apana. "Using our Apana system, clients immediately begin receiving information about their water usage and can detect anomalies, like spills and leaks. Semtech's LoRa Technology is easy to deploy. Any plumber can survey the environment and install LoRa-based Apana sensors for a fraction of the cost of previous wired solutions."
Costco, one of Apana's earliest adopters, reported a reduction of 20% in water waste and approximately 22% savings in water bills. The company was able to get a deeper, minute-by-minute look into how much water was being used in their buildings. The company has integrated the Apana Solution across its North American locations.
Apana's innovative IoT solution has over 800 installations worldwide and has saved over 500 million gallons of water to date. The company serves a wide range of water-intensive businesses including supermarkets, hotels, carwashes, food & beverage processors, and commercial buildings. Apana's LoRa-based solution tracks the water usage data in real-time on a private network and provides alert notifications. The alert notifies facility managers via text message on their mobile devices. Ongoing reporting enables companies to evaluate the data and determine trends to target conservation initiatives. This allows more efficient water use and as a result can save the customer millions of gallons of water.
"Apana provides companies a cost effective and reliable solution for water management as well as the ability to save millions of dollars in overhead cost. As water becomes a scarce resource, cities and governments will begin implementing IoT solutions to create a smarter planet," said Alistair Fulton, Vice President of Product Management in Semtech's Wireless and Sensing Products Group. "Semtech's LoRa Technology, a proven and flexible IoT solution, drives low risk and fast-to-market IoT solutions enabling customers to drastically save as they grow their business."
Visit Semtech at the LoRa Alliance™ booth, South Hall, 2524, at Mobile World Congress Americas to learn more about LoRa Technology. Learn more about the Apana's LoRa-based solution here.
About Semtech's LoRa® Devices and Wireless RF Technology
Semtech's LoRa devices and wireless radio frequency technology is a widely adopted long-range, low-power solution for IoT that gives telecom companies, IoT application makers and system integrators the feature set necessary to deploy low-cost, interoperable IoT networks, gateways, sensors, module products, and IoT services worldwide. IoT networks based on the LoRaWAN™ specification have been deployed in over 100 countries and Semtech is a founding member of the LoRa Alliance™, the fastest growing IoT Alliance for Low Power Wide Area Network applications. To learn more about how LoRa enables IoT, visit Semtech's LoRa site and join the LoRa Community to access free training as well as an online industry catalog showcasing the products you need for building your ideal IoT application.
About Apana®
Apana is a technology and services company that helps businesses manage water. Real-time, automated information empowers frontline operators with data to address problems when they occur and to institutionalize best practices throughout the organization's water processes. Companies leverage Apana's intelligence to reduce risk, strengthen operational efficiency and enhance sustainability measures to improve their bottom line. For more information, visit www.apana.com.
About Semtech
Semtech Corporation is a leading supplier of high performance analog and mixed-signal semiconductors and advanced algorithms for high-end consumer, enterprise computing, communications, and industrial equipment. Products are designed to benefit the engineering community as well as the global community. The Company is dedicated to reducing the impact it, and its products, have on the environment. Internal green programs seek to reduce waste through material and manufacturing control, use of green technology and designing for resource reduction. Publicly traded since 1967, Semtech is listed on the Nasdaq Global Select Market under the symbol SMTC. For more information, visit www.semtech.com.
Forward-Looking and Cautionary Statements
All statements contained herein that are not statements of historical fact, including statements that use the words "will," "designed to," or other similar words or expressions, that describe Semtech Corporation's or its management's future plans, objectives or goals are "forward-looking statements" and are made pursuant to the Safe-Harbor provisions of the Private Securities Litigation Reform Act of 1995, as amended. Such forward-looking statements involve known and unknown risks, uncertainties and other factors that could cause the actual results of Semtech Corporation to be materially different from the historical results and/or from any future results or outcomes expressed or implied by such forward-looking statements. Such factors are further addressed in Semtech Corporation's annual and quarterly reports, and in other documents or reports, filed with the Securities and Exchange Commission (www.sec.gov) including, without limitation, information under the captions "Management's Discussion and Analysis of Financial Condition and Results of Operations" and "Risk Factors." Semtech Corporation assumes no obligation to update any forward-looking statements in order to reflect events or circumstances that may arise after the date of this release, except as required by law.
Semtech, the Semtech logo and LoRa are registered trademarks or service marks of Semtech Corporation or its affiliates.
SMTC-P
###