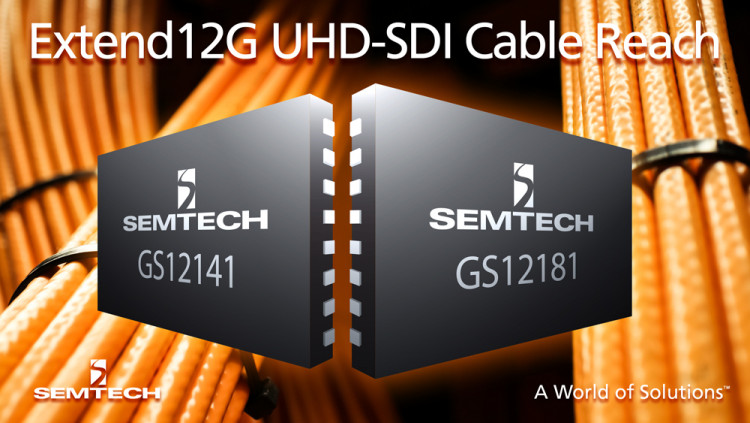 Semtech Extends 12G UHD-SDI Cable Reach Benchmark at NAB Show 2016
Semtech sets 12G UHD-SDI performance benchmark utilizing Canare's new, high-performance coaxial cable optimized for UHDTV applications
Camarillo, California - April 19, 2016 -
Semtech Corporation (Nasdaq: SMTC), a leading supplier of analog and mixed-signal semiconductors, announced that its advanced portfolio of 12G UHD-SDI products has set a new industry cable-reach performance benchmark utilizing a new coaxial cable optimized for UHDTV applications from Canare, a leading industry supplier of UHDTV cabling solutions.
Semtech's 12G GS12141 retiming cable equalizer and GS12181 retiming cable driver each offer superior performance at all data rates and have established an industry benchmark for cable reach that is further enhanced when utilizing Canare's L-5.5CUHD cable.
"The rapid industry adoption of UHDTV is placing greater demands on the performance of UHD-SDI infrastructures," said Don Shaver, Director of Video Marketing for Semtech's Signal Integrity Product Group. "Semtech and Canare share a common commitment to pushing the limits of UHDTV technology. Our range of 12G UHD-SDI interface products feature the industry's most robust cable reach performance and excellent cross-talk and noise immunity, further augmented by Canare's L-5.5CUHD cable. We are very pleased to see Canare addressing the critical requirements of broadcasters as they deploy their next generation UHD-SDI infrastructures."
Semtech's comprehensive portfolio of 12G UHD-SDI products is being demonstrated in Semtech's booth N5024 at the National Association of Broadcasters (NAB) show on April 18-21 at the Las Vegas Convention Center.
Semtech's UHD-SDI products feature ultra-low power consumption and provide industry-leading performance at 12Gbps rates. UHD-SDI is ideal for UHDTV infrastructures, including routers, cameras, monitors, switchers and more. It offers pristine image quality, is backwards compatible with existing SDI systems and is standardized by both the Society of Motion Picture and Television Engineers (SMPTE) and the International Telecommunication Union (ITU), simplifying UHDTV infrastructure upgrades and reducing risk for broadcasters.
Key Features of the GS12141 & GS12181
Multi-standard operation: 1Mb/s to 11.88Gb/s for increased design flexibility and a wider range of end-product applications
Performance optimized: For 11.88Gb/s with ultra-long cable reach, enabling designs that offer maximum performance at all data rates (GS12141). Ultra-low additive jitter for increased PCB design margin and class-leading output return loss performance that surpasses SMPTE specifications at all rates, simplifying board optimization, speeding time to market (GS12181)
Ultra-low power consumption: Ideal for multi-channel high density designs to minimize overall power consumption
Advanced feature set: Output pre-emphasis for compensating for long PCB trace lengths, simplifying PCB optimization (GS12141) and input trace equalization to compensate for long input trace lengths, critical for optimizing performance in 12G UHD-SDI designs (GS12181)
Key Features of the L-5.5CUHD cable
Design: Careful selection and a blend of materials was utilized to ensure high quality and long transmission distances.
Cable Size: The outside diameter of the cable is the same as existing L-5CFB and L-5CHD cable to ensure interoperability.
Performance: Transmission distances of greater than 100m are possible with 12G SDI signals.
Dedicated connector: To further enhance return loss performance with SMPTE ST 2082-1, a new BNC connector is also available.
Resources:
Availability
The GS12141 and GS12181 are available now, and the GS12070 will be available in the second half of 2016. Semtech offers comprehensive design assistance, including field- and factory-based support. Data sheets, volume pricing and delivery quotes, as well as evaluation kits and samples, are available at www.semtech.com/info.
About Canare
Offering value-added products to meet your needs for today and tomorrow.
Five-point Product Development Goal:
Responsive: Fulfilling the needs of the industry through custom solutions.
Unique: Incorporating valuable features not offered by competitors.
Cutting-edge: Devoted to meeting the requirements for emerging technologies.
Enduring: Concentrated on products with long-term value.
Global: Focused on niche markets as well as universal products.
Activities: Manufacture and sale of audio-video cables, connectors, assemblies, converters and related products for professional audio and video industry. For more information, visit www.canare.com.
About Semtech
Semtech Corporation is a leading supplier of analog and mixed-signal semiconductors for high-end consumer, computing, communications and industrial equipment. Products are designed to benefit the engineering community as well as the global community. The company is dedicated to reducing the impact it, and its products, have on the environment. Internal green programs seek to reduce waste through material and manufacturing control, use of green technology and designing for resource reduction. Publicly traded since 1967, Semtech is listed on the NASDAQ Global Select Market under the symbol SMTC. For more information, visit www.semtech.com.
Forward-Looking and Cautionary Statements
All statements contained herein that are not statements of historical fact, including statements that use the words "enables," "offers" and "will" or other similar words or expressions, that describe Semtech Corporation's or its management's future plans, objectives or goals are "forward-looking statements" and are made pursuant to the Safe-Harbor provisions of the Private Securities Litigation Reform Act of 1995, as amended. Such forward-looking statements involve known and unknown risks, uncertainties and other factors that could cause the actual results of Semtech Corporation to be materially different from the historical results and/or from any future results or outcomes expressed or implied by such forward-looking statements. Such factors are further addressed in Semtech Corporation's annual and quarterly reports, and in other documents or reports, filed with the Securities and Exchange Commission (www.sec.gov) including, without limitation, information under the captions "Management's Discussion and Analysis of Financial Condition and Results of Operations" and "Risk Factors". Semtech Corporation assumes no obligation to update any forward-looking statements in order to reflect events or circumstances that may arise after the date of this release, except as required by law.
Semtech and the Semtech logo are registered trademarks or service marks, of Semtech Corporation and/or its affiliates. Third-party trademarks or service marks mentioned herein are the property of their respective owners.