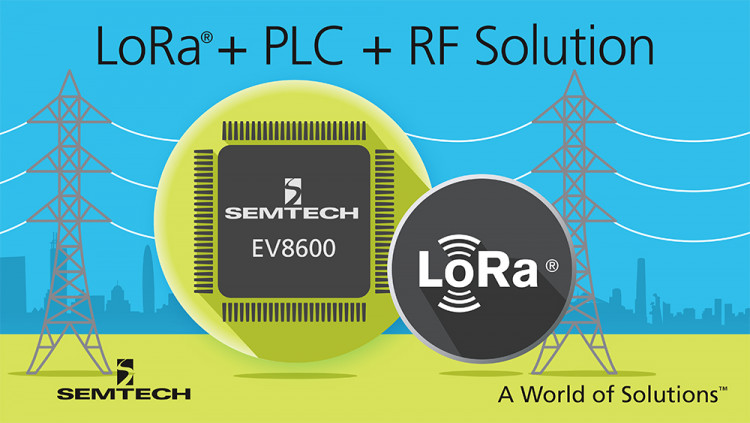 Semtech Announces the Industry's First Single Chip Hybrid PLC and LoRa® Wireless Platform for Smart Grid, Smart Metering and IoT Applications
The EV8600 PLC+RF+LoRa Platform enables dual Phy AMI Networks with wireless capability
Camarillo, California - May 3, 2016 -
Semtech Corporation (Nasdaq: SMTC), a leading supplier of analog and mixed-signal semiconductors, announced today the availability of its new EV8600 dual modem (PLC+RF System-on-Chip) with integrated LoRa™ wireless RF technology. The Semtech EV8600 is the first fully integrated PLC and LoRa modem for smart grid, smart metering and IoT applications. The advanced features of the EV8600 help reduce network operational costs of Advance Metering Infrastructures (AMI) by up to 50 percent. In addition, the revolutionary EV8600 modem enables seamless LoRa gateway network deployment of Internet of Things (IoT) solutions for smart city and industrial automation.
By offering both a Power Line Communications (PLC) modem operating at 10-500KHZ and a Radio Frequency (RF) modem operating in the range of 142-1050MHz, Semtech's industry-leading EV8600 enables virtually 100 percent connectivity coverage with a single chip. The EV8600 also offers a LoRa fallback mode in the event of a complete network outage caused by a natural disaster or other unforeseen events.
"The integration of Semtech LoRa technology in the EV8600 enables critical access for network operators and provides further reliability in network operations. It helps eliminate the '1 percent Problem' in AMI networks, where the cost of reaching the 1 percent Hard-to-Reach Nodes can account for as much as 50 percent of the entire AMI network operational cost," said Reza Mirkhani, Vice President of Smart Grid Products for Semtech's Wireless and Sensing Product Group. "We already see AMI networks migrating to PLC+RF Dual PHY architectures to achieve as close to 100 percent coverage as possible. The addition of LoRa to EV8600 enables each end node to become a LoRa gateway, servicing LoRa-based devices and back hauling their data over the PLC network."
To simplify the design effort, Semtech's LoRa-enabled EV8600 series performs all bridging/routing algorithms between the two internal modems and has embedded dual image flash memory. The implementation of LoRa features into the new Semtech's EV8600 is accompanied by the addition of Wireless M-BUS protocol for sub-metering applications.
About the EV8600 Single-Chip Hybrid PLC+RF Solution
The EV8600 features highly integrated dual-modem System-on-Chip (SoC) comprising a PLC modem and a sub-GHz RF transceiver, all in a single chip with internal secure flash memory. It also includes an applications processor with bridging and routing algorithms between PLC and RF modems. Additional features:
PLC modem

Integrated AF
Dual Processor MAC & Network architecture
Multi-standard: G3-PLC, PRIME, P1901.2 and S-FSK
Programmable frequency range from 9KHz-490KHz
Multi-band: CENELEC, FCC, ARIB

RF modem

LoRa Modem, WMBUS, 802.15.4g
168 dB maximum link budget
+20 dBm - 100 mW constant RF output vs. V supply
+14 dBm high efficiency PA
Programmable bit rate up to 300 kbps
High sensitivity: down to -148 dBm
Bullet-proof front end: IIP3 = -11 dBm
Excellent blocking immunity
Low RX current of 9.9 mA, 200 nA register retention
Fully integrated synthesizer with a resolution of 61 Hz
FSK, GFSK, MSK, GMSK, LoRa and OOK modulation
Built-in bit synchronizer for clock recovery
Preamble detection
127 dB Dynamic Range RSSI
Automatic RF Sense and CAD with ultra-fast AFC
Packet engine up to 256 bytes with CRC
Built-in temperature sensor and low battery indicator
About Semtech
Semtech Corporation is a leading supplier of analog and mixed-signal semiconductors for high-end consumer, computing, communications and industrial equipment. Products are designed to benefit the engineering community as well as the global community. The company is dedicated to reducing the impact it, and its products, have on the environment. Internal green programs seek to reduce waste through material and manufacturing control, use of green technology and designing for resource reduction. Publicly traded since 1967, Semtech is listed on the NASDAQ Global Select Market under the symbol SMTC. For more information, visit www.semtech.com.
Forward-Looking and Cautionary Statements
All statements contained herein that are not statements of historical fact, including statements that use the words "allows," "provides," "designed to," "offering," or "enables," or other similar words or expressions, that describe Semtech Corporation's or its management's future plans, objectives or goals are "forward-looking statements" and are made pursuant to the Safe-Harbor provisions of the Private Securities Litigation Reform Act of 1995, as amended. Such forward-looking statements involve known and unknown risks, uncertainties and other factors that could cause the actual results of Semtech Corporation to be materially different from the historical results and/or from any future results or outcomes expressed or implied by such forward-looking statements. Such factors are further addressed in Semtech Corporation's annual and quarterly reports, and in other documents or reports, filed with the Securities and Exchange Commission (www.sec.gov) including, without limitation, information under the captions "Management's Discussion and Analysis of Financial Condition and Results of Operations" and "Risk Factors". Semtech Corporation assumes no obligation to update any forward-looking statements in order to reflect events or circumstances that may arise after the date of this release, except as required by law.
Semtech, the Semtech logo, LoRa and LoRaWAN are registered trademarks or service marks, or trademarks and service marks, of Semtech Corporation and/or its affiliates. Third-party trademarks or service marks mentioned herein are the property of their respective owners.