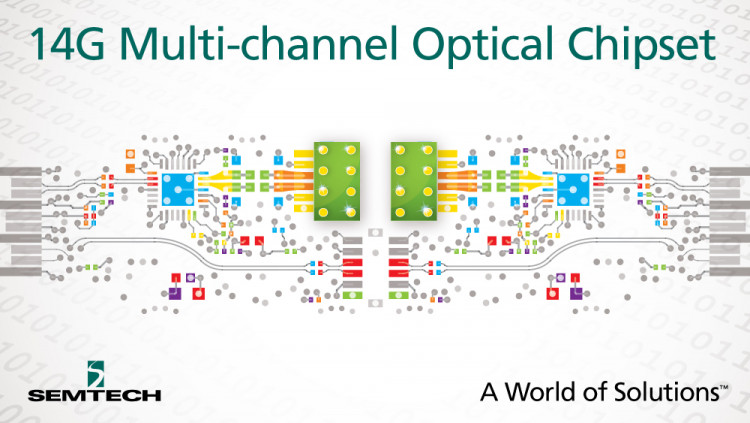 Semtech Announces Production Release of 14Gbps Chipset for Multi-channel Optical Communications
Optical PMD Platform adds best-in-class Quad CMOS-based TIA and VCSEL driver
Camarillo, California - February 16, 2016 -
Semtech Corporation (Nasdaq: SMTC), a leading supplier of analog and mixed-signal semiconductors, announced the production release of its industry leading GN1090 and GN1190 chipset for quad channel SR optical interconnects operating from 1Gbps up to 14.5Gbps.
The GN1090 is a quad channel transimpedance amplifier (TIA), and the GN1190 is a quad channel vertical cavity surface emitting laser driver. The chipset is designed in leading edge CMOS technology, enabling industry-leading performance at low power dissipation with a high level of integration. A full suite of on-chip features minimizes external components and serves to speed up customers' hardware (and firmware) development. The GN1090 and GN1190 offer developing optical modules, active optical cables and optical interconnects best-in-class link performance, high flexibility and lowest overall solution cost.
The chipset's comprehensive digital circuitry implements a complete set of alarms and monitoring, which simplify module-level firmware design and enable the use of cost-effective Micro Controller Units (MCU). In addition, adjustable equalization simplifies PCB design and optimizes performance to any host system electrical interface. The GN1090 gain and signal integrity features, combined with the excellent input sensitivity, eliminate the need for additional post amplification in the module and make it ideal for SR as well as LR optical interconnects.
The GN1090 and GN1190 chipset operates from 1Gbps to 14.5Gbps data rates, making it suitable for a wide variety of industrial and commercial applications in data center, manufacturing and consumer markets. The chipset's advanced integrated test features simplify module development costs and reduce overall production test costs. Semtech's high performance PMD and CDR products range from 1Gb/s to 100Gb/s and lead the industry in performance, power and feature-set.
"The GN1090 and GN1190 chipset has been an overwhelming success for Semtech and our customers," said Timothy Vang, Sr. Director of Datacom Marketing for Semtech's Signal Integrity Product Group. "The performance and feature set of the GN1090 and GN1190 have enabled our customers to quickly bring to market leading solutions for 40Gbps QSFP+ and Active Optical Cables (AOCs) for data centers and a wide range of other applications."
Key Features of the GN1090 and the GN1190
Multi-standard operation: 1Gbps to 14.5Gbps for increased design flexibility and a wider range of end-product applications.
Industry leading power dissipation simplifies module and system thermal management.
Highly integrated CMOS chipset with full suite of alarms, monitoring and test features to reduce (or eliminate) need for expensive MCUs, enable faster time-to-market (with reduced need for firmware design), and aid in module debug and production test.
Advanced feature set including output pre-emphasis for long PCB trace length compensation (simplifying PCB optimization), and input trace equalization to compensate for long input trace lengths.
Ultra-high transimpedance gain on GN1090 eliminates need for a post amplifier.
GN1090 input sensitivity supports both SR and LR links.
Resources:
Availability:
The GN1090 and GN1190 are in full production now. Semtech offers comprehensive design assistance, including field- and factory-based support. Data sheets, volume pricing and delivery quotes, as well as evaluation kits and samples, are available at www.semtech.com/info.
About Semtech
Semtech Corporation is a leading supplier of analog and mixed-signal semiconductors for high-end consumer, computing, communications and industrial equipment. Products are designed to benefit the engineering community as well as the global community. The company is dedicated to reducing the impact it, and its products, have on the environment. Internal green programs seek to reduce waste through material and manufacturing control, use of green technology and designing for resource reduction. Publicly traded since 1967, Semtech is listed on the NASDAQ Global Select Market under the symbol SMTC. For more information, visit www.semtech.com.
Forward-Looking and Cautionary Statements
All statements contained herein that are not statements of historical fact, including statements that use the words "enables," "eliminates," "offers" or other similar words or expressions, that describe Semtech Corporation's or its management's future plans, objectives or goals are "forward-looking statements" and are made pursuant to the Safe-Harbor provisions of the Private Securities Litigation Reform Act of 1995, as amended. Such forward-looking statements involve known and unknown risks, uncertainties and other factors that could cause the actual results of Semtech Corporation to be materially different from the historical results and/or from any future results or outcomes expressed or implied by such forward-looking statements. Such factors are further addressed in Semtech Corporation's annual and quarterly reports, and in other documents or reports, filed with the Securities and Exchange Commission (www.sec.gov) including, without limitation, information under the captions "Management's Discussion and Analysis of Financial Condition and Results of Operations" and "Risk Factors".
Semtech Corporation assumes no obligation to update any forward-looking statements in order to reflect events or circumstances that may arise after the date of this release, except as required by law. Semtech and the Semtech logo are registered trademarks or service marks, of Semtech Corporation and/or its affiliates.