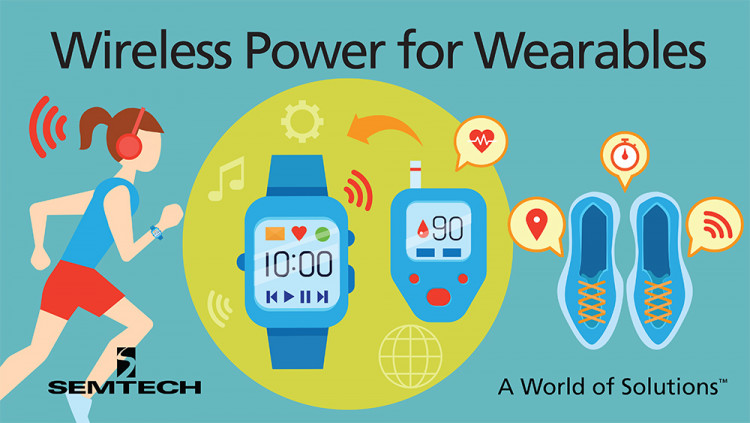 Semtech Announces Availability of Wireless Power Evaluation Kits for Wearable Applications
Evaluation platforms now available for designers to easily test and develop wireless charging solutions for wearable applications
Camarillo, California - October 13, 2016 -
Semtech Corporation(Nasdaq:SMTC), a leading supplier of analog and mixed-signal semiconductors, today announced it is shipping two new, compatible evaluation modules (EVMs) for prototyping and developing wireless charging solutions for wearable applications.
The Semtech TSWITX-G4-EVM is an evaluation platform for the test and experimentation of a wireless charging transmitter based on the Semtech TS80002 Wireless Power Transmitter Controller and TS51231 Driver. This evaluation module, in conjunction with its compatible receiver, the TSWIRX-5V2-EVM, provides a complete system design solution for low-power, wearable applications.
"Easy-to-use wireless charging technology enhances the benefits and consumer experience of wearable devices," said Ruwanga Dassanayake, Product Line Manager for Wireless Power Products for Semtech's Power and High Reliability Product group. "By introducing this compatible set of EVMs, companies can now evaluate our wireless power products, which feature leading power scalability, design flexibility, and can easily test and develop customized wearable applications in very small form factors."
TSWITX-G4-EVM
The TSWITX-G4-EVM Evaluation Module is a ready-to-use demonstration platform allowing testing of 1.25 watt of wireless power transmission. The transmitter is coupled with its compatible receiver module, the Semtech TSWIRX-5V2-EVM, to form a complete wireless power transmission system.
TSWITX-5V2-EVM
TSWIRX-5V2-EVM is a ready-to-use demonstration platform supporting 5V output with up to 250mA for low-power and small form factor wearable applications at an operating frequency of 1MHz.
Applications:
Smart watches, Fitness bands and Jewelry
Hearing aids
Health monitors
Wireless portable keyboards
Toys
About Semtech's Wireless Power Products
Semtech's robust portfolio of wireless power ICs vary in size, features and specifications for easy implementation into a wide range of applications, including high-power industrial equipment and commercial infrastructure, medium-power portable devices and phones, low-power wearables and more. Semtech wireless power products support the major industry standards to ensure interoperability with all wireless charging-enabled devices.
Resources
Learn more about Semtech wireless charging products
Stop by Semtech's booth at Electronica, Hall A4 booth 516, to see wireless charging products.
Contact Semtech's customer service team for technical support or general product inquiries.
Subscribe to Semtech's e-newsletter Inside Circuit for quarterly product updates.
Availability
The TSWIRX-5V2-EVM and TSWIRX-G4-EVMs can be purchased through Semtech's distribution channels. For additional information, visit www.semtech.com/info.
About Semtech
Semtech Corporation is a leading supplier of analog and mixed-signal semiconductors for high-end consumer, computing, communications and industrial equipment. Products are designed to benefit the engineering community as well as the global community. The company is dedicated to reducing the impact it, and its products, have on the environment. Internal green programs seek to reduce waste through material and manufacturing control, use of green technology and designing for resource reduction. Publicly traded since 1967, Semtech is listed on the NASDAQ Global Select Market under the symbol SMTC. For more information, visit www.semtech.com.
Forward-Looking and Cautionary Statements
All statements contained herein that are not statements of historical fact, including statements that use the words "to develop," or other similar words or expressions, that describe Semtech Corporation's or its management's future plans, objectives or goals are "forward-looking statements" and are made pursuant to the Safe-Harbor provisions of the Private Securities Litigation Reform Act of 1995, as amended. Such forward-looking statements involve known and unknown risks, uncertainties and other factors that could cause the actual results of Semtech Corporation to be materially different from the historical results and/or from any future results or outcomes expressed or implied by such forward-looking statements. Such factors are further addressed in Semtech Corporation's annual and quarterly reports, and in other documents or reports, filed with the Securities and Exchange Commission (www.sec.gov) including, without limitation, information under the captions "Management's Discussion and Analysis of Financial Condition and Results of Operations" and "Risk Factors." Semtech Corporation assumes no obligation to update any forward-looking statements in order to reflect events or circumstances that may arise after the date of this release, except as required by law.
Semtech and the Semtech logo are registered trademarks or service marks of Semtech Corporation and/or its affiliates. Third-party trademarks or service marks mentioned herein are the property of their respective owners.