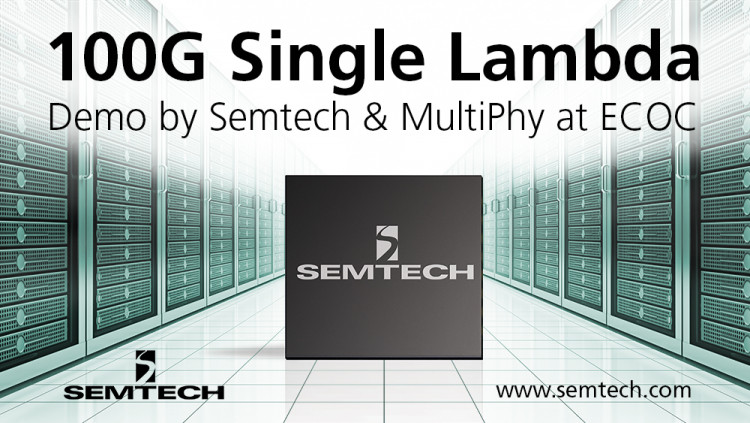 Semtech and MultiPhy Demonstrate a Complete 100G Single Lambda Chipset at ECOC 2017
Single Wavelength100G technology expected to dramatically reduce the cost of networking interconnects
Camarillo, California - September 18, 2017 -
Semtech Corporation (Nasdaq: SMTC), a leading supplier of high performance analog and mixed-signal semiconductors and advanced algorithms, and MultiPhy Ltd, a global market leader in DSP-based high bandwidth communications, announce the immediate availability of the industry's first full PHY/PMD chipset for single lambda, 100G Ethernet optical modules. The companies will demonstrate the new chipset, operating over a complete optical link at ECOC 2017. Single lambda 100G technology is expected to dramatically reduce the cost of Terabit networking and represent a critical component for the build-out of next-generation hyperscale data centers, as well as emerging 5G wireless networks.
The new 100G chipset features Semtech's FiberEdge™ platform and MultiPhy's FlexPhy platform to deliver a fully optimized, seamless PHY/PMD solution for QSFP28 optical modules complying with the IEEE 100GBASE-DR standard. The 100G Ethernet DR single lambda specification is key to the implementation of next-generation data centers.
The FiberEdge GN3289 is a 56GBd linear AGC ROSA for 100G Ethernet operation using PAM4 modulation. It is based on Semtech's leadership TIA architecture optimized for low group delay variation and high linearity designed to enable cost-effective 100G modules.
The FiberEdge GN1189 is a 56GBd modulator driver for PAM4 applications. Its wide bandwidth and low total harmonic distortion (THD) enable high quality transmitters for best in class link performance. Its low power dissipation helps reduce overall module power and simplifies module and system thermal management.
"Single wavelength 100G is the ultimate solution for 100G in the data center, offering four times of fundamental cost improvement over existing 4x25Gbps solutions. This will be the preferred technology for high volume applications in Cloud and colocation data centers," said Andrew Schmitt, Founder at Cignal AI. "This new 100G chipset provides performance of greater than 2 km, effectively meeting all single mode needs for next-generation hyperscale data centers."
Hyperscale data center deployments amplify market demand for higher bandwidth and lower cost with hundreds of thousands of servers located in a single site. These build-outs are pushing system developers to move rapidly from 25G to 100G optical signaling solutions, in order to capture unprecedented savings in actual cost per bit. Per bi-directional link, the single lambda solution reduces the number of lasers required from eight to two, radically lowering the cost for 100G implementation.
"Semtech's FiberEdge platform of high-performance linear PMDs is uniquely positioned to drive a new generation of data center and wireless network build-outs. Semtech's optical solutions are truly the best-in-class products that deliver market leading performance with the low power consumption profile that the market demands," stated Gary Beauchamp, Executive Vice President and General Manager of Semtech's Signal Integrity Products Group.
MultiPhy's FlexPhy platform is a low-power, high performance, DSP-based gearbox that adapts a 4x25Gbps NRZ CAUI4 host bus to a single 100G PAM4 IO pair on the line side. The device is packaged in a low profile BGA that features high-speed IO placement specifically optimized for use in QSFP28 modules.
"Enabling the migration to 100G is key to supporting the exponential growth in capacity and bandwidth in data center and Cloud applications," said Avi Shabtai, Chief Executive Officer of MultiPhy. "Our close partnership with Semtech provides a complete DSP/PMD solution that changes the data center and Cloud RAN industry by delivering the highest level of speed and capacity, in the lowest power envelope, providing our customers and partners with industry-leading solutions."
For more information about the PHY/PMD chipset for single lambda 100G Ethernet optical modules, visit http://www.semtech.com/apps/form_request/.
About MultiPhy
MultiPhy is the world leader in cutting edge digital-signal-processing based integrated circuits for high-speed communications. The company's 100G CMOS chipsets with advanced modulation schemes are leading in the technology paradigm shift made necessary by the dramatic increase in network traffic. MultiPhy's solutions make optical networks in data centers faster, more scalable, flexible and cost-effective. For more information, visit www.multi-phy.com/contact/.
About Semtech
Semtech Corporation is a leading supplier of high performance analog and mixed-signal semiconductors and advanced algorithms for high-end consumer, enterprise computing, communications, and industrial equipment. Products are designed to benefit the engineering community as well as the global community. The Company is dedicated to reducing the impact it, and its products, have on the environment. Internal green programs seek to reduce waste through material and manufacturing control, use of green technology and designing for resource reduction. Publicly traded since 1967, Semtech is listed on the Nasdaq Global Select Market under the symbol SMTC. For more information, visit www.semtech.com.
Forward-Looking and Cautionary Statements
All statements contained herein that are not statements of historical fact, including statements that use the words "will," "expected to," "designed to," "positioned to," "optimized for," or other similar words or expressions, that describe Semtech Corporation's or its management's future plans, objectives or goals are "forward-looking statements" and are made pursuant to the Safe-Harbor provisions of the Private Securities Litigation Reform Act of 1995, as amended. Such forward-looking statements involve known and unknown risks, uncertainties and other factors that could cause the actual results of Semtech Corporation to be materially different from the historical results and/or from any future results or outcomes expressed or implied by such forward-looking statements. Such factors are further addressed in Semtech Corporation's annual and quarterly reports, and in other documents or reports, filed with the Securities and Exchange Commission (www.sec.gov) including, without limitation, information under the captions "Management's Discussion and Analysis of Financial Condition and Results of Operations" and "Risk Factors." Semtech Corporation assumes no obligation to update any forward-looking statements in order to reflect events or circumstances that may arise after the date of this release, except as required by law. Semtech and the Semtech logo are registered trademarks or service marks, and FiberEdge is a trademark or service mark, of Semtech Corporation or its affiliates.
SMTC-P
###