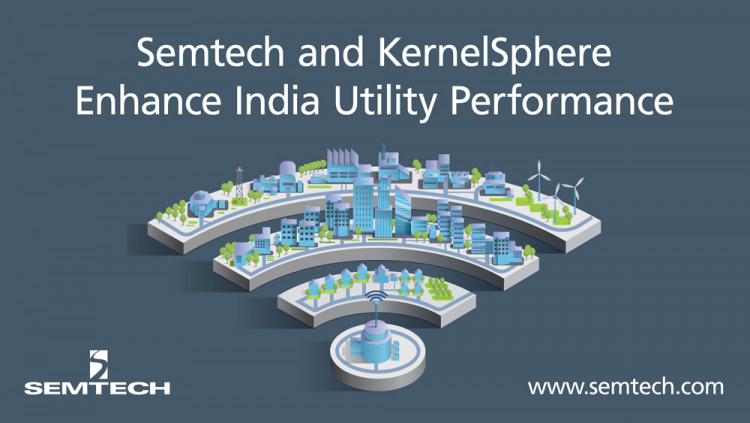 Semtech and KernelSphere Collaborate to Enhance Utility Performance in India
KernelSphere Technologies deploys its new LoRa-based IoT transformer monitoring solution in Jamshedpur to ensure energy flow and prevent power outages
CAMARILLO, Calif., Mar. 29, 2018 – Semtech Corporation (Nasdaq: SMTC), a leading supplier of high performance analog and mixed-signal semiconductors and advanced algorithms, announced that KernelSphere Technologies, an India-based IT manufacturer and services company, has integrated Semtech's LoRa® devices and wireless radio frequency technology (LoRa Technology) in KemelSphere's smart grid transformer monitoring solution.
KernelSphere Technologies entered a joint venture with Jamshedpur Utility Services Company (JUSCO) to establish one of India's first fully smart city. JUSCO is currently using more than 100,000 LoRa-based sensors and gateways connected to a LoRaWAN™ network to digitize its infrastructure solutions including street light, parking, electricity meters, water meters, and waste bin management. JUSCO is India's only comprehensive urban infrastructure service provider. Created from Tata Steel, specifically from its Town Services Division in 2004, JUSCO's mandate is to convert an obligatory service into a customer-focused sustainable corporate entity.
"Reliable energy flow is paramount to power systems. Transformers are the electrical equipment which distributes power to low-voltage users directly, which are critical as they optimize the grid and can be some of the most expensive assets to repair and replace," said Vinod Kumar, CEO of KernelSphere. "Monitoring conditions online and in real-time prevents outages that result in loss of service and devices."
"It is indeed a proud moment for JUSCO to become the first utility company in the world to install LoRaWAN compatible transformer monitoring devices. I believe this is a step ahead of the transformational phase for city management in India, paving the way towards operational efficiency and data analytics for smart decision making," said Ashish Mathur, Managing Director at JUSCO.
"Semtech's LoRa Technology is a well-established IoT platform in the smart utility industry, and LoRaWAN continues to expand in this market with more new use cases developing daily," said Vivek Mohan, Director of IoT for the Wireless and Sensing Products Group at Semtech. "With KernelSphere's LoRa-based IoT transformer monitoring solution, JUSCO benefits from having 24/7 visibility of its low voltage network."
KernelSphere's Transformer Monitoring System communicates smart grid operational data such as power, current, voltage, load balance, oil level, and temperature of transformer mechanisms. The solution also provides preventative maintenance capabilities and actionable analytics for remedial actions. For instance, SMS alerts are sent, and fans are turned on automatically when equipment temperatures exceed preset limits. Comprehensive historical reports provide trend data to facilitate decisions about network planning to address critical points that need to be extended or upgraded.
About Semtech's LoRa® Devices and Wireless RF Technology
Semtech's LoRa devices and wireless radio frequency technology is a widely adopted long-range, low-power solution for IoT that gives telecom companies, IoT application makers and system integrators the feature set necessary to deploy low-cost, interoperable IoT networks, gateways, sensors, module products, and IoT services worldwide. IoT networks based on the LoRaWAN™ specification have been deployed in over 100 countries and Semtech is a founding member of the LoRa Alliance™, the fastest growing IoT Alliance for Low Power Wide Area Network applications. To learn more about how LoRa enables IoT, visit Semtech's LoRa site and join the LoRa Community to access free training as well as an online industry catalog showcasing the products you need for building your ideal IoT application.
About KernelSphere
KernelSphere Technology offers innovative IT solutions and services with a focus on exceptional customer service and training. The company is an end-to-end systems integrator providing the most advanced software, hardware and connectivity solutions. Professional consultants and engineers design customized IT solutions to meet project requirements. KernelSphere is located in India and runs IoT Labs at various universities in the country. For more information, visit www.kernelsphere.com.
About JUSCO
In a first of a kind initiative in India, the Jamshedpur Utilities and Services Company Limited (JUSCO) was carved out of Tata Steel from its Town Services Division in 2004. In JUSCO, the steel major reposed ten decades of experience and expertise. The mandate for JUSCO was to convert an obligatory service into a customer focused sustainable corporate entity. JUSCO is today India's only comprehensive urban infrastructure service provider. For more information, visit http://www.juscoltd.com/.
About Semtech
Semtech Corporation is a leading supplier of high performance analog and mixed-signal semiconductors and advanced algorithms for high-end consumer, enterprise computing, communications, and industrial equipment. Products are designed to benefit the engineering community as well as the global community. The Company is dedicated to reducing the impact it, and its products, have on the environment. Internal green programs seek to reduce waste through material and manufacturing control, use of green technology and designing for resource reduction. Publicly traded since 1967, Semtech is listed on the Nasdaq Global Select Market under the symbol SMTC. For more information, visit www.semtech.com.
Forward-Looking and Cautionary Statements
All statements contained herein that are not statements of historical fact, including statements that use the words "to establish," "to digitize," "to convert," "towards," "to solve," "designed to," or other similar words or expressions, that describe Semtech Corporation's or its management's future plans, objectives or goals are "forward-looking statements" and are made pursuant to the Safe-Harbor provisions of the Private Securities Litigation Reform Act of 1995, as amended. Such forward-looking statements involve known and unknown risks, uncertainties and other factors that could cause the actual results of Semtech Corporation to be materially different from the historical results and/or from any future results or outcomes expressed or implied by such forward-looking statements. Such factors are further addressed in Semtech Corporation's annual and quarterly reports, and in other documents or reports, filed with the Securities and Exchange Commission (www.sec.gov) including, without limitation, information under the captions "Management's Discussion and Analysis of Financial Condition and Results of Operations" and "Risk Factors." Semtech Corporation assumes no obligation to update any forward-looking statements in order to reflect events or circumstances that may arise after the date of this release, except as required by law.
Semtech, the Semtech logo and LoRa are registered trademarks or service marks, and LoRaWAN is a trademark or service mark, of Semtech Corporation or its affiliates. Third-party trademarks or service marks mentioned herein are the property of their respective owners.
SMTC-P
###